New Law Provides Mandatory PhilHealth Coverage for PWDs
Pres. Rodrigo Duterte ratified Republic Act (RA) 11228 mandating state agency Philippine Health Insurance Corporation (PhilHealth) to develop exclusive packages to address specific health and developmental needs of Persons with Disabilities (PWDs) in the country.
The new law, which took effect last March 19, amended R.A. 7277 or the Magna Carta for PWDs.
According to PhilHealth's press release, the required premium contributions for PWDs shall be paid for by the national government, sourced from the proceeds of the restructured excise taxes on alcohol and tobacco. Employers of PWDs, on the other hand, are responsible for half of their monthly premiums.
Also read: New Senate Bill Covers PWDs Automatic PhilHealth Coverage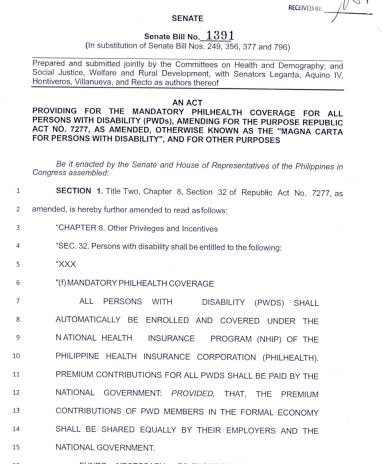 Page one of Senate Bill 1391
Recently, the House of Representatives has also approved House Bill 9106, which encourages employers to hire PWDs. The bill includes mandatory employment in government offices and corporations, including the private sector.
If passed into law, private firms that employ PWDs as apprentices "shall be entitled to an additional deduction, from their gross income, equivalent to 25% of the total amount paid as salaries and wages to PWDs."
While "private entities that employ PWDs as regular employees shall be entitled to an additional deduction from their gross income, equivalent to 50% of the total amount paid as salaries and wages for the PWDs."
Also read: PhilHealth Now Available for Foreign Retirees
---
Sources: Official Gazette, CNN Philippines, Philstar, and PhilHealth