10 Must-Visit Contemporary Art Spaces in the Philippines
You don't have to be a pro at painting or sculpting to appreciate art. Luckily, the Philippines boasts a rich art culture, particularly in contemporary pieces—thanks to the rising of Filipino national artists like Juan Luna and Fernando Amorsolo.
So if you want to refresh your mind with new ideas or simply wander around, here are contemporary art spaces around the country you should visit!
Ayala Museum
Ayala Museum is located amidst the central business district of Makati City. It has numerous galleries housing historical artifacts and contemporary art from various Filipino artists.
It's also where you can find the Filipinas Heritage Library, which is a modern library that provides access to historical and cultural books. Ayala Museum offers art programs on contemporary art, history, music, and design through exhibits, lectures, workshops, and talks.
Location: Makati Ave. cor., Dela Rosa St., Greenbelt Park, Makati City
Business hours:
Ground-Fourth Floor Galleries – 9 am to 6 pm (Tues to Sun)

Filipinas Heritage Library – 9 am to 6 pm (Tues to Sat)

ArtistSpace – 10 am to 7 pm (Mon to Sun)
Admission: Free
Website: www.ayalamuseum.org
Also read: Ayala Museum
National Museum of the Philippines: National Museum of Fine Arts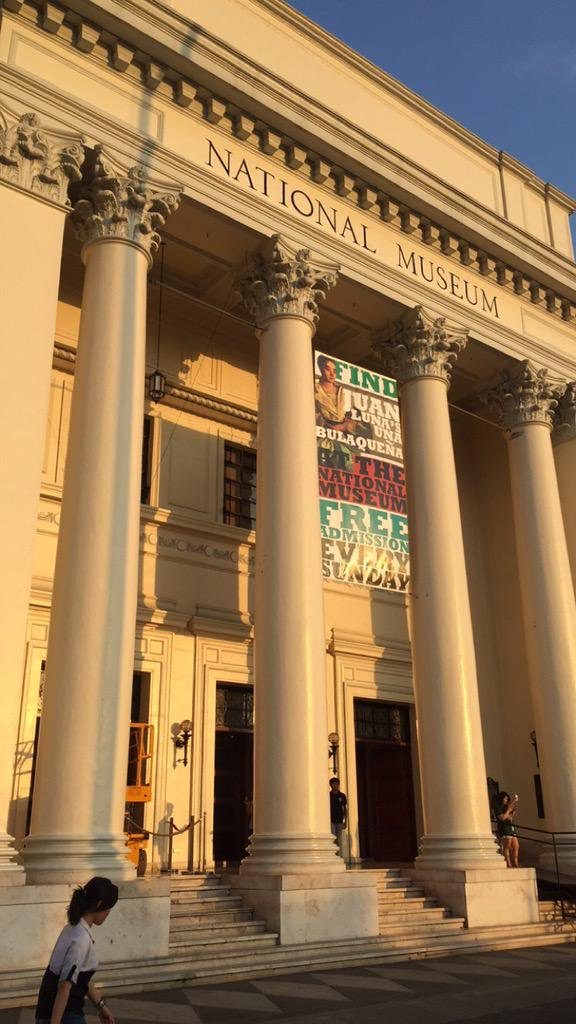 The National Museum of Fine Arts in Manila /IMAGE Faye Almazan
If you want to learn more about contemporary Philippine art from the 17th to the 21st century, you must visit the National Museum of Fine Arts in Manila.
It is home to 12 galleries where you'll find the country's most famous paintings and sculptures made by Filipino national artists. These include Juan Luna's Spolarium and Jose Rizal's collection of sculptures.
Location: Padre Burgos Ave., Rizal Park, Ermita, Manila
Business hours: 8 am to 12 nn and 1 pm to 5 pm (Mon to Fri)
Admission: Free
Website: www.nationalmuseum.gov.ph
Also read: National Museum Complex: A Memento of the Philippines' Rich Culture
Leon Gallery
Leon Gallery specializes in collecting important art pieces and antiques, such as the old paintings of Filipino artists Juan Luna, Feliz Resurreccion Hidalgo, and Fernando Amorsolo, as well as antique heirlooms from pre-Hispanic era to Hispanic era.
They also conduct live auctions where you can bid on these timeless pieces!
Location: G/F Eurovilla 1, Rufino corner Legazpi Streets, Legazpi Village, Makati City
Business hours: 9 pm to 7 pm, daily
Website: leon-gallery.com
Ateneo Art Gallery
Recognized as the country's first museum of Philippine modern art, Ateneo Art Gallery features pristine art pieces from Fernando Zobel's own collection of artworks, which are all made by Filipino post-war artists.
They have a wide selection of art from different mediums like drawings, paintings, sculptures, media-based art, and installations. Not only does this gallery have Zobel's timeless collection, but it also represents other artists such as Vicente Manansala, Ben Cabrera, Jose Tence Ruiz, Danilo Dalena, David Cortez Medalla, and many more.
Location: Soledad V Pangilinan Arts Wing, Areté Ateneo de Manila University, Katipunan Ave., Loyola Quezon City
Business hours: 9 am to 7 pm (Tues to Sat), 9 am to 5 pm (Sun)
Website: ateneoartgallery.com
Vinyl on Vinyl
For modern day pop culture art pieces, check out Vinyl on Vinyl's gallery ranging from surrealism, after-modernism, underground, and street art. They cover unexplored art genres and showcase different art techniques, mostly South Asian Art, that are fit for the millennials.
Location: 2241 Pasillo 18, La Fuerza Compound 1, Chino Roces Ave., Makati City
Business hours: 12 pm to 7 pm (Tues to Sat)
Website: vinylonvinylgallery.com
Pinto Art Museum
Founded in 2010, Pinto Art Museum is one of the most popular contemporary art space you can find outside the metro. It showcases a public exhibit of Filipino neurologist and art patron Dr. Joven Cunanang's art collection, which revolves around expressionism, minimalism, conceptual art, and more.
Aside from the collection, its pretty aesthetic and minimalist architecture made it one of the most Instagram-worthy museums in the world.
Location: 1 Sierra Madre St., Subdivision, Antipolo, Rizal
Business hours: 9 am to 6 pm (Tues to Sun)
Admission:  Php 200 for adults, Php 180 for Senior and PWD, Php 100 for students
Website: www.pintoart.org
Also read: Pinto Art Museum in Antipolo: Haven for Philippine Contemporary Art
Space Encounters Gallery
Space Encounters Gallery serves as a playground for artists and art enthusiasts as they feature vignettes of mid-century modern furniture, vintage items, and various forms of art. The 124-square meter area brings light to classic pieces mixed with mid-century modern and industrial art elements.
Location: Unit 7D, 7th Floor, Padilla Building, F. Ortigas Jr. Road, Ortigas Centre, Pasig City
Business hours: 10 am to 6 pm, (Mon to Fri)
Website: gallery.spaceencounters.net

Also read: Inside Space Encounters: Workplaces in Manila
Art Circle Gallery
Art Circle Gallery has a wide collection of artworks by Filipino artists from different art movements and genres. Its main gallery is located at Shangri-la Plaza Mall, but it has nine branches around Metro Manila.
Some of their featured artists include Fernando Amorsolo, Ben Cabrera, Edward Liao, Nio Badajos, and Michael Cacino. They also offer art services such as framing, restoration, preservation of paintings, as well as art authentication.
Branches: Shangri-la Plaza Mall, Festival Supermall, SM Megamall, Glorietta 4, SM Mall of Asia, SM North Edsa, Robinsons Place, and University of the Philippines Bahay ng Alumni
Website: www.artcircle-gallery.com
1335Mabini
1335Mabini is one of Manila's fine contemporary galleries situated in a heritage house in Ermita, Manila. It's a space for everything associated with art, be it paintings, sculptures, and new media.
This gallery also doubles as a place for art performances, lectures, film screenings, among others.
Location: 1335 A. Mabini Street, Ermita, Manila
Business hours: 10 am to 6 pm (Tues to Sat)
Website: www.1335mabini.com
Also read: 1335Mabini: A space for all things contemporary
Tin-aw Art Gallery
Tin-aw Art Gallery is a venue for contemporary artworks from hundreds of emerging and established Filipino and Asian artists. Aside from the paintings, you'll see other art mediums such as digital, sculpture, and installation art that solo or group artists contribute to the gallery.
Location: Upper Ground Floor, Somerset Olympia Bldg., Makati Avenue cor., Sto. Tomas St., Makati City
Business hours: 10 am to 6 pm (Mon to Sat)
Website: www.tin-aw.com
Have you visited some of these amazing art galleries? Share with us your thoughts on the comments section below!