5 Keto-Friendly Restaurants in the Metro
With everyone becoming more health-conscious, it's hardly a state secret that Ketogenic Diet is one of the popular diets nowadays. It consists of a very high fat and low carbohydrate food, which aims to fasten weight loss and curb cravings.
Also read: New Year, New You: Diet and Fitness Guide for 2019
It might be hard to eat out when you're following a ketogenic diet because you won't be sure if they're actually offering what you need. You'd have to ask the staff—chef, even.
No need to fret though as we've listed some of the keto-friendly restaurants in the metro that are worth the second look!
Corner Tree Cafe
Operating for about 10 years now, Corner Tree Cafe is undoubtedly well-loved by vegans and vegetarians—all thanks to their scrumptious meals and quaint interior. They recently opened their second branch at Power Plant Mall in Rockwell, and it just might be your favorite spot if you're on a keto diet. Be sure to sample their Tofu and Shiitake Stirfry and Cauliflower Rice and Falafel! 
Also read: Corner Tree Cafe In Power Plant Mall Introduces 'Keto' Menu
Address: 3/F Power Plant Mall, Rockwell, Makati City
Contact: 0906-350-9721
Facebook: facebook.com/Corner-Tree-Cafe
The Rabbit Hole
Fancy a decadent yet guilt-free cake? The Rabbit Hole has a few keto-friendly offerings that will surely satisfy your sweet tooth. Well, no one can ever say no to their best-selling Keto Sanzrival as it's undeniably delicious. You can also try their keto breads like Bread Roll, Ensaymada, Tuna, and more!
Address: 20 Malugay Street, San Antonio, Makati City
Contact: 02-772-6807
Facebook: facebook.com/therabbitholemnl
Instagram: instagram.com/therabbitholemnl
Sweet Ecstasy
Sweet Ecstasy boasts one of the best keto-friendly burgers in town, making you drool over their pictures every time. Their locally sourced patties are freshly made every morning. Bonus, too, that they have occasional "secret burgers" you can check via their social media accounts!
Also read: Sweet Ecstasy in BGC: Making Burgers Awesome
Address: 2/F Uptown Parade, Bonifacio Global City, Taguig City
Contact: 0906-346-7989
Facebook: facebook.com/SweetXManila
Instagram: instagram.com/sweetxmanila
Locavore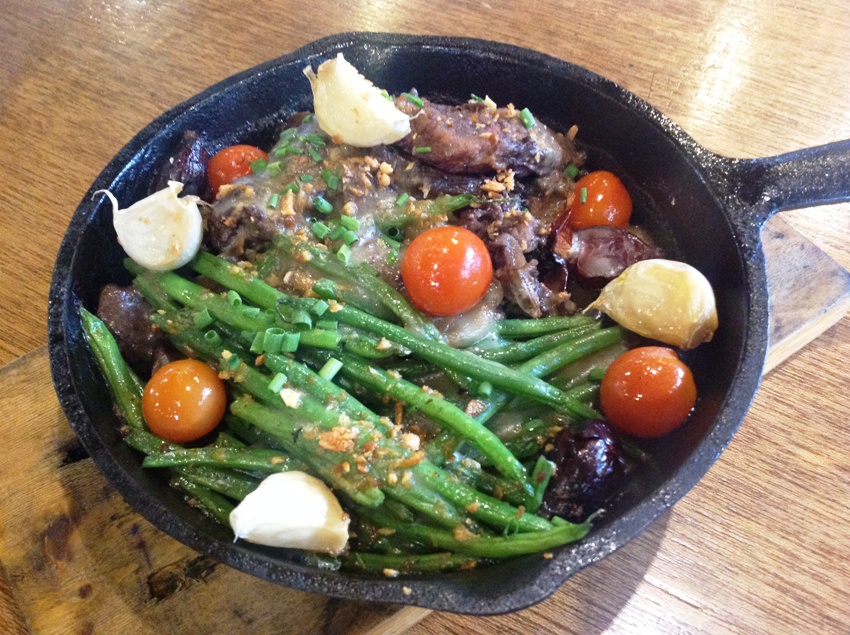 Sitting in the heart of Pasig City is Locavore, known for their contemporary Filipino fare. They literally use everything local but still manage to give them trendy twists each time. You'll surely love their keto-friendly sizzling plates like Sizzling Sinigang and Lechon Oyster Sisig.
Also read: Locavore Kitchen & Drinks in Pasig: Loving Local Flavors and Fusions
Address: 10 Brixton Street, Barrio Kapitolyo, Pasig City
Contact: 02-632-9600
Facebook: facebook.com/locavore.ph
Instagram: instagram.com/locavore.ph
Gourmet Gypsy Art Cafe
Gourmet Gypsy in Quezon City is a bit popular for their delectable meals, both available in-house and through their diet delivery service. They have ketogenic version for almost every dish, just like their nutritious Skillet Focaccia. Plus they hold Keto cooking classes every now and then!
Address: 25 Don A. Roces Ave. Brgy. Paligsahan, Quezon City
Contact: 02-211-1233 / 0995-382-5736
Facebook: facebook.com/gourmetgypsy
Instagram: instagram.com/gourmetgypsy
Note that certain types of diet may have different effects on you, so it's still best to consult a registered dietitian-nutritionist to know what's ideal for your body.
Also read: Diet Trends in the PH You Should Know About
Do you know other keto-friendly restaurants in the metro? Let us hear in the comments below!