LOOK: PH Midterm Election Results Announced
The Commission on Elections (Comelec) of the Philippines has released the final, official results of the 2019 Midterm National Elections that occurred last May 13, 2019.
Also read: A Guide to the May 2019 Elections in the Philippines
The National Board of Canvassers proclaimed the 12 elected candidates on May 22, 2019 at PICC/IMAGE from Philstar
Philippine National Election
These elected senatorial candidates, as proclaimed on May 22 at the Philippine International Convention Center (PICC), will be joining the winners of the 2016 election to form the 18th Congress of the Philippines. They will take office on June 30, 2019.
Cynthia Aguilar Villar – 25,283,727
Mary Grace Poe-Llamanzares – 22,029,788
Christopher Lawrence "Bong" Tesoro Go – 20,657,702
Pilar Juliana "Pia" Schramm Cayetano– 19,789,019
Ronald Marapon "Bato" dela Rosa – 19,004,225
Juan Edgardo "Sonny" Manalang Angara – 18,161,862
Manuel Mercado "Lito" Lapid – 16,965,464
María Imelda Josefa "Imee" Romualdez Marcos – 15,882,628
Francis Ng Tolentino – 15,510,026
Aquilino Martin "Koko" de la Llana Pimentel III – 14,668,665
Ramon Bong Revilla Jr. – 14,624,445
Maria Lourdes Nancy Sombillo Binay-Angeles – 14,504,936
COMELEC chair Abas declares the winning senators in the 2019 polls:
1. Cynthia Villar
2. Grace Poe
3. Christopher Lawrence Go
4. Pia Cayetano
5. Bato dela Rosa
6. Sonny Angara
7. Lito Lapid
8. Imee Marcos
9. Francis Tolentino
10. Koko Pimentel
11. Bong Revilla
12. Nancy Binay pic.twitter.com/qFbLJILzU4

— Phil News Agency (@pnagovph) May 22, 2019
Metro Manila Local Election
The National Capital Region (NCR), often called Metro Manila, is the seat of government and is comprised of 16 cities and 1 municipality. From the data of the Commission on Elections (COMELEC), NCR is the second most vote-rich region in the country with 11.4% of total registered voters or 7,074,603 votes.
Winning candidates were proclaimed in their respective cities and municipalities.
| | | |
| --- | --- | --- |
| City/Municipality | Mayor | Vice-Mayor |
| Caloocan | Oscar Malapitan | Luis Macario Asistio |
| Las Piñas | Imelda Aguilar | April Aguilar |
| Makati | Abby Binay | Monique Lagdameo |
| Malabon | Antolin Oreta III | Bernard dela Cruz |
| Mandaluyong | Carmelita Abalos | Antonio Suva |
| Manila | Francisco Domagoso | Maria Sheilah Lacuna-Pangan |
| Marikina | Marcelino Teodoro | Marion Andres |
| Muntinlupa | Jaime Fresnedi | Temy Simundac |
| Navotas | Tobias Reynals Tiangco | Clint Nicolas Geronimo |
| Parañaque | Edwin Olicarez | Jose Enrico Golez |
| Pasay | Imelda Calixto-Rubiano | Noel del Rosario |
| Pasig | Vico Sotto | Iyo Bernardo |
| Pateros | Ike Ponce | Gerald German |
| Quezon City | Joy Belmonte | Gian Sotto |
| San Juan | Francis Zamora | Warren Villa |
| Taguig | Lino Edgardo Cayetano | Ricardo Cruz Jr. |
| Valenzuela | Rex Gatchalian | Lorie Natividad-Borja |
2019 Election Transparency
The Philippines started using automated elections in 2010 in an attempt to counter election fraud and to speed up the transmission of results. Since then, Comelec has been using the precinct count optical scan or PCOS machines which has been continuously updated to ensure its accuracy.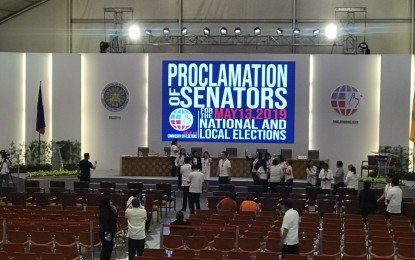 The National Board of Canvassers set up their election headquarters at the PICC where the proclamation was also held/IMAGE grabbed from PNA
The transmission of votes from the polling precincts started as soon as the polls closed on May 13, at 6 p.m. Comelec, as the NBOC, received vote counts from national, provincial, city/municipal, and overseas canvassing centers as the basis of the winning candidates. There are 167 certificates of canvass (COCs) in total.
Third party groups such as the Parish Pastoral Council for Responsible Voting (PPCRV), a church-based election watchdog, and the media are tasked to release a partial and unofficial tally to the public for transparency. They receive data from the Comelec transparency server.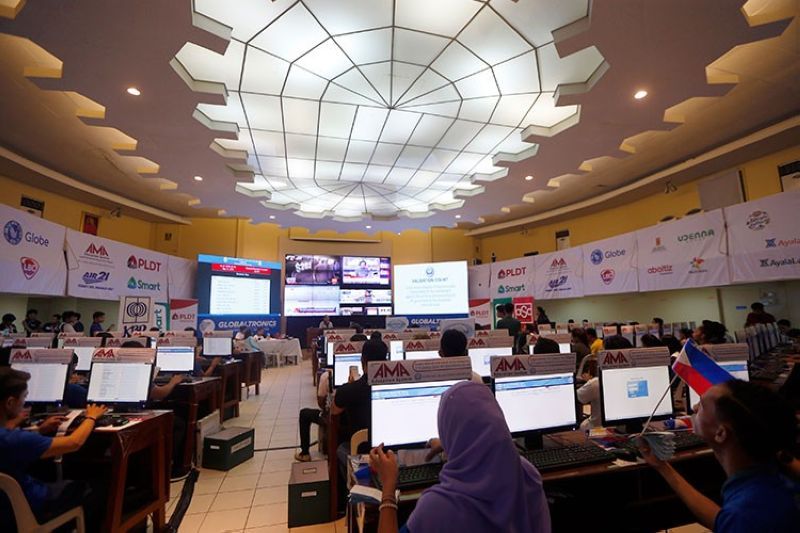 The PPCRV monitored the election from their command center at Pope Pius XII Catholic Center, Manila/IMAGE from Yahoo News
On the night of the election day, at 6:15 p.m. the unofficial tallies stopped at 0.38% and resumed almost 7 hours later at 1:19 a.m. Tuesday, May 14 with 90.57% of election returns. To explain the blackout of transparency, Comelec Spokesman James Jimenez said in a live news interview that the computer service that generates the files for media and watchdog groups encountered technical problems.
It was clarified that Comelec's central server which is receiving the official COC transmissions encountered no problems and that the glitch happened with the transparency server that transmits unofficial results to the media and watchdogs.
Also read:
---
Sources: Comelec Facebook Page, Philstar, Rappler, ABS-CBN, Philippine News Agency
Written by Heloise Diamante