Carpaccio Favorites Now Offered at Its Sister Restaurants
Many are truly saddened by the closure of Carpaccio Ristorante Italiano in Makati on February 16, 2019, after 24 years of bringing the best of Italian fare in the metro. But on a positive note, frequent diners of this well-loved restaurant can still relish their favorites at its sister restaurants, I'm Angus Steakhouse and Chesa Bianca along Yakal Street in Makati.
I'm Angus Steakhouse
Chesa Bianca
Diners of I'm Angus Steakhouse can now order Carpaccio's Antipasto Misto (Php 590+) made of a selection of marinated vegetables and mozzarella, prosciutto, salami, mortadella, melon, and eggplant parmigiana.
Carpaccio Alla Cipriani
Revive the Italian goodness by taking the most requested Carpaccio Alla Cipriani (Php 520+) which is a traditional beef carpaccio with extra virgin olive oil, freshly ground black pepper, and parmesan shavings.
Pappardelle di Benedeto
But if it's the pasta and the risotto you are craving for, take the Pappardelle di Benedeto (Php 570+), a homemade pasta smoked salmon with prawns, asparagus, cream, and herbs.
Also read: Have a Special Steak Night at I'm Angus Steakhouse in Yakal, Makati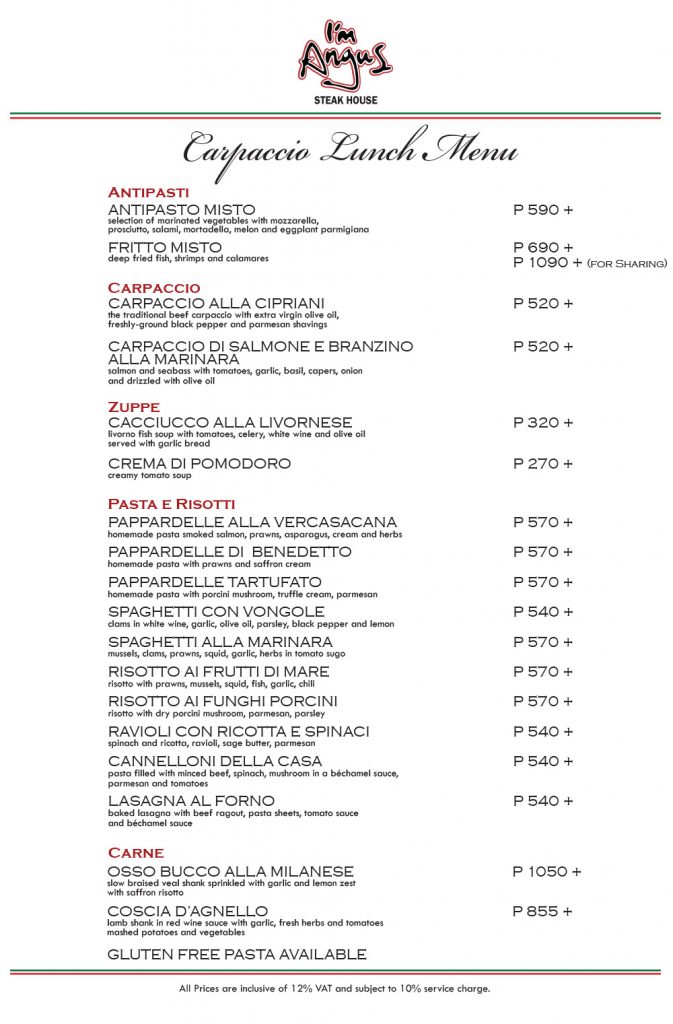 Meanwhile, diners of Chesa Bianca can also savor the goodness of Italian eats, aside from the flavors from Switzerland it serves.
The Swiss restaurant now has the Insalata Caprese (Php 470+) which is Italy's national salad displaying its three colors, with tomatoes, arugula (seasonal) mozzarella and basil, extra virgin oil, and black pepper.
For the main course, you can have the Piccata Milanese (Php 570+) which is a golden fried pork tenderloin in parmesan egg batter served with spaghetti napolitaine.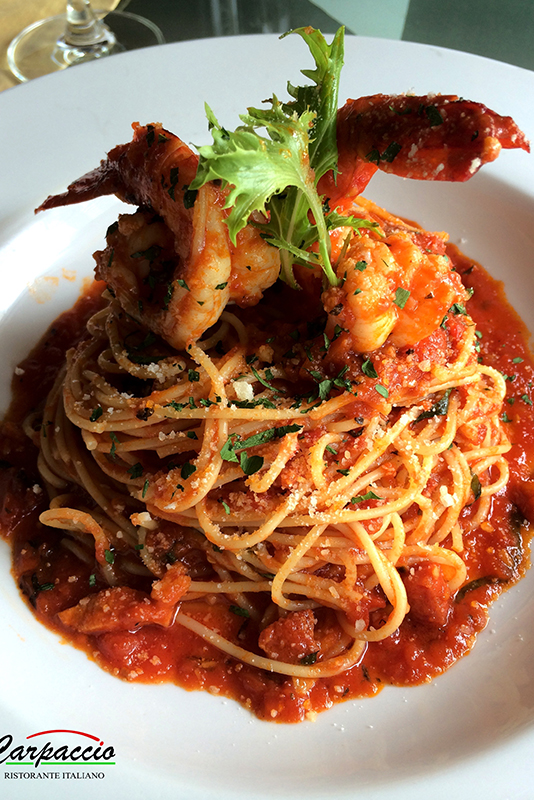 Marinara
They also offer pasta, such as the Marinara (Php 520+) which has assorted seafood, capers, olives, garlic and onions in tomato sauce.
Also read: Chesa Bianca Swiss Restaurant in Makati: Bringing Swiss flavors to the Philippines
Visit I'm Angus Steakhouse and Chesa Bianca Swiss Restaurant and indulge in rich European cuisine and premium steaks of your choice!