Teppan Okochi Opens New and Improved Branch in Rockwell
Good news, Japanese food lovers!
The Japanese Teppanyaki restaurant Teppan Okochi opened its newest branch in the exclusive residential area of Rockwell last January 20.
Teppan Okochi is the newest go-to Japanese restaurant in Rockwell
Teppan Okochi is the first overseas store headed by chef Akihiro Okochi. The newest Rockwell branch is much bigger and more spacious than their first store in BGC.
Present during the branch opening is Ambassador Koji Haneda of the Embassy of Japan in the Philippines, as well as representatives from major Japanese companies. Japanese artist Hirono Nakamura also performed a live mural painting of a dragon to bring good luck to the branch.
Chef Akihiro Okochi (far right) in the grand opening of Teppan Okochi Rockwell joining him is Ambassador Koji Haneda of the Embassy of Japan in the Philippines (second from left)
Also read: Teppan Okochi by Mangetsu Osaka in BGC, the First Overseas Store with Chef Akihiro Okochi
Japanese artist Hirono Nakamura painted live a life dragon mural
What diners should be excited for is the three counter seats like the U-shaped iron teppanyaki counter, which is designed to accommodate more guests. It is spacious enough for diners to witness how the master chefs of teppanyaki create each flavorful dish.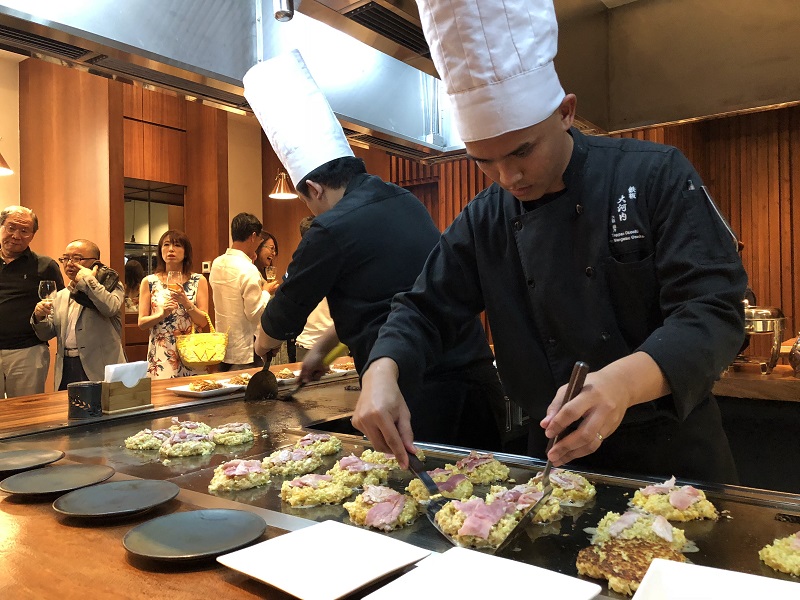 The sushi counter allows you to have your own chef to create your favorite sushi dish right in front of you. Lastly, visitors should also look forward to the bar counter where they can drink their favorite wine or Japanese sake while enjoying the sumptuous Japanese food.
They are open daily for lunch from 11:30 a.m. to 2:30 p.m. and 5:30 p.m. to 11 p.m. for dinner. Customers will be delighted with everyday Japanese eats from Teppan Okochi at Rockwell!
Teppan Okochi Rockwell is located at Ground Level, Power Plant Mall Rockwell, Lopez Drive, Rockwell Center. For reservations, you may contact them at 0917-863-0051.