10 Marine Conservation NGOs You Can Volunteer For
The Philippines is an archipelago surrounded by bodies of water, making it the perfect place for many marine studies, research, and conservation efforts. One way to help them in their efforts is by volunteering!
For those interested to help save the planet, here are some volunteer organizations that you may want to consider joining or donating to:
Save the Philippine Seas (SPS)
2018 YSEALI Mindanao SEA Camp Highlights

Happy Month of the Ocean!In SPS, every month is Month of the Ocean <3 Here's a look back at the highlights of the 2018 Young Southeast Asian Leaders Initiative (YSEALI) Mindanao Sea and Earth Advocates (SEA) Camp, which brought together 25 youth leaders from Mindanao to Cebu for a week-long intensive environmental education and leadership program. During the week, the SEA Campers underwent workshops, learned from resource speakers and mentors, explored a marine protected area and wildlife sanctuary, and implemented their own group projects and campaigns in Cebu. Five projects won grants to be implemented in their respective communities.The YSEALI SEA Camp is a project of Save Philippine Seas and the U.S. Embassy in the Philippines. It is supported by Lagu, Islands Souvenirs, Fizzo, Aquamundo, Human Nature, and Team Manila.

Save Philippine Seasさんの投稿 2018年5月1日火曜日
Save the Philippine Seas (SPS) is a non-stock, non-profit organization that began in 2011. SPS aims to keep the community aware and involved with the activities and provides ways for marine life conservation and management.
To volunteer at SPS, you can send them an email at info@savephilippineseas.org. You may also attach your CV in the email.
Website: savephilippineseas.org
Email: info@savephilippineseas.org
Waves for Water (W4W)
Using a simple bucket, Waves for Water has created a water filtration system turning dirty water into drinkable water/IMAGE W4w Facebook Page
Waves for Water (W4W) is an international NGO started by a small group of surfers when its members discovered that clean drinking water is not always attainable. The group distributes water filtration systems in different areas of the country, especially those who are affected by natural calamities.
W4W encourages travelers to carry water filtration systems with them. If you want to be part of water filtration distribution, visit their website at www.wavesforwater.org/couriers.
Website: www.wavesforwater.org
Email:  info@wavesforwater.org
Marine Wildlife Watch of the Philippines (MWWP)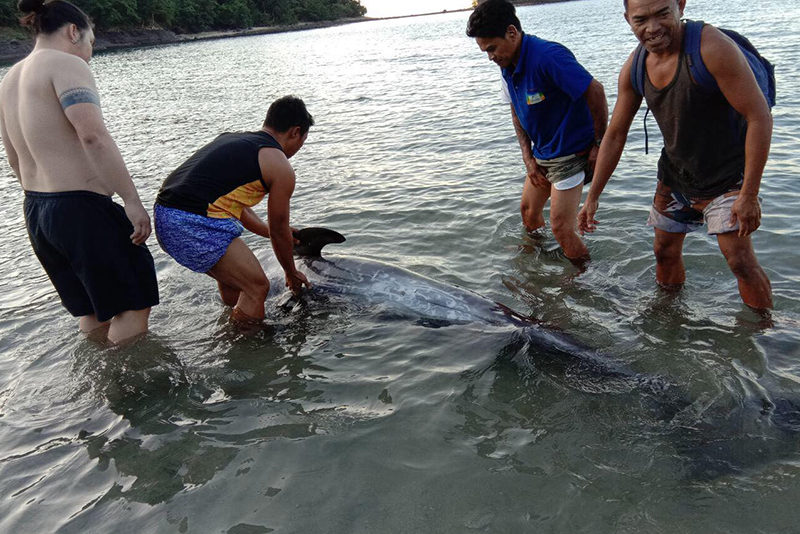 MWWP informs local communities of the dangers of polluted waters and illegal fishing/IMAGE MWWP Facebook Page
Registered as Marine Wild Fauna Watch of the Philippines, the MWWP is a non-profit, non-stock, conservation organization with various projects and activities that aim for a better appreciation of the marine environment, its ecological processes, and how it affects us all.
Report a protected marine wildlife sighting, capture, trade, captivity, death, by-catch, or stranding through their Facebook page: www.facebook.com/marinewildlifewatchofthephilippines.
Website: mwwphilippines.org
Email:  info@mwwphilippines.org
Marine Conservation Philippines
One of the most active NGO, the Marine Conservation Philippines is dedicated to preserving and protecting coastal resources in the Philippines through education, volunteerism, and research.
They organize a weekly beach and dive clean-up activity throughout the year. Interested applicants can enroll in 6, 8 or 16 weeks of volunteerism.
Website: www.marineconservationphilippines.org
Email:  info@mcp.email
Large Marine Vertebrates Research (LAMAVE)
Lamave is touring the whole country to educate local communities on the importance of marine wldlife and conservation/IMAGE Lamave Website
As their name entails, the Large Marine Vertebrates Research Institute Philippines (LAMAVE) focuses their efforts on the research and conservation of marine megafauna and the marine environment in the Philippines.
The institute works closely with local governments, communities, and businesses and tourists to minimize pollution and develop tools for conservation management by creating or zoning marine protected areas.
Website: www.lamave.org
Email:  info@lamave.org
Also read: LIST: Environment Orgs in the Philippines You May Volunteer For
Scuba for Change
A normal dive center but with a cause to a local foundation in the Philippines/IMAGE Scuba for Change Website
As a Not-For-Profit dive center, Scuba for Change aims to employ, train and educate locals in Puerto Galera on diving consciously. The company donates 50% of their profits to the local Stairway Foundation, which is a charity organization whose works and programs focus on preventing child exploitation in the Philippines.
Website: www.scubaforchange.com/sfc-puerto-galera
Email: pg@scubaforchange.com
Also read: LIST: Volunteer Organizations in the Manila Where You Can Join
People and the Sea
People and the Sea is a marine-based conservation initiative that organizes volunteer expeditions to the island of Malapascua in the Philippines. Through numerous expeditions, volunteers learn to have an active role in the protection of the marine environment, becoming a part of the community.
Website: www.peopleandthesea.org
Email: info@peopleandthesea.org

Coral Cay Conservation
By teaching marine conservation and love of animals to the youth, Coral Cay Conservation raises future environmentalists/IMAGE Coral Cay Website 
Coral Cay Conservation is an internationally renowned and accredited conservation specialist registered in the United Kingdom that has numerous projects in Southern Leyte, Philippines. Since 1995, they have been working to conserve the local ecosystem and ensure its long term future.
Website: www.coralcay.org
Email:  info@coralcay.org
Green Fins
The year 2018 was the International Year of the Reef where Green Fins participated in pushing for the protection of the coral reefs around the world/IMAGE Green Fins Website
Another international organization, Green Fins, works in the Philippines and other neighboring countries in efforts to increase public awareness and management practices that will benefit the conservation of coral reefs and reduce unsustainable tourism practices.
Locally, Green Fins works with The Reef-World Foundation, which is a UK-based charity with a field office in the Philippines.
Website: greenfins.net/en
Email:  info@greenfins.net
Project Seahorse
The group strongly believes that the seahorses are flagship species for a wide range of marine conservation issues./IMAGE Project Seahorse Facebook Page
International marine conservation group Project Seahorse is dedicated to securing a world where marine ecosystems are healthy and well-managed. Their main thrusts are to save seahorses, secure the world's shallow seas, and train conservationists.
Website: www.projectseahorse.org
Email:  info@projectseahorse.org
Also read: Pawikan Conservation Center in Bataan
Are you looking to join a conservation group or are you already a volunteer of an NGO? Share us your group and your experiences in the comments below!