BiotechJP Corp. Ushers in New Products of Ready-to-Eat Rice
It is safe to say that what makes up most of the Filipino culture is rice. Palay, alongside a system of irrigation, is one of the many favors and life-giving necessities the first Filipinos brought to the archipelago. What's more is that a lot of delectable dishes and delicacies were born out of the Filipino's love for the staple product. Now, in this continuously fast-paced world, where people in all walks of life need to consume food in haste, we still need to ensure health consciousness through the consumption of nutritious food.
With this, Biotech Japan's branch plant in the province of Batangas in the Philippines is set to usher in three more products of precooked rice with different nourishing contents to suit various demands.
Aside from Echigo, which was introduced to the public in 2017 as precooked rice with less protein that's suitable for patients suffering from chronic kidney disease, BiotechJP Corporation also puts forth GohanLite, perfect for people with diabetes due to its reduced calorie content. GohanLite is reportedly to be sold at Php 45 per pack.
Meanwhile, nothing seems to be impossible with Japan's rice technology with Rice-to-Go, which does not need heat entirely in order to consume. It is ready-to-eat and is said to be suitable for government departments primarily concerned to aid people in calamity-induced areas, thus its given label, "emergency rice". With a target to market the product at Php 25, the Philippines may just have its quick remedy for problems caused by natural disasters.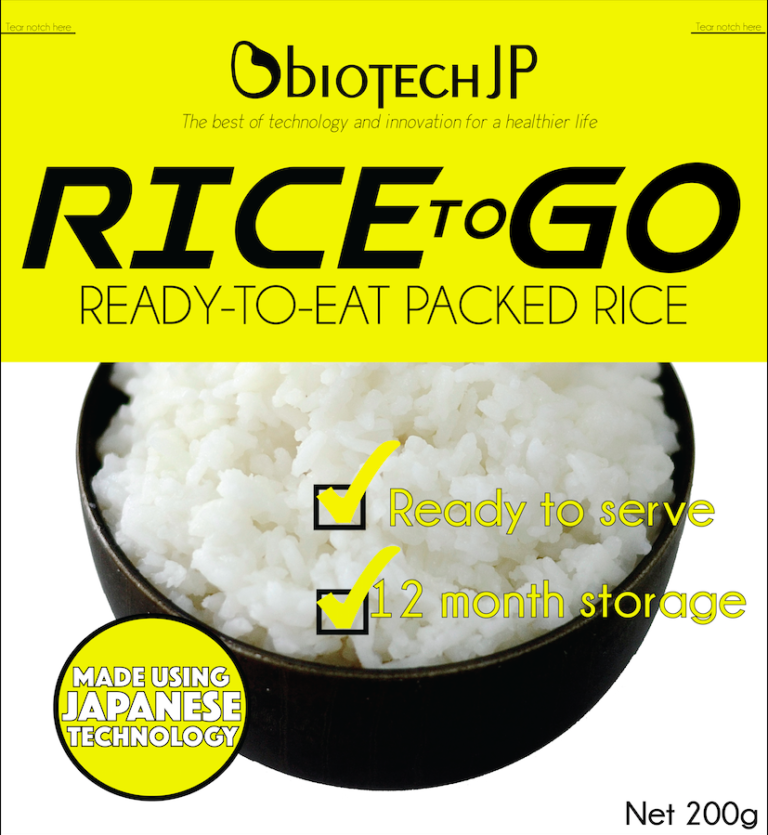 To date, BiotechJP Corp.'s microwavable and precooked Insta Rice is the least expensive among its roster of ready-to-eat rice, at Php 35 per pack.
According to an interview with ABS-CBN and BiotechJP Corp's General Manager, Trisha Ann Garcia, these precooked rice, which are already licensed by the Food and Drug Administration, can be shelved from six months up to one year and are available by packs of 200 grams each.
---
Source: BiotechJP Corp., ABS-CBN News
All images were retrieved from BiotechJP.com.ph