Catcalling and Public Harassment: Now Officially Banned in Manila!
Street offenders, take note! Sexual harassment in the form of catcalling, leering, wolf whistling, and making sexual jokes are now officially banned in the streets of Manila!
People of Manila not tolerating street harassment. / IMAGE Safe Cities Metro Manila Programme
Almost every woman walking down the streets on their way to school, work, or home has experienced being catcalled by men leering (looking or gazing maliciously) and wolf-whistling (malicious whistling to a woman passing by) to them. Even with long sleeves and pants on, men on the streets will always have their ways to make every woman feel uncomfortable and unsafe.
While guys think it is a compliment for women, well, here's the truth. Catcalling is NOT and will never be a compliment. Being called pretty and persistently asked for phone numbers or names are all considered sexual harassment or catcalling (whistling, shouting, commenting on physical appearance of a woman passing by). With this never-ending problem on the street, the security and mobility of every woman is affected.
The good news is, with the continuous fight against street harassment and promoting safer streets, the City of Manila officially banned catcalling in every corner and streets of Manila. Last June 28, 2018, on its third and final reading, the ordinance lauded by Senator Risa Hontiveros, the UN Women Philippines, and the Institute of Politics and Governance was finally passed.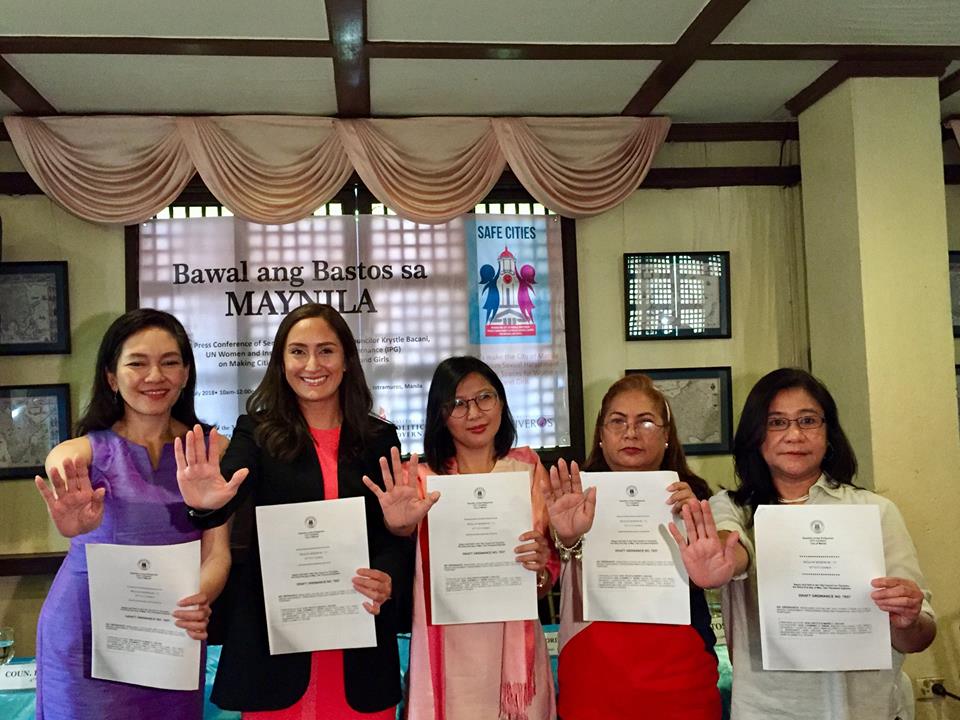 Senator Risa Hontiveros and Manila District 4 Councilor Krystle Bacani holding the approved ordinance. / IMAGE Safe Cities Metro Manila Programme 
According to the Manila Ordinance No. 7857, authored by Manila District 4 Councilor Krystle Bacani, wolf-whistling, catcalling, leering, sexual jokes, persistent request of name, contact details, and other forms of public harassment are penalized by the following:
Punishable of one (1) to fifteen (15) days of imprisonment
A fine of Php 200 to Php 1,000
While those who will be caught making offensive body gestures, harassing and threatening of the offended party will be penalized by:
one (1) to three (3) months of imprisonment
A fine of Php 1,000 to Php 3,000
Those who will be found guilty and reported more than once will be penalized with:
three (3) to six (6) months of imprisonment
A fine of Php 3,000 to Php 5,000
Complaints are free of charge and those who wish to report catcalling may file complaints on the City's Prosecutor Office. This ordinance is a one step closer towards achieving a violence-free and safer streets in Manila. 
---
Sources: GMA News, Safe Cities Programme