Laiya in Batangas: Beach Resort Recommendations 2018
Laiya in San Juan is Batangas' answer to those looking for a beach getaway yet don't have too much time to spend for a long trip.
It's about two and a half hours away from Metro Manila and is hoe to several white sand beaches and some of the most pristine waters you can find.
Laiya Beach, in particular, has drawn more people in recent years, thanks to its long stretch of white sand beach. It also has multiple resorts to choose from depending on what you want.
Check out our recommendations for your weekend getaway in Laiya:
How to go to Laiya
If commuting from Manila, board a bus going to Lipa City in Batangas. Drop off at Lipa Bus Terminal then take a jeepney or van going to San Juan, Batangas. Drop off at the Municipal Hall, then alight a jeepney or hire a tricycle going to Laiya.
Where to Stay in Laiya
Acuatico Beach Resort
Inspired by the architectural style of Bali, Acuatico Beach Resort perfectly blends with the beach, featuring a vast infinity pool that is seamlessly connected to the ocean. When you feel thirsty, there's Acua Bar at the center where you can easily grab some refreshments while you bask in the sun.
Also read: Acuatico Beach Resort in Batangas: Bali-Inspried Getaway Spot in Laiya
Acuatico Beach Resort has a total of 21 rooms and villas that are exclusive, spacious, and stylishly designed with Balinese elements. You can choose from eight types of accommodation: Alta Vista, Infiniti Room, Infiniti Poolside, Vista de Laiya, Casa de Playa, Terraza, Casita, and Estancia, all of which have huge glass windows that let you get a glimpse of vivid greenery outside.
Address: Laiya, San Juan, Batangas
TEL: 02-651-5972
Check-in: 1 pm; Check-out: 11 am
Price range: Php 8,000 – Php 23,400
Website: www.acuaticoresort.com.ph
Facebook page: Acuatico Beach Resort and Hotel Inc.
Blue Coral Beach Resort
Some would describe Blue Coral Beach Resort as a paradise. The resort is surrounded by white sand beaches and crystal clear azure waters, making it perfect for photos day or night.
Blue Coral Beach Resort will serve as your second home with their cozy and comfortable rooms. They have around 30 furnished suites and rooms that can accommodate any type of traveler.
Also read: Blue Coral Beach Resort in Batangas: A Paradise for Vacationers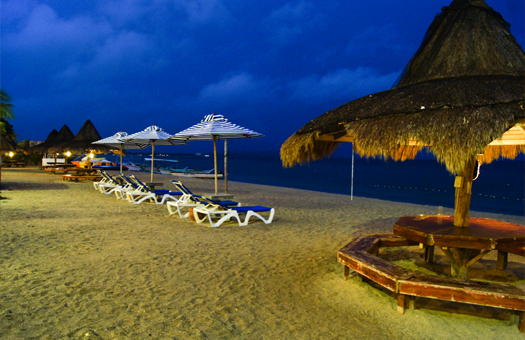 They have different activities and spots within the resort. They also offer day trips for only P1,200 where you can enjoy various activities and have preferential rates for those who want to play a round of golf at the Calatagan Golf Club.
Address: Laiya, San Juan, Batangas City
Contact Numbers: 02-559-9747 / 02-567-4376 / 02-559-9754
Price Range:  Php 6,000 – Php 30,000
Facebook Page: Blue Coral Beach Resort Official
Laiya White Cove Beach Resort
Laiya White Cove Beach Resort is a peaceful paradise on a 1.4-hectare compound that radiates calm and peace. Its minimalist, white-dominated design perfectly blends with the fine white sand it stands on.
The resort has 18 fully-furnished rooms that follow the same minimalist style. They have four main types of rooms: Standard Family Room, Premier Family Room, Quad Room, and Couple Room.
Also read: Laiya White Cove Beach Resort in Batangas: A dazzling place of calm and peace
The resort accepts day trips for small groups (less than 50 persons) with an entrance fee of Php 300/head. Beach parasol tents can be rented for Php 900-Php 4,000 depending on the number of persons.
Address: 112 Brgy. Laiya Aplaya, San Juan, Batangas City
TEL: 02-925-2562 / 02-871-1235 / 02-994-7392
Mobile Phone: 0917-813-4965 / 0998-516-0624
Website: laiyawhitecove.com
Facebook page: Laiya White Cove Beach Resort
Laiya Coco Grove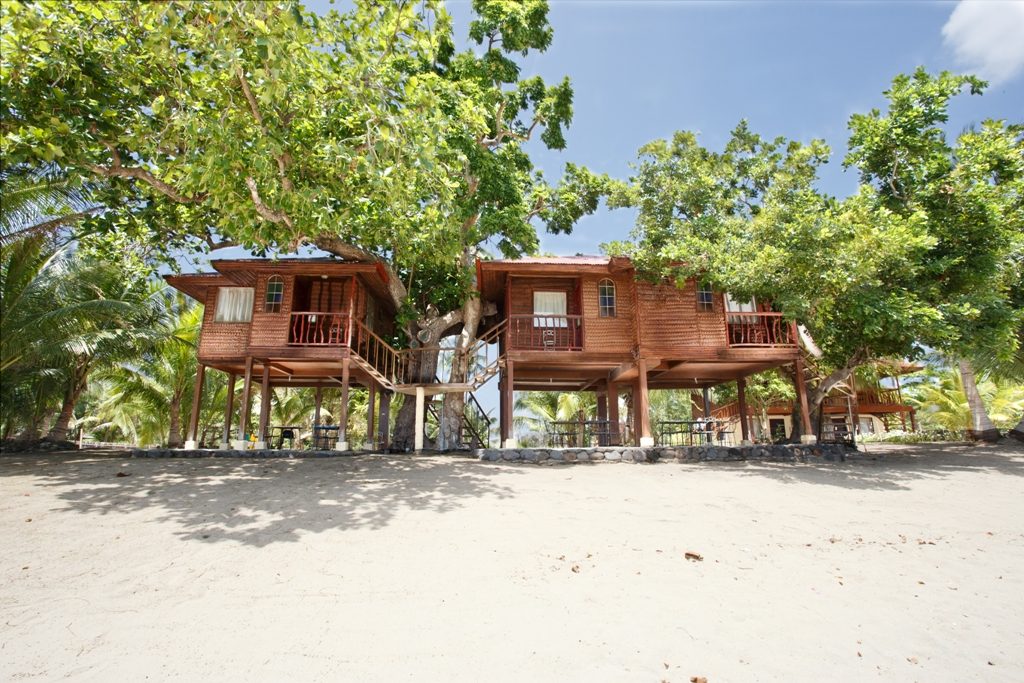 Laiya Coco Grove is where summer dreams made of sunshine and a sparkling ocean come true. What makes this tropical paradise unique is the type of accommodation you'll be geting; you get to stay at a tree house! Enjoy a surreal view from your tree house-inspired cottage and be able to witness the sunrise from your place.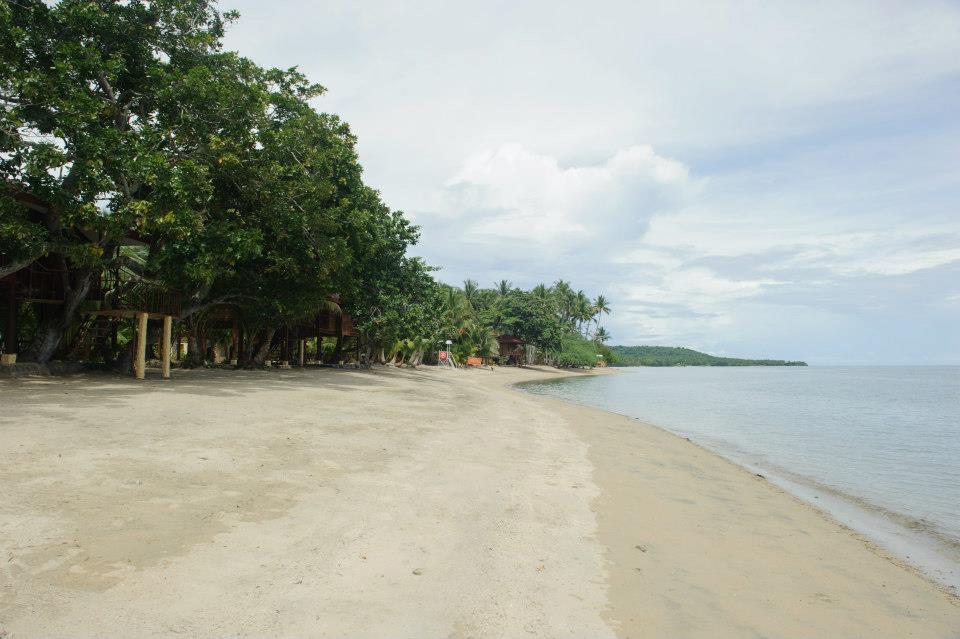 The resort has a 250-guest capacity depending on the season. Once you've checked in, you're entitled to a buffet breakfast, lunch, and dinner.
Also read: Laiya Coco Grove in Batangas: Make Your Summer Dreams Come True 
The resort is an excellent choice for team buildings and seminars as they have different activities that groups of people can do together at Camp Laiya. They also offer camp accommodation for those who want to be closer to nature.
Kids meanwhile will also enjoy their kid-friendly amenities, like a trampoline. They also offer several activities such as kayaking, banana boat rides, jet ski, snorkeling, and parasailing.
Address: Km.20 Barangay Laiya, Aplaya, San Juan, Batangas City
TEL: 02-894-1057 / 02-892-6009
Mobile: 0908-896-0776
Facebook:  Laiya Coco Grove Beach Resort
Email:  reservations@aplaya-laiya.ph
Website: http://www.laiyacocogrove.com/
Sabangan Beach Resort
Sabangan Beach Resort in Batangas is worth the drive if you're looking for serenity and full relaxation. Located at Laiya, Batangas, this resort is known to have one of the most beautiful beaches you've ever lay your eyes on.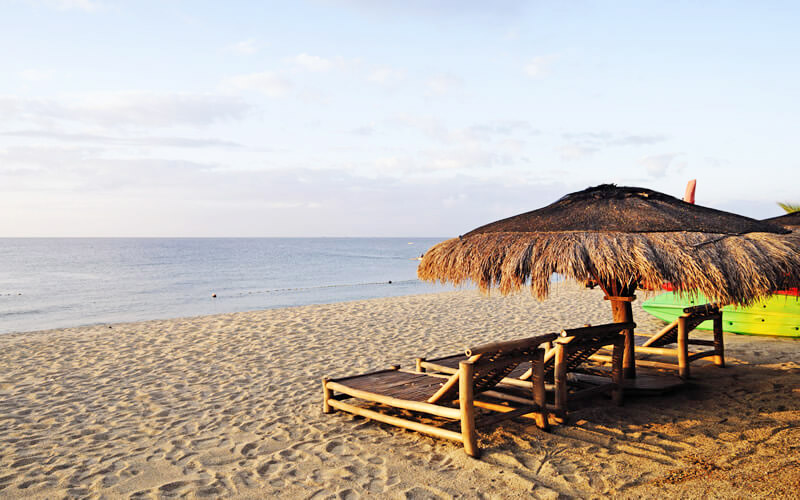 Sabangan Beach Resort takes pride in their modern yet rustic vibe. It is filled with bungalows and cottages designed with wood. The resort wants to highlight simplicity while being able to offer comfort in their accommodation.
There are four types of Sabangan homes that you could choose from: the Yakal Bungalow, Narra Bungalow, Molave Bungalow, and Acacia Cottage. Each bungalow includes toilet and bath with hot water, refrigerator, and cable television. If you're looking for something different, they also have a Bamboo Bungalow made with bamboo elements.
Address: Laiya, San Juan, Batangas
TEL: 043-774-7198, 02-667-3997, 02-914-9640
Facebook: Sabangan Beach Resort – Laiya
Website: www.sabangan.com
---
This feature also appears on the May 2018 issue of Philippine Primer magazine.