Travel Tax is Now Payable Online 24/7
You can conveniently pay travel tax online, over the counter, or through Touchpay kiosks thanks to the Tourism Infrastructure and Enterprise Zone Authority (TIEZA).
Also read: Travel Tax May Now be Paid Through Bayad Centers
The said agency has formally launched the Online Travel Tax Payment System (OTTPS) on April 16, 2018, with the Development Bank of the Philippines (DBP) and the DBP Data Center Inc. (DCI).
Video grabbed from TIEZA
To start paying, you will need to create an account. Go to traveltax.tieza.gov.ph and input the basic details. Once finished, you should receive a confirmation email so you could verify your application. Complete your account application and input the required details such as contact number, address, and passport scan.
Once done, you can proceed to pay for travel tax by providing the correct ticket or confirmation number. Afterward, you can choose a payment method.
OTTPS is currently payable through Visa credit and debit cards; Over The Counter (OTC non-bank) channel partners such as San Mig Food Avenue, Petron Corporation, Total Philippines Corporation, H Lhuillier Pawnshop, Tambunting Pawnshop Inc., Shopwise and Wellcome supermarkets, and Touchpay Kiosks among others.
Other credit cards and payment channels will be added soon according to TIEZA.
 Image grabbed from news.abs-cbn.com
Card payments will receive an acknowledgment receipt through the mail. OTC payments will receive a reference code used to pay at any of the channel partners or via Touchpay kiosks. After payment, you should receive the acknowledgment receipt.
Print two copies and submit both at the airport check-in counter on the date of your flight. There is no need to go through the travel tax counter!
"We want to have a hassle-free payment scheme. One that will allow passengers the option to pay their travel taxes online instead of lining up at the airports and travel tax centers. This is in line with the directive of the President to reduce the queues in government centers," said TIEZA Chief Operating Officer Pocholo Paragas during the launch.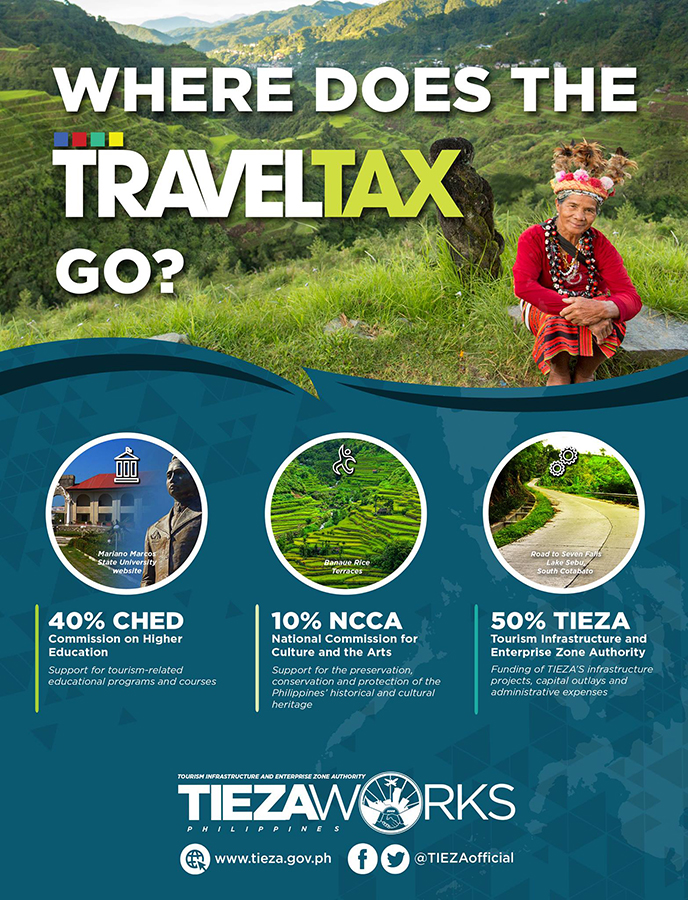 Image grabbed from TIEZA
In the Philippines, travel tax is a levy imposed by the government on individuals leaving the country. The travel tax is Php 2,700 for First Class, Php 1,620 for Business Class and Economy Class, Php 810 for the Standard Reduced Travel Tax, and Php 300 for the Privileged Reduced Travel Tax.
To process your travel tax payment, click on the link: traveltax.tieza.gov.ph. For assistance and inquiries, please do call at (02) 512-0485. (TIEZA Central Office Working Hours: 7:30 am to 5:50 pm, Monday to Friday, except Holidays)
---
Source: http://pia.gov.ph