Best Places to Eat Bulalo in Tagaytay
Bulalo, a Filipino soup made with beef shank and vegetables, is undeniably the most famous local dish in Tagaytay. This hot, meaty, and savory bowl of soup is the perfect match to the cold and breezy weather of Tagaytay. That's why it has become a part of many restaurants' menu in the city.
So if you're craving for a comforting bowl of Bulalo, below are different must-try restaurants in Tagaytay that can let you enjoy Bulalo in different ways:
If you want to share a good bowl of Bulalo with your family…
Leslie's
Bulalo Special (Php 625) /IMAGE KT Lifestyle
One of the top go-to Filipino restaurants in Tagaytay, Leslie's is almost always packed with lively families. Among the classic dishes that keep drawing people back to this restaurant is their big and hearty bowl of bulalo. Besides the food, Leslie's also offers a nice view of the Taal Lake and Volcano right at the back of the restaurant.
Address: Aguinaldo Highway, Tagaytay City
Operating hours: 6 a.m. – 12 m.n. (Mon. to Fri.), 6 a.m. – 10 p.m. (Sat. to Sun.)
Josephine's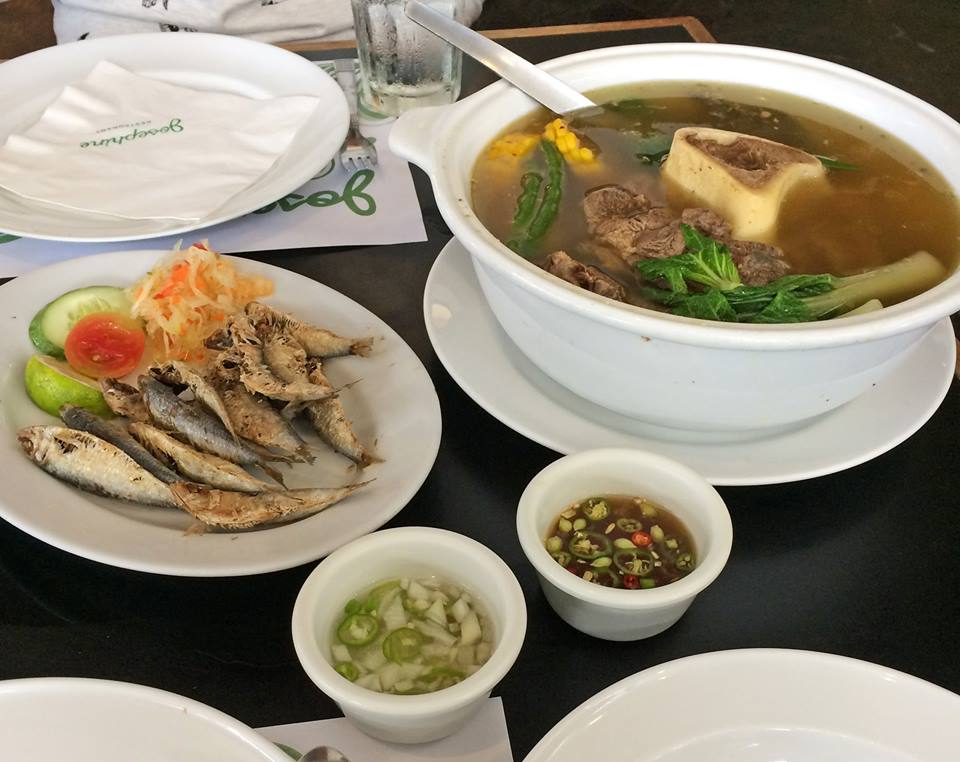 Bulalo (Php 650) /IMAGE Hungry and Restless
With its spacious interiors, homely atmosphere and long wooden tables, Josephine's is ideal for families and big groups. This restaurant is known for its buffet offerings and a huge selection of Filipino dishes, which you can try along with Bulalo. Josephine's is located right across Summit Ridge in Tagaytay.
Address: Km. 58, Aguinaldo Highway, Tagaytay City
Operating hours: 8 a.m. – 9 p.m. (Mon. to Fri.), 7 a.m. – 10 p.m. (Sat. to Sun.)
If you want to try Bulalo with a twist…
Balay Dako
Sizzling Bulalo (Php 1,140 per 1-1.2 kg)
Balay Dako is a stunning mansion-like restaurant along Aguinaldo Highway that has an impressive view of Taal Lake and Volcano and the surrounding nature. They have the classic Bulalo na Baka, but their savory Sizzling Bulalo served on a cast iron plate is one worth a try.
Address: Tagaytay-Nasugbu Highway, Tagaytay City
Operating hours: 11 a.m. – 9 p.m. (Sun. to Thurs.), 11 a.m. – 10 p.m. (Fri. to Sat.)
Also read: Balay Dako in Tagaytay
Aozora
Aozora Ramen (Php 320)
Even a Japanese restaurant like Aozora has something good to offer when it comes to our favorite Filipino soup. Catching up well with the Bulalo craze in Tagaytay, Aozora offers the Aozora Ramen, a perfect fusion of ramen and bulalo!
Address: Domicillo Hotel, Km. 38, Aguinaldo Highway, Tagaytay City
Operating hours: 9 a.m. – 10 p.m.
Also read: Aozora Japanese Cafe + Bistro in Tagaytay
Pamana
Sizzling Bulalo Steak (Php 390) /IMAGE Pamana Restaurant Facebook page
Conveniently located along the major highway and across Ayala Malls' Serin in Tagaytay, Pamana Restaurant is one of the best places to enjoy a blowout of Filipino dishes. Interestingly, they have given Bulalo different twists in dishes like the highly recommended Sizzling Bulalo Steak, Sizzling Tadyang ng Baka (Beef Ribs) with Bone Marrow Gravy, and Bulalo Sisig.
Address: 1315 Aguinaldo Highway, Silang Crossing East, Tagaytay City
Operating hours: 10 a.m. – 10 p.m.
Also read: Pamana in Tagaytay
If you want to enjoy Bulalo like a true local…
Bulalo Point
Bulalo (Php 365) /IMAGE Konyo Queen
Just two minutes away from Sky Ranch Tagaytay, Bulalo Point is famous among locals because of its casual vibe with open-air seating, reasonable prices, and hefty servings. Their best-selling Bulalo is served in a palayok or clay pot and can satisfyingly feed up to three persons.
Address: Tagaytay-Nasugbu Highway, Tagaytay City
Operating hours: 6 a.m. – 10 p.m.
Mahogany Market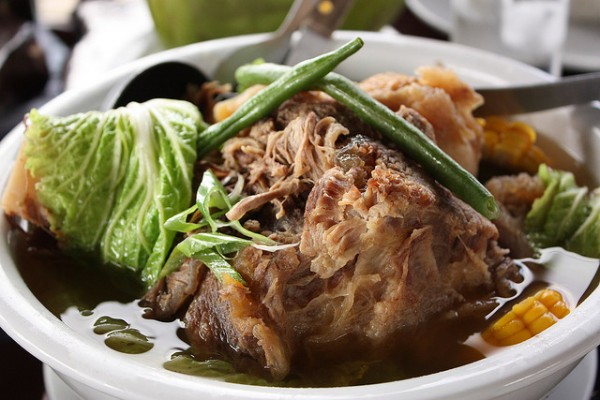 IMAGE Luis R via Out of Town Blog
Mahogany Market is the most iconic bulalo destination in Tagaytay—but perhaps legendary is a more fitting term. It's not a fine-dining place. It's not air-conditioned. It's anything but fancy. Still, many people, locals and tourists alike, are drawn to this place.
Mahogany Market has an unpretentious simplicity that just lets you enjoy freshly-made bulalo. On one side of Mahogany Market, right above the stalls where fresh Batangas beef is sold, is where bulalo stalls reign. You can choose from different stalls that offer their own home-style bulalo bowls, with prices ranging from Php 300 to Php 400.
---
Written by Rizelle "Rei" Leaño
Images from: KT Lifestyle, Hungry and Restless, Pamana Restaurant Facebook page, Konyo Queen, Luis R via Out of Town Blog