Bonifacio Global City in Taguig: What it's known for
BGC – it is one thing for the business community; and it is another thing for those who are looking for a great escape in the city. Dubbed as the "Home of Passionate Minds," Bonifacio Global City (BGC), also known as Fort Bonifacio in Taguig, is considered by many as a locality of quality and privileged living. This place, blistering with vividness and vigour, an amalgamation of form and function, is identified as a true child of the 21st century – a modern wonder of contemporary living populated by great minds and passionate hearts.
Get to know more about this remarkable confluence of architecture, accessibility, and activity.
Here are a few facts about Bonifacio Global City that you may not have previously known:
BGC was a military base. It was once part of a multi-hectare portion of Taguig that the United States government acquired in 1902.

BGC was called "Fort Mckinley". Named after US President William McKinley, Fort Mckinley was the headquarters of the Philippine Scouts, the Philippine Division of the United States Army. In 1957, it was made the permanent headquarters of the Philippine Army and renamed Fort Bonifacio after Andres Bonifacio, the Father of the Philippine Revolution against Spain.

BGC was also "Sakura Heiei" during the World War II




In the 1940s, the Japanese seized control of the fort and by 1942 they occupied the whole area of Manila. They renamed Fort Mckinley to "Sakura Heiei" which literally translates to "cherry blossoms barracks".

Taguig is the rightful owner of BGC. The ownership dispute between Taguig and Makati over BGC started in 1993. On March 2017, Taguig was officially declared as the rightful owner of BGC in a 17-page resolution penned by CA Associate Justice Edwin Sorongon.
Here are a few ways on how to get there:
There are seven major access points which are: access from the North and West through Kalayaan Avenue which connects it to the North Gate and the Kalayaan Flyover, access from Taguig in the West via EDSA through McKinley Road and to the McKinley Gate; the three main entrances (Upper East Gate, Sampaguita Gate, and Lower East Gate) from C-5 highway in the East; and from the airport through the Villamor Airbase to the South Gate by Fifth Avenue and Lawton Avenue.
From Cubao




1. Ride a bus or the MRT and get off at MRT Ayala Station.




2. Walk to the BGC Bus EDSA Ayala Terminal located just outside the MRT station.




3. Ride a BGC bus to your destination.

From Alabang:




1. Ride any bus that will pass through EDSA and get off at the Ayala Avenue bus stop. Make sure the bus is marked with a "B" sticker on its windshield to ensure you can be dropped off at Ayala Avenue.




2. Walk to the BGC Bus EDSA Ayala Terminal located just outside MRT Ayala Station.




3. Ride a BGC bus to your destination.
Being known as a world-class business and residential center, BGC is home to myriads of luxury shopping centers, dining spots, residential condominiums, corporate offices, and recreational options.
Here are the things that make people go back and forth to The Fort.
SHOPS
1. Bonifacio High Street
2.Bonifacio Stopover
3. One Parkade
4. Two Parkade
5. Park Triangle
RESTAURANTS
L' Opera
Check out our top picks of must-try restaurants in BGC:
1. Melo's
2. Flatiron
3. L 'Opera
4. Butawagyu
5. Shaburi
6. Salvatore Cuomo and Bar
7. UmaUmaPH
8. Saboten
9. Providore
10. Botan Black Cafe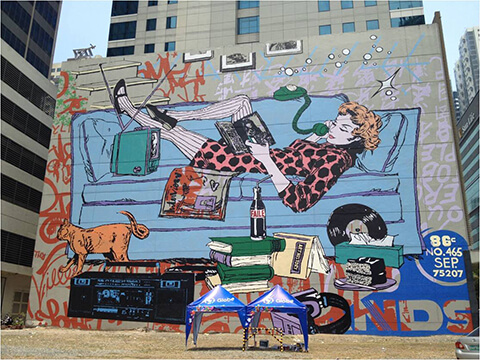 ARTS
In BGC, you'll see beautiful works of art sprawled all over city walls, corners, and streets. Behind the tallest buildings, contemporary scenes, and surfeit of all things modern, BGC values art and culture more than everyone could think of.
1. Murals
A stroll around the streets of BGC could also be a great introduction to different artists and their crafts for free. A lot of walls in BGC are dressed in colorful and evocative street art pieces and illustrations by local and foreign artists like Andrew Schoultz, Francisco Diaz, Cyrcle, and Faileart of Brooklyn, and more.
Check this map for reference:
2. BGC Arts Center
BGC Arts Center is the centerpiece of BGC's Cultural District and a home for those who have a passion for art. It is the first and only stand-alone theater established through private donations. A technically sound space that allows creativity at its fullest potential, the BGC Arts Center highlights culture while supporting artists and framing their work. It welcomes anything innovative, traditional, educational, and just plain fun.
3. The Mind Museum
The Mind Museum is the first-ever world-class science museum in the country. With 5 main galleries and over 250 interactive exhibits, the Mind Museum is able to nurture young and inquisitive minds in a fun and creative way.
ACTIVE PARKS
Track 30th at 30th street




A park designed with a jogging path, yoga and exercise lawn, fitness art, and a meditation garden with interactive art installations made of recycled materials. Visit Track 30th at 30th Street!

Terra 28th at 28th street




The park features interactive playground art installations where children can recreate old yet well-loved Filipino games such as Piko, Holen, Luksong Baka, and Habulang Taya. Visit Terra 28th at 28th Street!

Turf BGC 9th Avenue!




Play football in the country's first-ever artificial football turf! Whether during weekdays or weekends, residents and office workers can join friendly pickup games with fellow football enthusiasts from inside and outside the city. Visit Turf BGC at 9th Avenue!
Images grabbed from zipmatch
Source: bgc, vigattintourism, bgcartscenter