See The Big Apple in slow-mo at this year's Art Fair Philippines
Makati City is known nationwide as Metro Manila's premier business district. What most people don't know is that it is also a virtual art gallery thanks to its many sculptures, art galleries, and theater spaces.
From the monuments of historical figures spread across the business district to the many cultural performances that take place in Makati, one can say it can rival any other city in terms of its art scene. This is why it's the perfect venue for Art Fair Philippines, coming to you this February 16 – 19.
Now on its 5th year, Art Fair Philippines will once again feature some of the best works from galleries found all over the country. They've also invited 12 international galleries to showcase their best exhibits, making this year bigger than ever before.
A GLIMPSE OF NEW YORK IN MAKATI. All forms of art truly radiates in the Central Business District during the opening night of the first full-length Asian premier of Street led by Ayala executives along with the founders of the Art Fair.
Complementing the art fair will be the first 10 Days of Art, an event which incorporates activities outside of The Link, the home of Art Fair Philippines for the past 5 years. It includes urban art installations, special Art Fair menus from some of Makati's top restaurants, the city's first-ever Silent Disco, a street market, and the highlight of 10 Days of Art: James Nares' Street.
Street is a 61-minute slow motion capture of the streets of Manhattan in New York City, set to a musical score by Thurston Moore, co-founder of Sonic Youth.  Doug Eklund, Assistant Curator of Photography at New York's Metropolitan Museum of Art, had this to say about the British artist's work:
"The film suggests that looking at people—their irreducible gait and gesture, or how they leave traces like signatures across the page of public space before they disappear—is one of the eternal wellsprings of the creative impulse.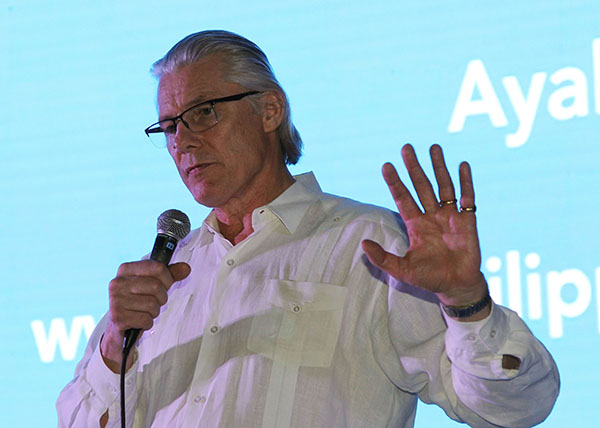 JAMES NARES IN MAKATI. James Nares opening the premier of his film Street at the Ayala Triangle Gardens held last February 14.
You can catch Street at the Ayala Triangle until February 19, 12:00 pm – 2:00 pm and 5:00 pm – 9:00 pm daily.
Street installations for 10 Days of Art will also include works by several Filipino artists, including murals by Dirty Kids South, art installations by Derek Tumala, and Xyza Bacani's Humans of Makati.
Art Fair Philippines's 10 Days of Art is brought together by Ayala Land and Make It Makati, in partnership with the Makati Development Corporation and Mastercard, the Makati Commercial Estate Association and Fuji Film as the official partners for the urban art installations, and Ayala Corporation, Makati Shangri-La Manila and Toby' Estate as the official partners for the James Nares Street video installation.