Easy and Tasty Filipino Recipes You Can Try
Food has always been a way to have a taste of a particular culture. Filipino cuisine, characterized by its eclectic flavours given the fact that the archipelago used to be a foreign colony and is made of more than 7,000 islands and 18 regions, always captures the hearts and taste of most tourists visiting the country. Eating traditional Filipino food is good, but learning to cook them yourself? Even better!
Add authentic Filipino food to your culinary know-how as Primer helps you learn how to cook them. Here are some well-loved Filipino traditional recipes that even the president of the United States can't resist! (A little trivia: The White House Executive Chef is actually a Filipino). Go ahead and impress your family and friends with these recipes which are actually easy to whip up.
Photo by Paul Goyette via Flickr
Chicken Adobo
Although developed by early Filipinos and distinct from the Spanish adobo, the dish was called adobo by the Spanish colonizers because of its similarity to their own dish. The term adobo is from the Spanish word 'adobar' which means seasoning or marinade. Its main ingredient is vinegar balanced with sweet and savory flavours. It is considered the top favorite of locals and expats among the traditional dishes. Its other essential ingredients include soy sauce, crushed garlic, bay leaves, black pepper, a bit of brown sugar, and of course, chicken. Pork can also be used as a substitute for chicken.
How to cook:
1. Mix the soy sauce and garlic in a container then marinate the chicken with it.
2. Place the marinated chicken in a pan with heated oil for about 5 minutes until all sides of the chicken are cooked.
3. Pour the remaining marinade into the pan then add a bit of water and let it boil for a while.
4. Turn the heat low. Add the bay leaves and black pepper then simmer for about 30 minutes or more until the chicken is tender.
5. Add the vinegar and stir. Let it simmer further for 10 minutes then add some sugar and salt. You may also top it with sliced hard-boiled eggs or fried potato wedges for enhancement.
–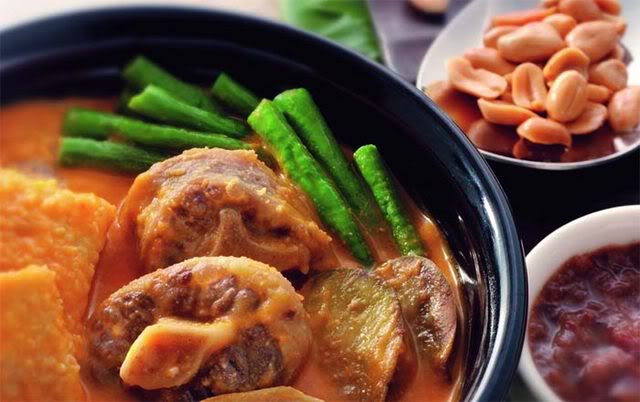 Photo by Tanya Regala via Flickr
Kare-Kare
Kare-Kare is a Filipino stew that features thick peanut butter sauce, a medley of meats, and a mix of various vegetables. Its ingredients include peanut butter, crushed unsalted peanuts, oxtail, beef meat, pork hocks, pig feet, and vegetables like eggplant, string beans, and chopped banana heart. Other ingredients that contribute to its savory taste are fish sauce and garlic, plus annatto powder for color.
How to cook:
1. Simmer the meat for an hour or until tender with 2 quarts of boiled water and 3 teaspoons of salt then put it aside.
2. In another cooking pot, saute garlic and onion for two minutes in heated oil then add black pepper.
3. Add the fish sauce, crushed peanut, peanut butter, and annato powder then stir for a while.
4. Pour the meat broth or water into the cooking pot and simmer for about 20-30 minutes while occasionally stirring. Once the texture thickens, add the eggplant and wait for 5 minutes then add the rest of the vegetables. Let it simmer for another 2 minutes.
5. Lastly, add the simmered meat from earlier then cover the cooking pot and turn off the heat. Wait until 5-7 minutes to let the vegetables cook without removing the cover.
Kare-kare is best partnered with 'bagoong,' a local condiment made from fermented fish and salt.
–
Photo from Flickr
Sinigang
Sinigang is another Filipino stew known for its sour taste with a hint of saltiness. The main ingredient of this dish is tamarind. The sour soup is infused with the flavours of meat, vegetables, or sometimes seafood like fish or prawns. Commonly used ingredients are pork/beef/chicken, water spinach, string beans, taro corms, tomatoes, radish, fish sauce for seasoning.
How to cook:
1. Sauté the onion until its layers separate in a heated pot with cooking oil.
2. Add the meat pieces and let them cook until they turn light brown.
3. Add the fish sauce and mix with other ingredients then pour water and let it boil.
4. Simmer the taro and tomatoes for 40 minutes or so until the meat is tender. Then, add 'Sinigang Mix' or the powdered tamarind and seasoning along with string beans and radish, and simmer for 5-8 minutes.
5. Add the water spinach, turn off the heat, and cover the pot to let the spinach cook for a while.
Sinigang has many variations like using "miso", guava, or green mango as the sour base.
–
Photo by edge balino via Flickr
Bulalo
Bulalo is another Filipino stew with clear broth made from beef shanks and bone marrows. It is another favorite traditional dish that is popular for its one-of-a-kind savoury taste made with only a few ingredients. It only needs beef, cabbage, corn, pepper, and onions. Other ingredients that enhance its taste are beef bones and fish sauce.
How to cook:
1. Boil water in a cooking pot.
2. Add the beef followed by onion and pepper then let it simmer for 1 ½ hours until the meat is tender.
3. Add and simmer the corn for 10 minutes.
4. Add the fish sauce, cabbage and green onion.
5. Wait until the vegetables are cooked.
Bulalo is better cooked thoroughly for 2 hours or more to have a 'melt in your mouth' food experience.
–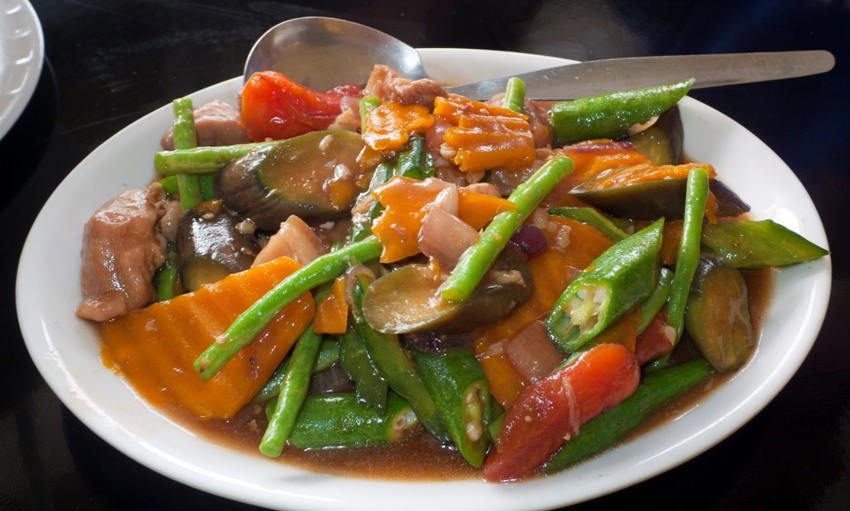 Photo by edge balino via Flickr
Pinakbet
Pinakbet is the favorite traditional Filipino food of vegetarians. It is a dish made with mixed vegetables and seafood. The vegetable ingredients include eggplant, okra (lady's fingers), bittermelon, tomato, squash, onion, garlic, etc. This dish is popular for its salty taste with a hint of bitterness. Some of the seafood used are shrimp or dried anchovies.
How to Cook:
1. Saute garlic, ginger, onion, and tomato in a heated pan with cooking oil.
2. Add the seafood, stir-fry then let it cook for a while.
3. Add a bit of water and then simmer.
4. Add the squash and let it simmer until soft for 5-7 minutes.
5. Add the remaining vegetables and simmer until all are cooked.
Pinakbet can also be enjoyed by meat lovers as they can use or add pork, lechon, and chicharon (pork crackling) to this dish.

Article by Philippine Primer Staff
Source: www.panlasangpinoy.com