Tokyo GLAM at Ayala Malls Manila Bay: Chic Eyelash and Nail Salon for Full-On Pamper Session
Tokyo GLAM at Ayala Malls Manila Bay: Chic Eyelash and Nail Salon for Full-On Pamper Session
With a plethora of beauty salons emerging around the metro, one stands out for its indulgent beauty service that promises a sophisticated, full-on glam session that every woman desires.
Located inside the newly opened Ayala Malls Manila Bay in the Entertainment City of Parañaque City, Tokyo GLAM is bound to be your new beauty haven amidst the bustling city life of the metro.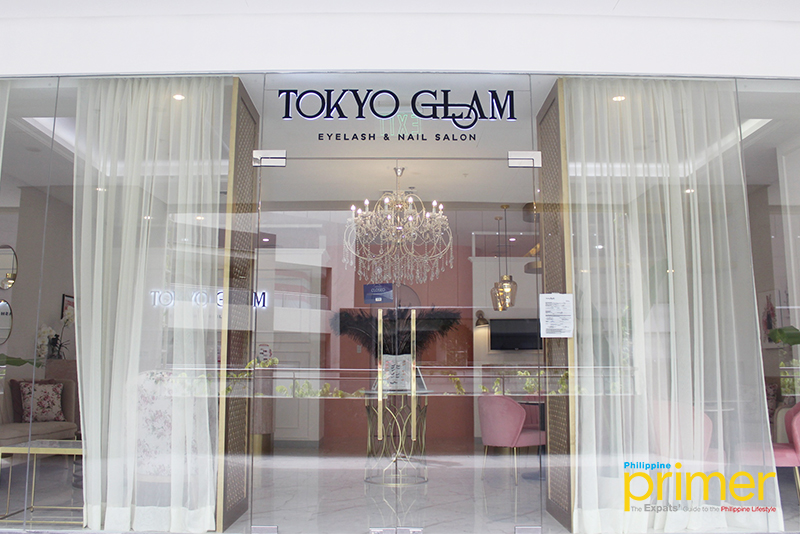 Tokyo GLAM in Ayala Malls Manila Bay
Opened in October 2019, the salon specializes in the highest quality eyelash extension and nail services hailing from Japan's trusted technology.
Having experienced what Japan has to offer in the beauty department, owner Michelle Ann Takijima brought the latest and most advanced beauty technology from Japan to Manila for Filipinas to fully revel in.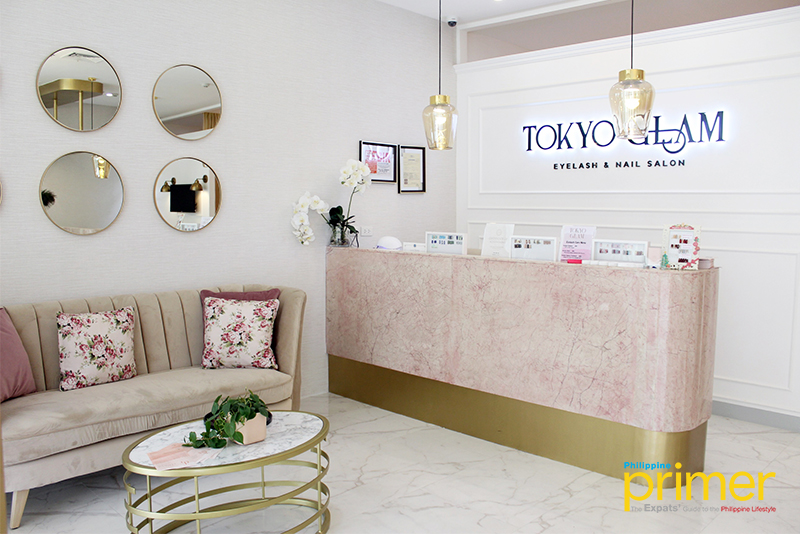 Unlike other salons, Tokyo GLAM is proud to utilize internationally-recognized aesthetic technology in its services and products that are proven safe, reliable, and on-trend. Their staff is also trained by professional Japanese technicians to deliver premium quality treatments.
Tokyo-trend eyelash extension
Their Eyelash Extension is considered as one of their top services. They offer various kinds of lash extensions such as Single Lash, Flat Lash, 3D Volume Lash, Color Lash, and Lower Lash.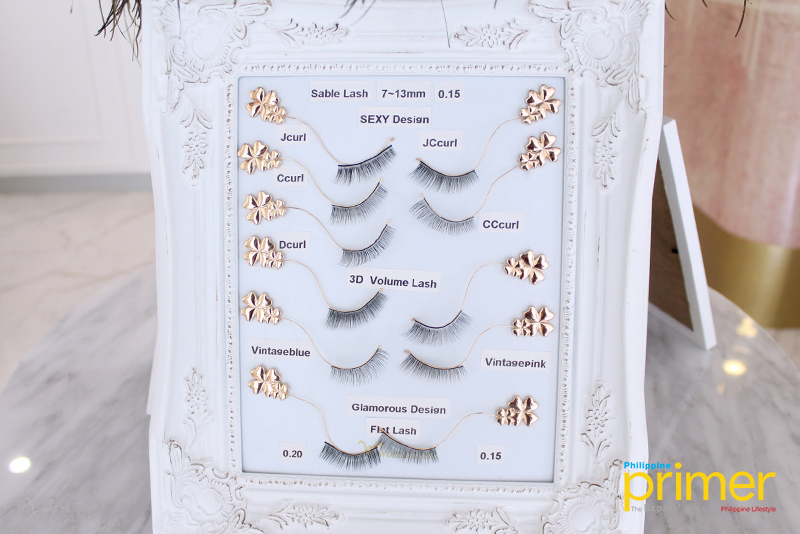 Variations of eyelash extension
Customers can choose from different lash styles based on their preferred curl, length, thickness, and design.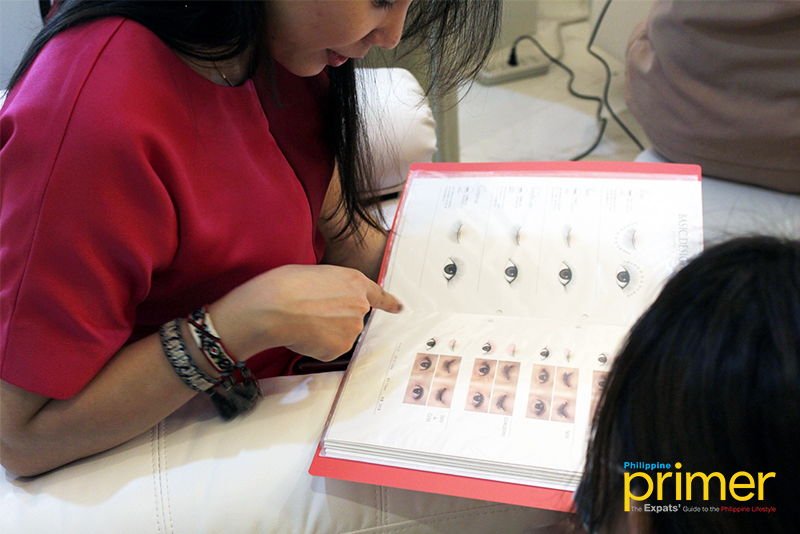 A trendy lash style from their menu is the Flat Lash (Php 1,150 to Php 3,550), a popular lash extension in Japan. 
It is known for its lightweight and supple lashes that are only 1/4 the weight of a regular Single Lash. The hair ends of each lash strands are divided into two, which gives enough volume to your lashes.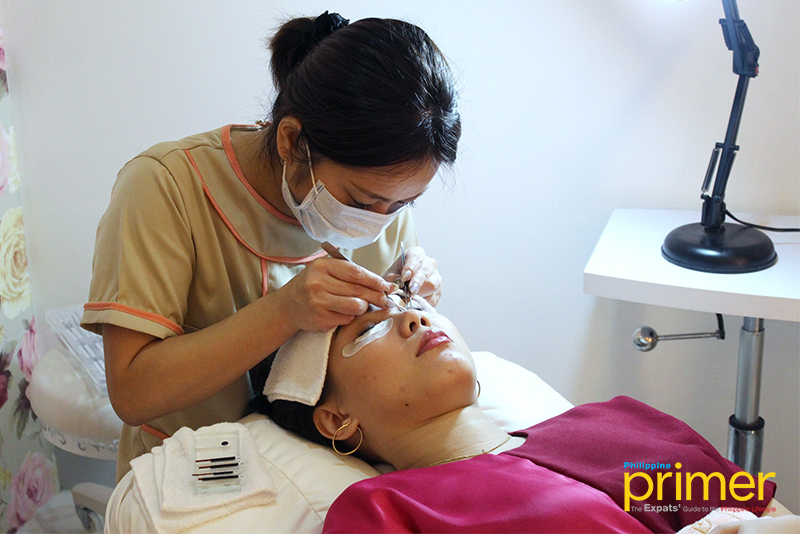 Japanese technicians will, with a request, create your desired lashes in no time!
The average longevity of lash extension is about four to five weeks and requires a retouch every three to four weeks. They also offer eyelash care packages for lash maintenance purposes.
Nails and glamour
Your pamper day in Tokyo GLAM does not stop with your lashes as your nails deserve some love too. 
Luckily, Tokyo GLAM's technicians are also trained to design stunning gel nail art from the simplest to the grandest form. They boast a wide range of nail art such as One Color, Beautiful Art, Gorgeous Art, and Tokyo Glam Art.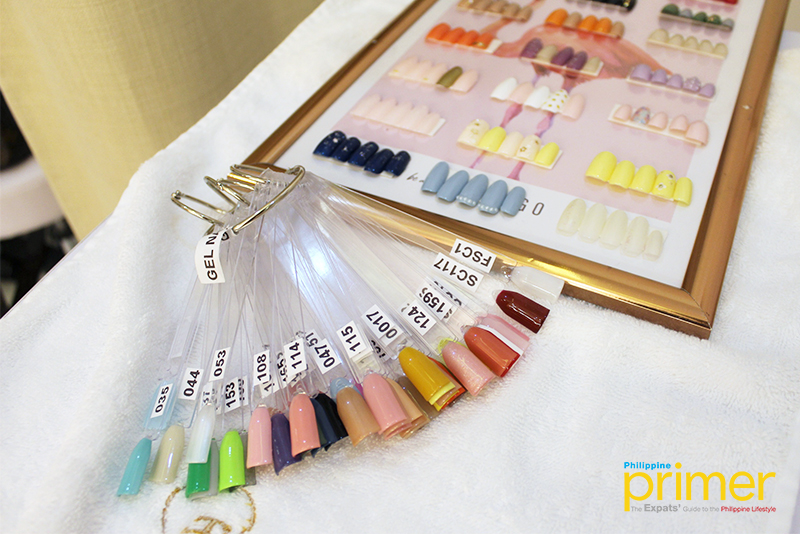 Tokyo Glam's nail menu
Instead of using scented acrylic, they use gel nail, which lasts longer on the nails than regular nail polish and dries faster thanks to the LED nail lamp.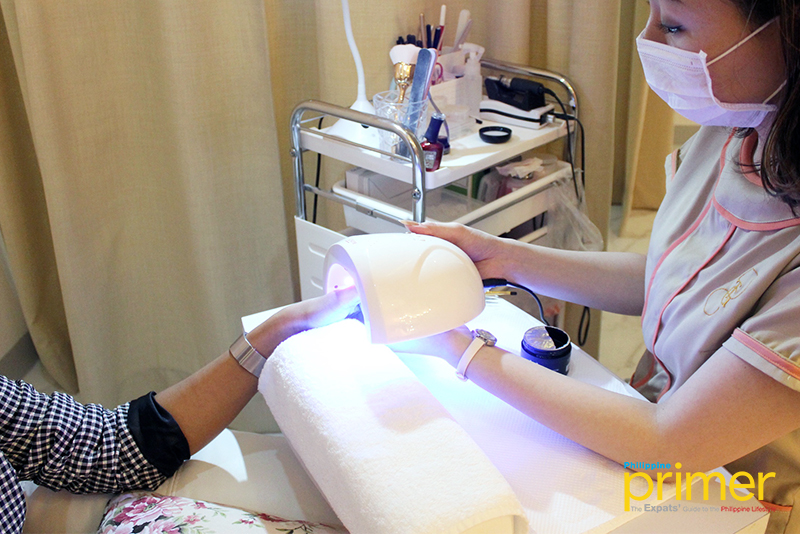 Gel nails dry easily because of LED nail lamp
For delicate yet elegant nail art, their Gorgeous Art (Php 2,000) is the best choice to glamorize your nails. You can choose your fancied nail length, shape, color, and design from their nail menu.
This nail art includes nail shaping and light cuticle care with intricate embellishments or artwork based on the design you chose.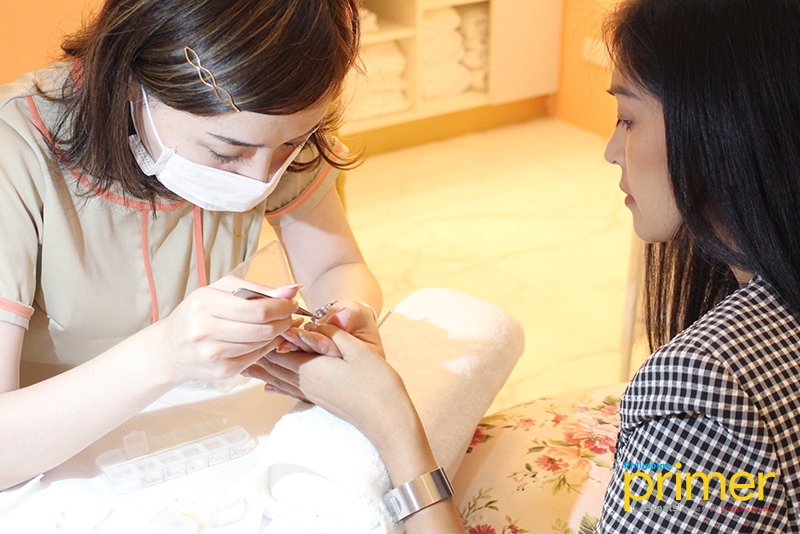 Stones and embellishments are carefully put on nails for flawless designs
They also provide Tokyo Glam Package that consists of an eyelash extension, hand or foot gel nail art, and other services. 
In addition to their exciting services, both eyelash extension and gel nail treatments can be performed at the same time as you relax so you can make the most out of your pamper session.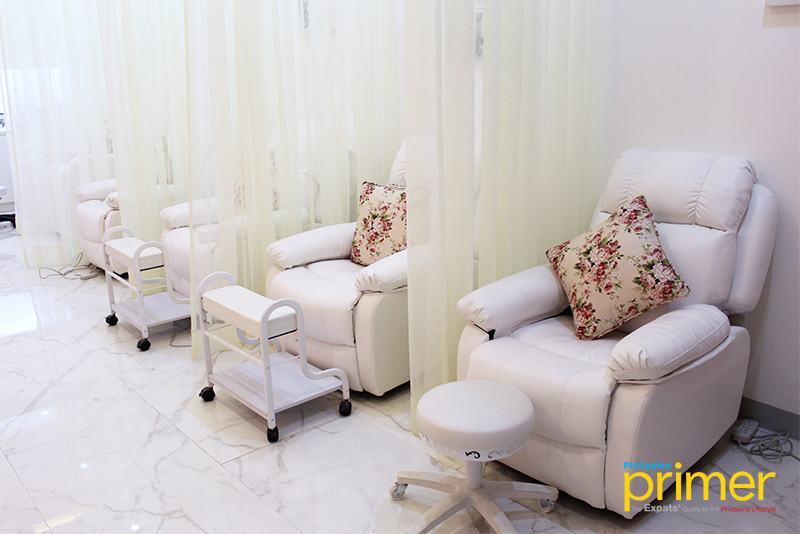 Other than lash and nail treatments, Tokyo GLAM also offers various waxing and spa services.
All their reclining sofas, beds, chairs, wagons, tables, and materials used for treatments are ordered from Japan. Curtain partitions are also installed for clients who want privacy. If you are with your friends, you can open the partition and enjoy the treatments together.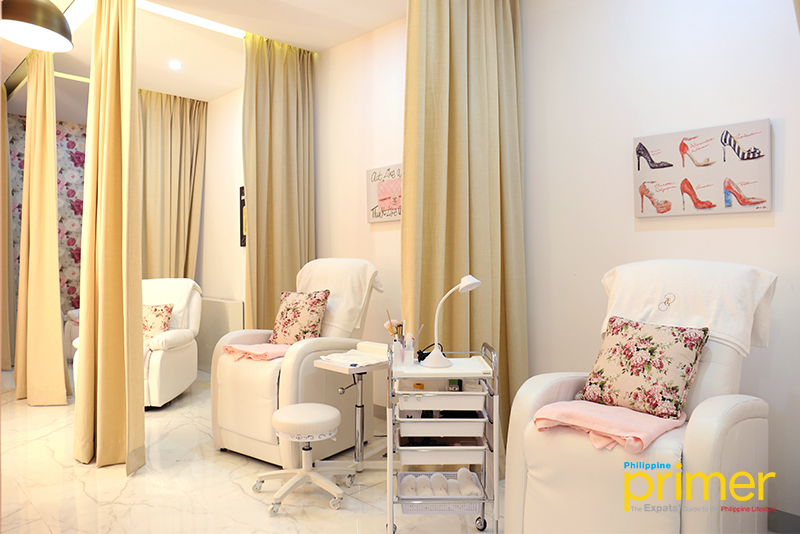 Their reclining seats are comfortable enough that you can have both eyelash extensions and gel nail treatments performed at the same time!
That's not all, they also have a small cafe and lounge inside the salon where your boyfriends or other companions can wait while you revel in relaxing pamper sessions.
This chic salon sports elegance in every corner with its pink and white hues furnished with gold accessories and clean marble flooring. Its modest and simply fancy aura can be easily noticed, which assures guests of Tokyo GLAM's tranquil promise.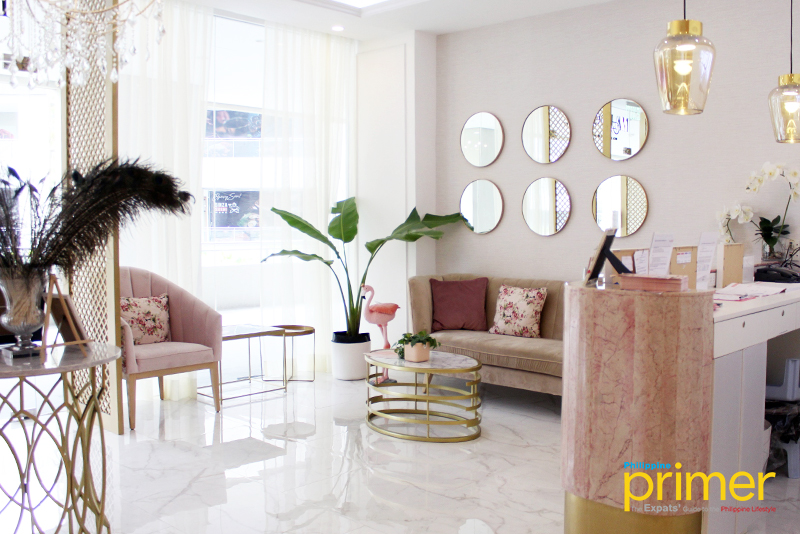 All you have to do is sit back, relax, and let Tokyo GLAM do all the work to enhance your natural beauty!
For appointment reservations, call at 02-7900-7074 or 0917-143-3804. Visit their website at www.tokyoglamph.com for a full list of their treatments and services.
How to get here:
Tokyo GLAM is located on the 4th floor of the Ayala Malls Manila Bay.

By car: From Ayala Avenue in Makati, take the EDSA southbound going to SM Mall of Asa. Continue along MOA Globe Rotunda bound to J.W. Diokno Blvd. Make a left turn onto Aseana Ave. and enter Ayala Malls Manila Bay.

Enter the Ayala Malls Manila Bay through the Lumbera entrance near Manam. Take the nearest escalator going to the 4th floor. Upon arriving at the 4th floor, walk straight towards The Bed Room, which is near another exit bound to the terrace hallway. You will see Tokyo GLAM after Belo Medical Clinic.
Details
Address: 4/F, Unit 4291 Ayala Malls Manila Bay, Asean Ave. cor. Macapagal Blvd., Aseana City, Brgy. Tambo, Parañaque City
Contact info: 0917-143-3804 / 02-7900-7074
Email: tokyoglamph@gmail.com
Website: www.tokyoglamph.com
Facebook: facebook.com/tokyoglamph
Instagram: instagram.com/tokyoglamph