Prettify your way to Happy Skin!
Prettify your way to Happy Skin!
"I always knew I wanted to be in this business of making women happy," shares Jacqe Yuengtian-Gutierrez who partnered with top runway and print model, Rissa Mananquil-Trillo, to create the revolutionary cosmetics line – Happy Skin. It offers an entire range of skin-caring makeup. Happy Skin products boast of the best skin-loving ingredients. "All Happy Skin products are infused with special skincare ingredients, such as Japanese tea leaf, cherry blossom, hyaluronic acid, and argan oil, to name a few," explains Gutierrez.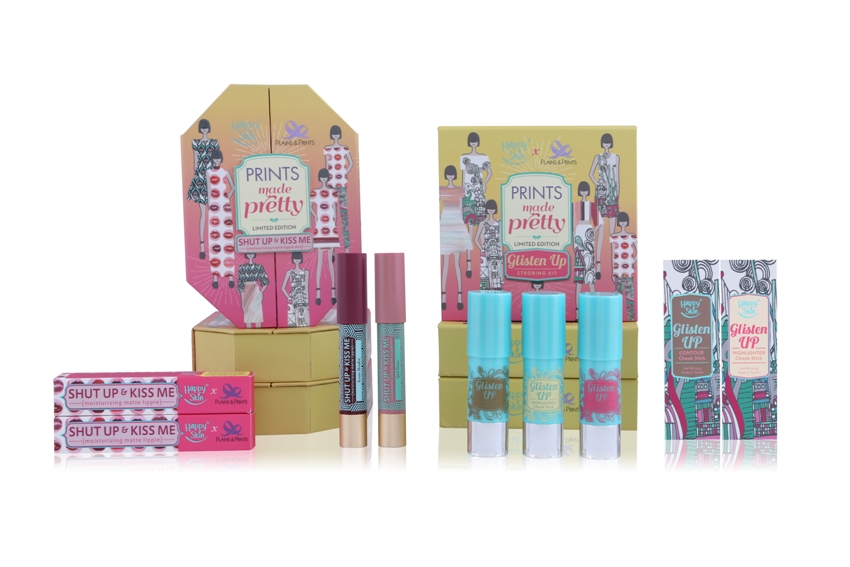 Taking inspiration from everything fun, feminine, and forward-thinking, Happy Skin's limited edition Prints Made Pretty Collection gives women sophisticated yet non-intimidating beauty solutions to level up their look.
When Happy Skin first launched last October 18, 2013, the brand started with merely five counters. In less than a month after its launch, local luxury department store Rustan's and leading cosmetics hub Beauty Bar – under the helm of the Store Specialists Inc. which carries the franchise rights to distribute Saint Laurent, Gucci, Prada, Givenchy, Marc Jacobs, Jimmy Choo, Kate Spade, Gap, Old Navy, and Zara locally – asked to carry Happy Skin in their stores. In six months, the number of counters has increased tenfold. Happy Skin is now located in 50 counters across the Philippines.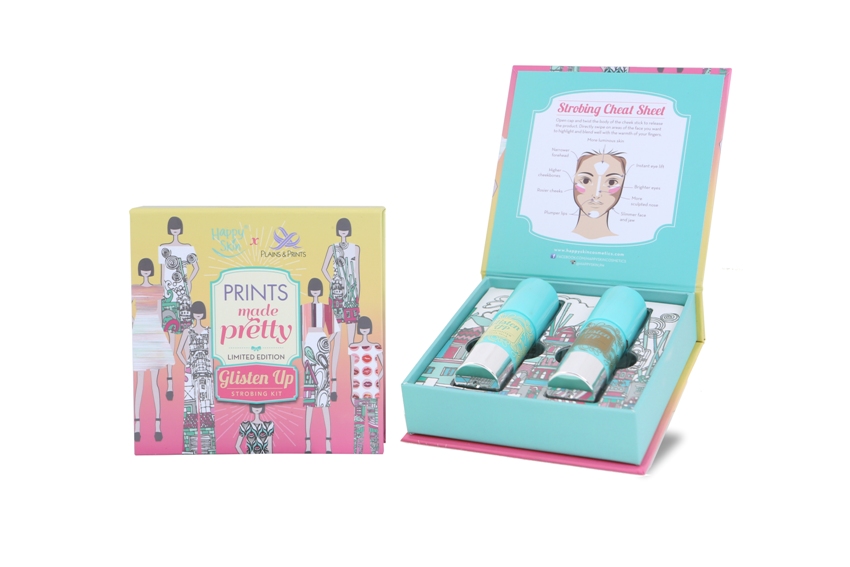 Score a slimmer look effortlessly using this Strobing Kit that has a highlighter stick in golden-pink Champagne and a contour stick in brown-slate Taupe. Both of Happy Skin's Glisten Up! Strobing Kits feature a cheat sheet, so you can take on the latest beauty trends with ease.
Recently, the Happy Skin teamed up with top fashion retail brand Plains & Prints to create the limited edition Prints Made Pretty Collection. "We want to challenge women to push their own boundaries by trying vibrant clothing and considering sophisticated makeup that's still easy to use," says Gutierrez. "Through this collaboration, we'd like every Filipina to feel confident about making a lasting impression in the world of fashion and beauty," adds Roxanne Farillas, co-founder of Plains & Prints. "With this one-of-a-kind collection, she'll get to bring out the best version of herself by embracing her own personal style and beauty mantra."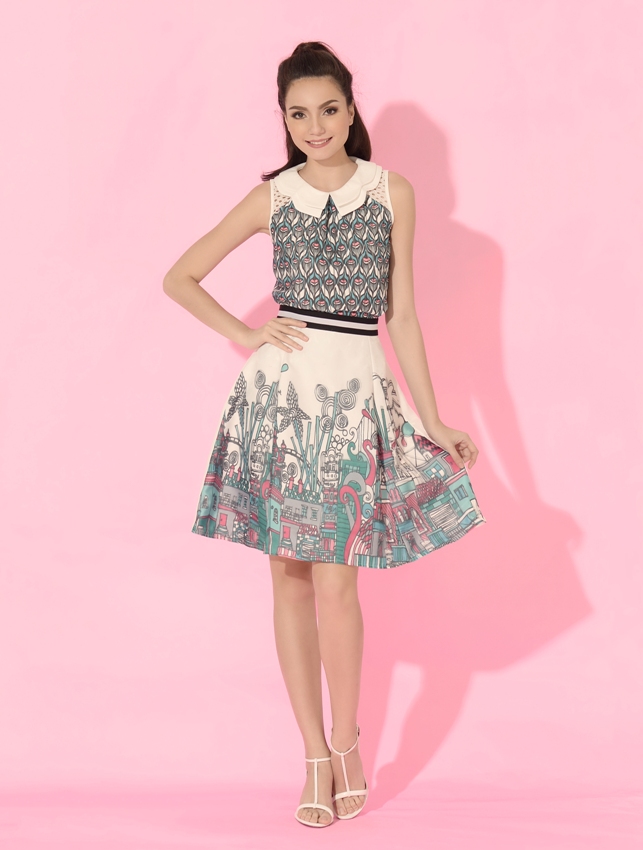 Scene Stealer sleeveless top with two-layer scallop collar and lace shoulder detail in peacock polyester fabric (P1,298) and Glisten Up skirt-gathered skirt with stripes garter detail in layered silk and organza fabric with digital panel print (P1,698)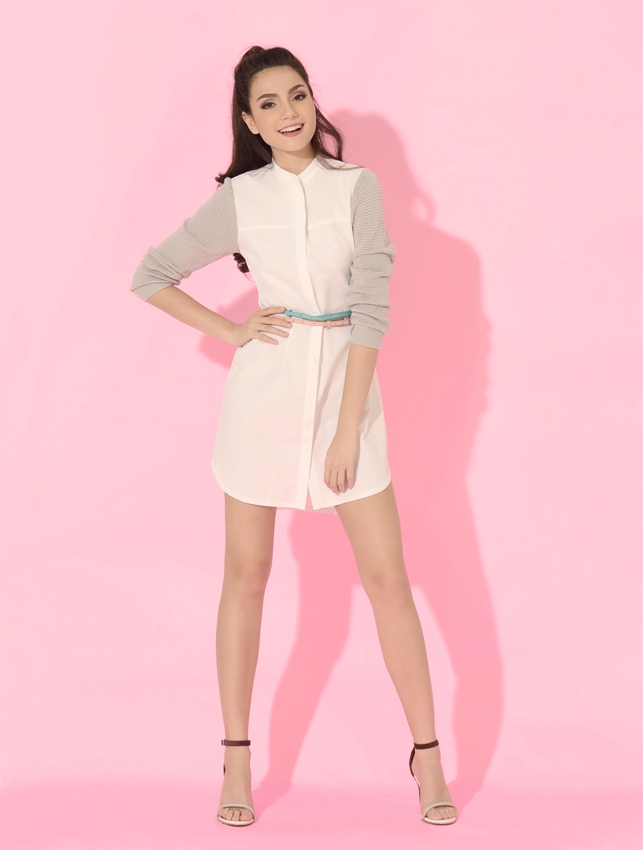 Chic City buttondown shirt dress with 3/4 pointelle knit sleeves in cotton fabric (P1,898)
"The support for a local brand like ours has been really overwhelming! Nothing makes us feel prouder and happier than our very own Filipinos supporting our humble homegrown brand," echoes Trillo.
Visit Happy Skin's stores at 2/F Glorietta 3, 2/F Greenbelt 5, 2/F Power Plant Mall, and 3/F Trinoma. Happy Skin is also available at Rustan's Makati and Shangri-La; Beauty Bar; Plains & Prints; The SM Store Makati, Mall of Asia, Megamall, and North Edsa; Watsons Mall of Asia; Landmark Makati and Trinoma; Wellworth Department Store, UP Town Center; and Metro Gaisano Department Store, Alabang Town Center.

Article by: Manette Tuvida
Photo courtesy of: Happy Skin
General Information
2/F Glorietta 3

You might also like...