7 Cool Barbershops in Manila for the Modern Man
7 Cool Barbershops in Manila for the Modern Man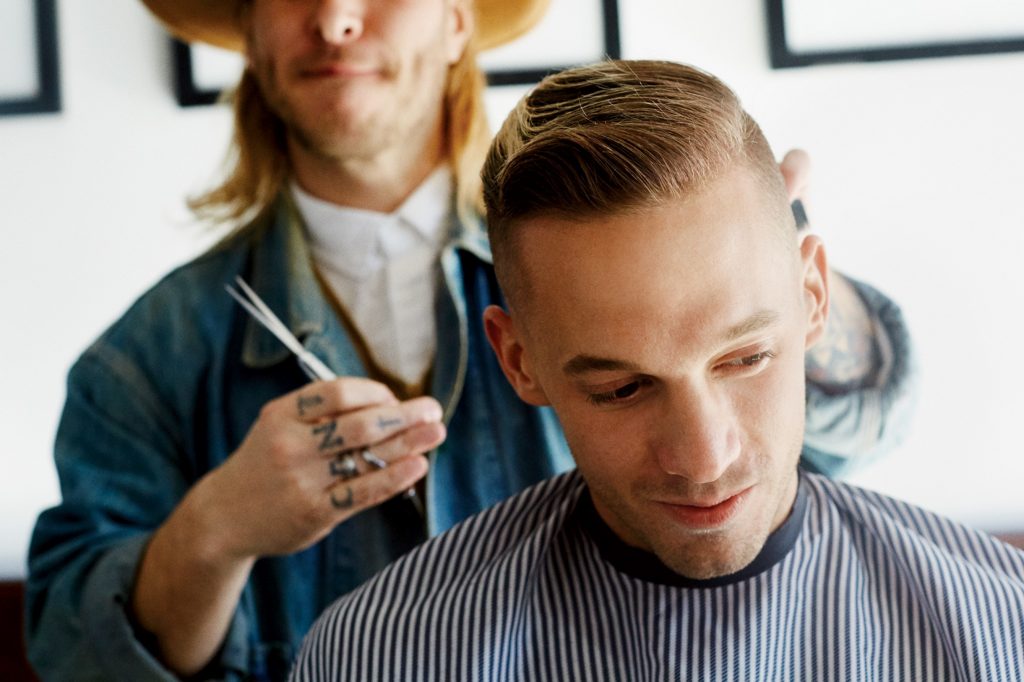 The world today doesn't really want to go towards separating men and women. When it comes to your hair, however, it's still better if you visit a barbershop than to go to your girlfriend's/the missus' favorite salon.
It's not that you hate salons, but there's a different vibe when you walk into a barbershop as compared to a salon. This is why we've taken the liberty of going around and checking for the coolest barbershops in Manila where you can get your next sleek and dapper haircut:
The John Barbers Groomers
Let's start off the list with somewhere really close. The John Barbers Groomers, located at Somerset Makati's main lobby, takes you away from your busy business day into a swanky barbershop that looks more like a lounge than a barbershop.
A cut with The John Barbers Groomers may be far more than your barbershop across the street (P350 for their De Luxe Cut), but the attention that goes to each and every customer, along with the relaxed atmosphere they have, more than pays for itself; perfect if you're in an uber-hectic place like Makati.
Main Lobby, Somerset Millennium Hotel Makati, 104 Aguirre St., Legaspi Village, Makati City
9:00 am – 9:00 pm daily
887-JOHN (887-5646), 0998 959 JOHN (5646), 0917 575 JOHN (5646)
Related: John Barbers Groomers: Premier Go-to Place Barber Shop For Today's Modern Man
Felipe and Sons Barberdashery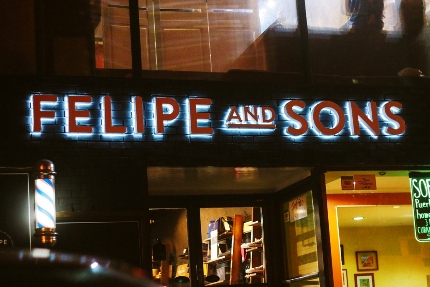 The word "barberdashery" isn't something you'll find in the latest lexicon or the internet. It's something that the minds behind Felipe and Sons made up, and it's the perfect way of defining what their shop is all about.
Felipe and Sons is a barbershop and haberdashery molded into one. Their cuts are done by professionals, and offer you something a lot more than a simple haircut. At P360 for their Cut & Rinse, that's not a bad deal. Once you're done with your cut, step up to their haberdashery for some bespoke suits to go with your perfect cut.
Ortigas: El Pueblo Real de Manila, J. Vargas Ave., cor. ADB Ave., Ortigas Center, Pasig City
02-997-3724
9:00 am – 9:00 pm daily
San Agustin: Mezzanine A, LPL Mansions, San Agustin St., Salcedo Village, Makati City
02-625-5735
10:00 am – 9:00 pm daily
Leviste: 121 L.P. Leviste St., Salcedo Village, Makati City
02-805-9934
12:00 pm – 8:00 pm, Tuesday – Sunday
Chino Roces: G/F UPRC III Bldg., 2289 Chino Roces Ave., Makati City
02-995-3437
12:00 pm – 8:00 pm, Tuesday – Sunday
BGC: G/F Net Quad, 4th Ave. cor. 30th St., Bonifacio Global City, Taguig City
02-810-0967
10:00 am – 10:00 pm daily
Related: Felipe and Sons: Modern Gentleman's One-Stop Grooming Destination
The Thirsty Barber
The minds behind Felipe and Sons just could not put up a barbershop by itself. Not that it's a bad thing, but we love how they combine the idea of a barbershop with something else. Case in point: The Thirsty Barber in San Juan.
It's a cross between a barbershop, courtesy of Felipe and Sons, and a speakeasy. A visit during the day is like a visit to Felipe and Sons sans the haberdashery, but come through the doors at night and you can enjoy a good cut AND good grub all in one place.
G/F Promenade Bldg., Wilson St. cor. P. Guevarra St., Addition Hills, San Juan City
0995-457-2594 (Barbershop), 0977-360-8130 (Bar)
Barbershop: 12:00 pm – 8:00 pm, Tuesday – Sunday; Bar: 6:00 pm – 2:00 am, Sunday – Wednesday, 6:00 pm – 3:00 am, Thursday – Saturday
Related post: The Thirsty Barber, San Juan City: A haircut and a nightcap all in one place
Back Alley Barbershop
Back alleys are usually a bad thing. But they can also be good, especially when it's a high-end barbershop. Back Alley Barbershop may not look that high end compared to others on this list, but it's the ambiance that gets everyone to come back.
They pay attention to even the smallest of details, which is crucial given that they are one of the best barbershops this side of Metro Manila. Their P400 Cut and Wash gives you more than the standard cut: you're given a style to suit your needs, with a trademark barbers finish.
G/F, Alpha Salcedo Condominium, Bautista Street, Salcedo Village, Makati City
0947-518-5736
11:00 am – 9:00 pm
The Village Barbers and Supply Shop
The Village Barbers and Supply Shop is (sorry for lack of a better term) a clone of the Back Alley Barbershop in some aspects. It was put up by the same people behind Back Alley, though this time they are targeting townships popping up in and around the metro, like BGC, The Grove by Rockwell, and Nuvali.
There's more to The Village than just the barbershop though. As the name implies, you can get more than just a Cut and Wash (P400); you can also get products for the #BetterDude from brands like Baxter of California, Imperial Barber, and J.S. Sloane. Plus points for each service coming with a cup of hand pressed coffee or a bottle of Asahi Super Dry.
Forbestown Center: 2/F, Eight Forbes Town Rd., Forbestown Center, Bonifacio Global City, Taguig City
0906-451-4554, 02-886-4636
The Grove by Rockwell: 2/F, The Grove By Rockwell, Tiendesitas, Eulogio Rodriguez Jr. Ave. Pasig City
0995-468-3607, 02-650-1842
Nuvali: 2/F, Cinema Bldg., Solennad 3, Santa Rosa – Tagaytay Rd., Santa Rosa, Laguna
0995-264-3367, 049-258-0548

All branches open at 11:00 am and close at 9:00 pm daily
Titan Barber Shop
Titan is known more for carrying some of the best-known basketball brands known to man. It's usually a place where you get shoes and other gear, but did you know you can also get your hair done at Titan?
It's only available in four branches, making it feel that much cooler to be in one. You can talk basketball around these barbers and other customers for hours at a time, all while being surrounded by the best gear you can get. Combine that with great service that includes a traditional haircut, quick rinse, and shampoo and you get a well-deserved cut and style for only P300.
Fort: #12 Two Parkade, G/F, 30th St., The Fort, Bonifacio Global City, Taguig City
02-556-9771, 0917-513-8721
11:00 am – 10:00 pm daily
UPTC: B332-B333 UP Town Center, 3/F, Katipunan Avenue, Loyola Heights, Quezon City
02-990-2886, 0917-875-0568
11:00 am – 9:00 pm, Monday to Thursday; 10:00 am – 9:00 pm, Friday – Sunday
G5: #215-216 Glorietta 5, 2/F, Ayala Center, Ayala Ave., Makati City
02-823-5251, 0917-875-0567
10:00 am – 9:00 pm, Sunday – Thursday; 10:00 am – 10:00 pm, Friday and Saturday
Conrad Hotel Manila: #230-231 S Maison, 2/F, Conrad Hotel Manila, Marina Way, Mall of Asia Complex, Pasay City
02-243-8569, 0917-651-4339
10:00 am – 10:00 pm daily
Slick Barbers Co.
One of Makati's finest is located a bit more than a hop, skip, and a jump away from your comfy office space in the CBD. Slick Barbers Co. might look like your neighborhood barbershop, but it's more high class than what it looks like.
It's probably the most affordable on this list at only P250 per cut, but trust us when we say you'll want to call that number and get a reservation. It's dubbed as one of (if not the best) barbershops in Makati, and it's easy to see why. Men line up for at most 2 hours just to get their hair done!
3919 Yague St. cor South Ave., Makati City
0935-715-2488
2:00 pm – 10:00 pm, Tuesday – Saturday; 2:00 pm – 6:00 pm, Sunday
Did your favourite barbershop make our list? Did we miss out any other cool barbershops in the metro? Hit us up in the comments section and let us know so we can update this list!
Images grabbed from respective barbershop's websites or Facebook pages.
Featured image from gq.com.
You might also like...