Let's Talk About Fashion and Art with Rina Albert-Llamas
Let's Talk About Fashion and Art with Rina Albert-Llamas
Always been fascinated by the arts —particularly drawing— since she was a child, Rina Albert-Llamas always knew she was born to draw. She did and still is. After majoring in Art at the Manhattanville College in New York, the young, promising artist founded Rinadesign Inc., her very own company. All the while, she illustrated for some of the most famous brands in the Philippines such as Rustan's. And the rest, as they say, is history. At the moment, the mother/entrepreneur/artist is balancing her schedule between family, business, tennis, and traveling. Talk about living the life!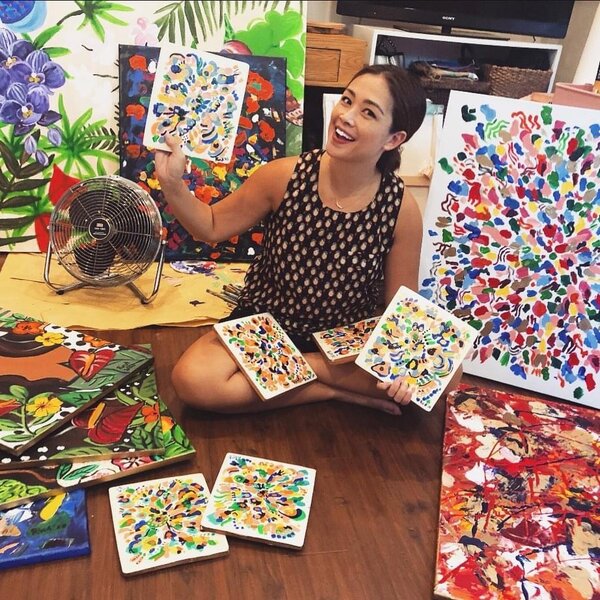 Rina in her element
Now, the Philippine Primer managed to sit down (although virtually) with Rina herself and asked her questions about life during the pandemic, fashion and the arts, and more.
* When did you start leaning towards art, specifically on painting as a medium?
I've always loved painting even as a child. Then in college I was encouraged to focus on it by an Art Professor. That gave me a lot of confidence.
* If there's a thing or two that your artworks convey, what are they? And why?
Beauty and Joy. I want my art to make people happy.
* In what ways fashion helps you as an artist, and vice versa?
I think it's vice versa. I think that my fashion sense is naturally influenced by my being an artist. 
The mother and child
* What inspires you when translating your art into fashion?
Normally, after I finish paintings, I can tell right away if they'd look good if they were to be printed on clothes, masks, or other products. As for fashion inspiring my art, I like to draw and illustrate women in outfits that appeal to me, of course.
* How did the pandemic affect your life and job in general?
The pandemic was good for my work as it allowed me to pour more of myself and my time into my art.
The pandemic made me love and appreciate my line of work more than ever before. It also has been allowing me to have lots more quality time with family.
* What were the challenges you encountered while doing your craft at the height of the pandemic?
Actually the pandemic was good for my art. It gave me a lot more time to focus on and work on paintings with less distraction. I produced A LOT more paintings during 2020 than I normally do in a year. Also, I became more active in engaging with my IG followers through my Instagram account. It grew a lot during the pandemic.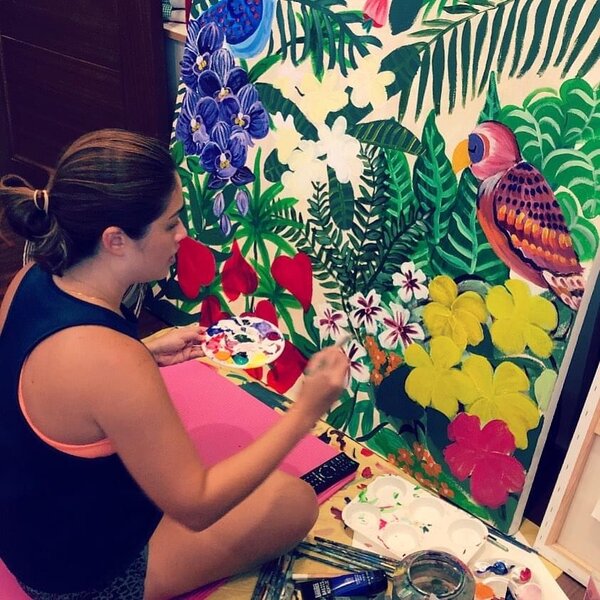 In the zone
* In what ways do you think COVID-19 is changing the art and fashion industries?
Masks and PPEs are here to stay for a while. So artists and designers are making sure to come up with fashionable ones.
* Any fashion tips to look good and comfortable during this pandemic?
It's always fun to coordinate your printed/designed masks with your outfits. I always try to make sure my masks go well with my outfits. Also, cute mask cords are fun, too.
* What are the things that you're looking forward to doing business-wise in the future?
I'm hoping to produce lots and lots of beautiful paintings in the near future so that I can hopefully have a one woman exhibit someday soon.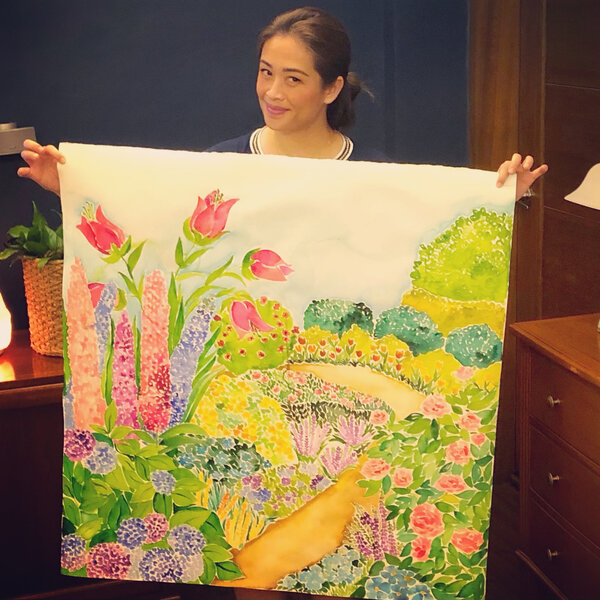 The artist showing off one of her works
* What inspired you to start making face masks?
During the first ECQ in 2020, I realized we would all be needing masks for quite a while. Then I realized that some of my paintings would look really fun on masks. My first collection of masks sold out very quickly.
* How long does it usually take to complete a single mask?
A supplier does the mask manufacturing for me, so I'm not sure. As for the art, paintings often fake a few days to complete.
* What kind of materials do you use for the masks?
My art is printed directly on the fabric used for the masks. They're comfortable, blow test approved, and have handy little pockets inside for filters.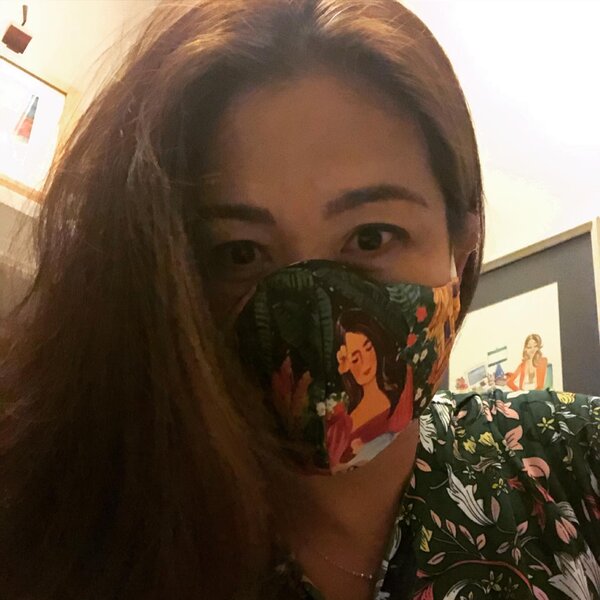 Who says you can't look fabulous amid the pandemic?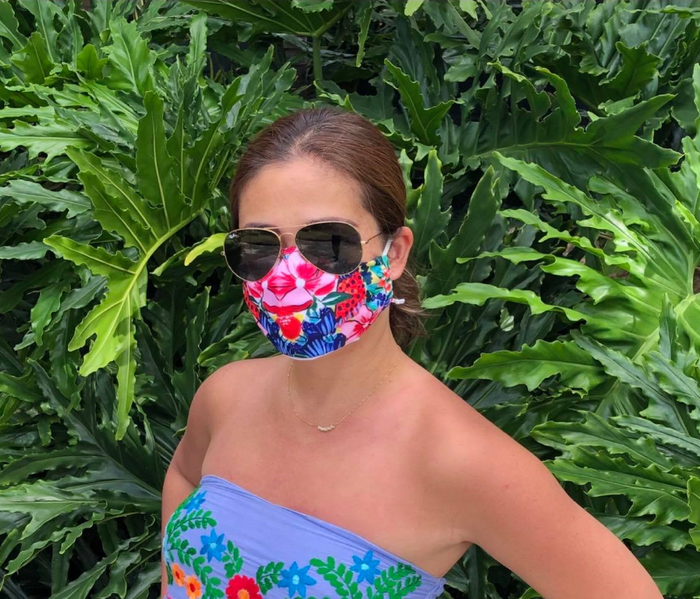 Complement your tropical dress with one of her tropic-inspired masks
* Can customers order customized masks?
Customers can commission me to make special illustrations for them and we can print the commissioned artwork on masks and many other things.
* Do you design other PPEs besides masks?
I don't design PPEs as of the moment. To view the products I do design, please follow me on Instagram and Facebook.
* Would you like to say something to aspiring fashion designers out there?
Stay inspired by regularly exposing yourself to other artists.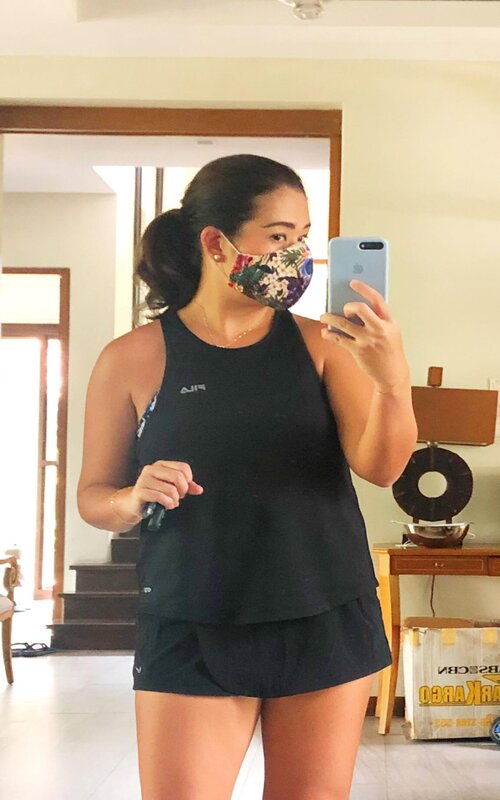 Pro tip: Choose outfits that highlight the mask's print