Ladouce Tampons: Why tampons are the new women's best friend
Ladouce Tampons: Why tampons are the new women's best friend
While many Asian countries with a reserved culture like the Philippines typically shy away from tampons, Western countries actually have high tampon consumption—and for good reasons.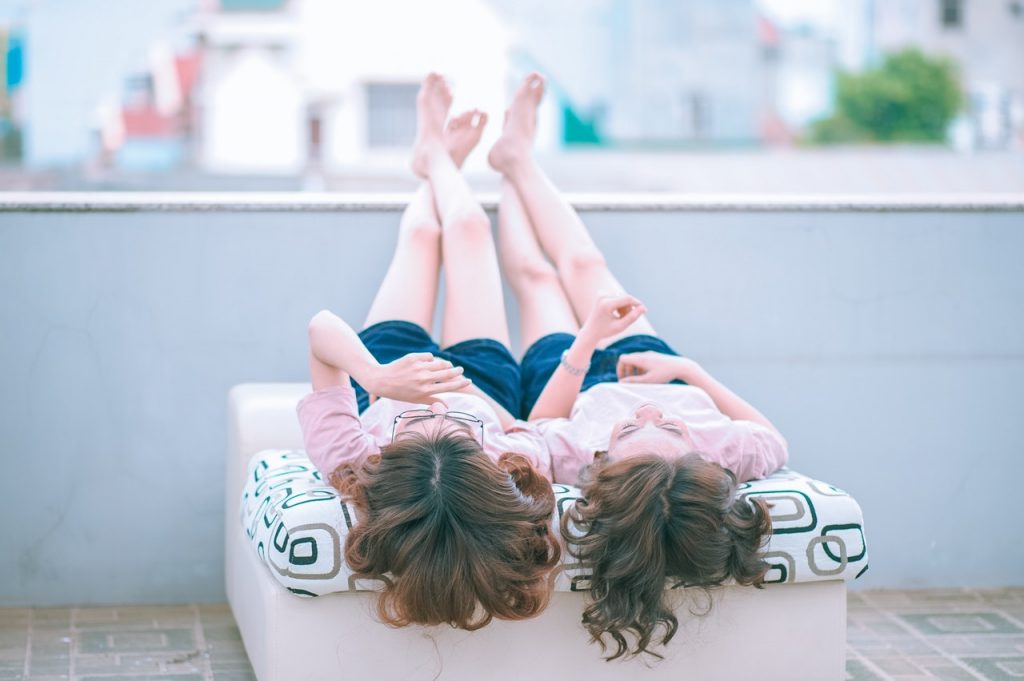 Tampons are, in fact, easy to wear (it just takes some getting used to) and comfortable. A good product like Ladouce Tampons are made of body-friendly and high-absorbent natural materials like viscose and cotton strings, and their cylindrical form can perfectly fit any body shape.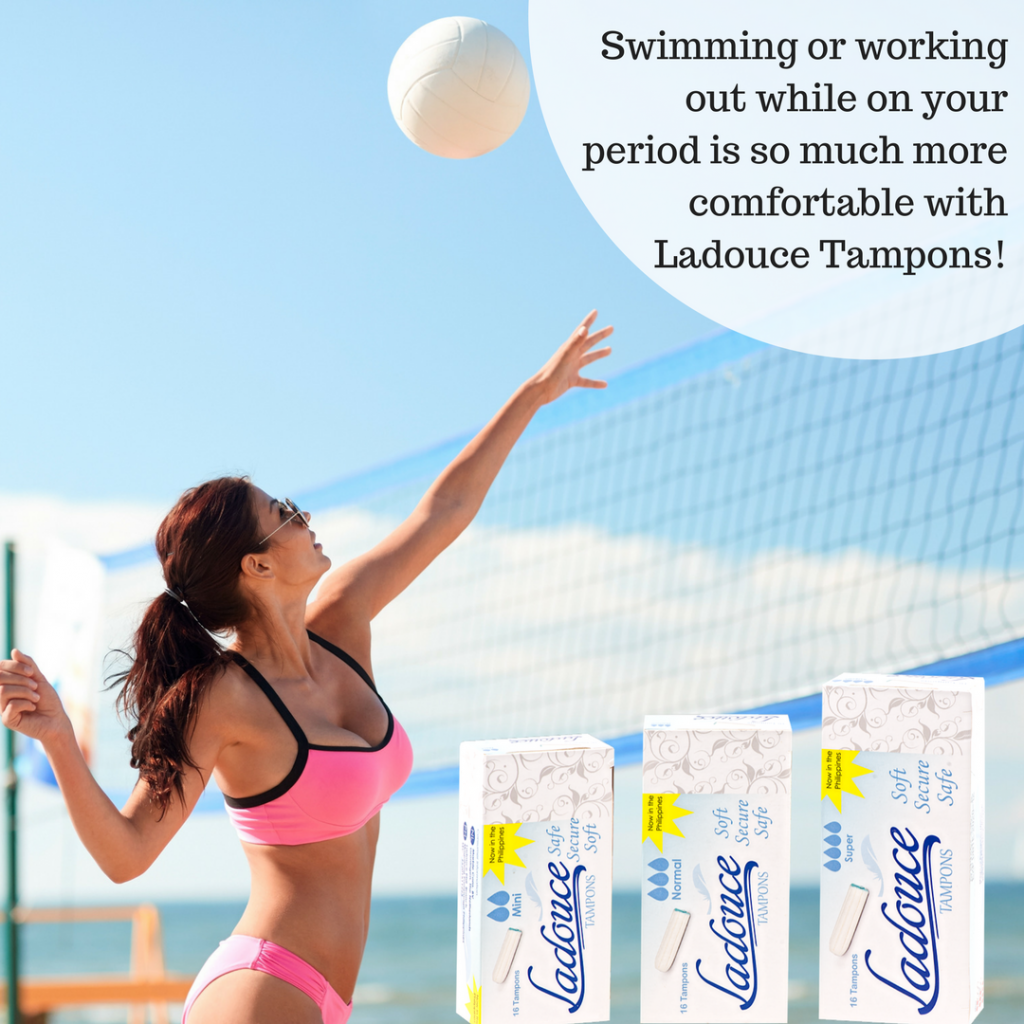 Tampons are especially ideal for physically active women. You can wear them on your monthlies and keep doing what you love—be it outdoor sports, swimming, or yoga! You don't have to be conscious about heavy flows or "period sneezes," just no wet feeling. With tampons, you never have to make that weird body twist just to check if you've got a "red tag" on your bottom. You never have to worry about having stains on your underwear either.
Tampon myths debunked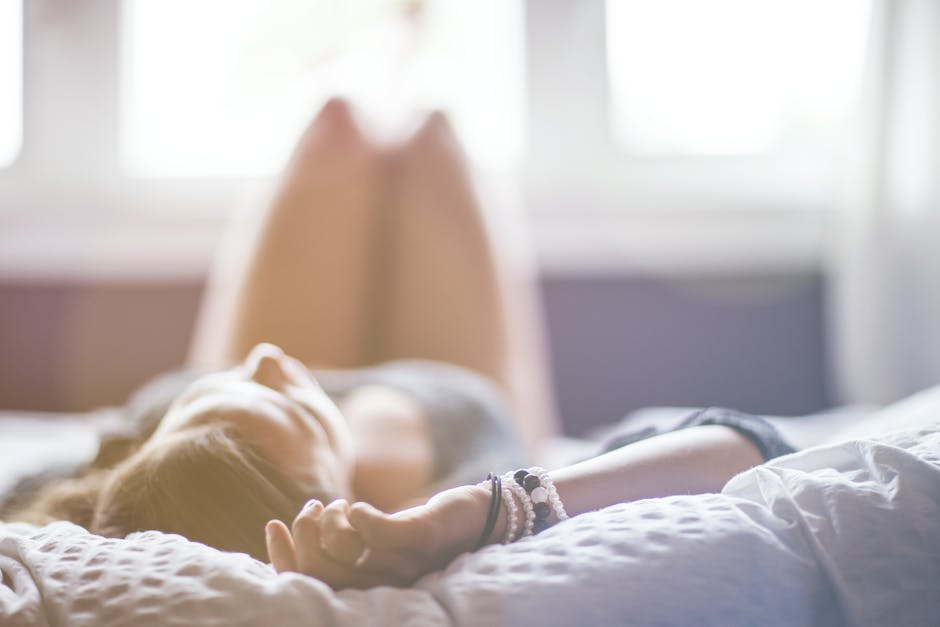 The primary reasons why some women don't use tampons are misconceptions that cause fear. Here are the most common tampon myths debunked by Ladouce Tampons.
"I might get Toxic Shock Syndrome."
Toxic Shock Syndrome (TSS) is a condition caused by certain types of Staphylococcus bacteria and is very rare to contract. These bacteria become dangerous when they are in an environment that allows them to grow quickly, which causes them to produce toxins. This can happen when you leave any sanitary product in or on for way longer than intended: pads, cups, etc. as well. It has never been proven scientifically that wearing a tampon can cause TSS.
"I'll lose my virginity!"
Virginity can mean different things to different people. Scientifically, it is when the hymen breaks during sexual intercourse. This typically happens when your partner's penis enters your vagina—that is when you lose your virginity. You cannot lose your virginity to a tampon. Girls who have used tampons but have had no sex are still a virgin.
"It hurts."
It doesn't hurt to insert a tampon or have a tampon in. The first time, it might be uncomfortable to insert, but once you get the right angle, it will go in without any problem. When inserted correctly, you won't feel the tampon inside the body. When you still feel it while moving, push the tampon further in.
"It might get lost inside my body."
The tampon cannot get lost inside the body. The cotton string is very securely attached to the tampon. You will always be able to pull the tampon out with the secure string. The vagina of every female is naturally expandable. After the vagina is the cervix which only opens when a woman gives birth. The size of a cervix is like a pinpoint of a pencil; compared to the size of a tampon, it will never pass through and go inside the body.
"I'm too young/too old to use tampons."
Ladouce tampons may be used from the first periodical menstruation until the menopause. There's no age limit on starting or ending with tampons as it will not hurt or change your body in any way.
The proper way to use tampons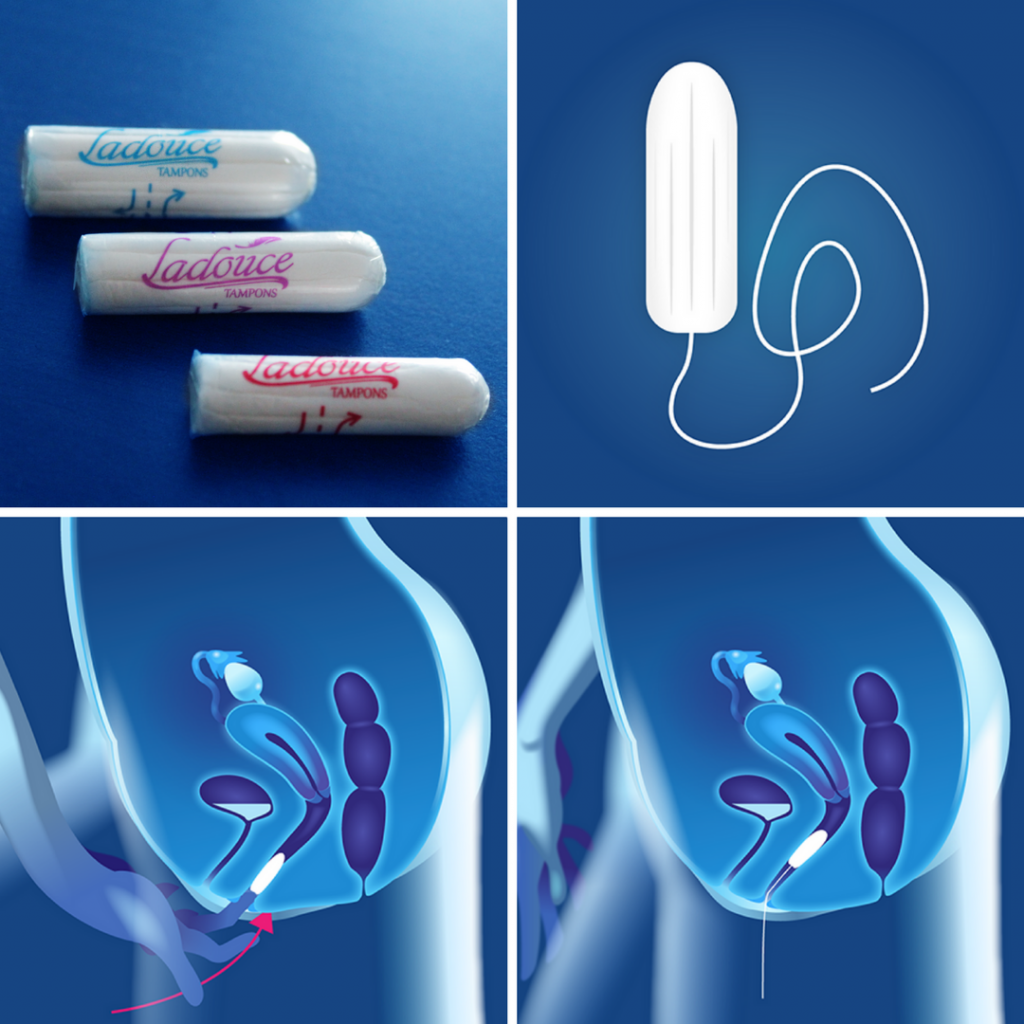 As already mentioned, using tampons doesn't hurt. It might be a bit uncomfortable at first, and that's understandable because, sure, it's quite a weird thought to be inserting something into your body. However, Ladouce Tampons assures that using a tampon is just as simple as using a sanitary pad, but this time, you're using a much more versatile sanitary product.
1. Make sure your hands are clean. Slightly twist the Ladouce tampon to break the protective foil covering it. Once the tampon is out of its protective foil, unwind the cotton withdrawal string then straighten it.
2. For an easy insertion, get into a comfortable position; sitting with your legs apart, standing with one leg raised, or resting on the toilet. Then, open your labia carefully. Insert the tampon with your finger at an angle.
3. To make sure the tampon is secure, insert it a bit deeper until you don't feel the tampon at all. The cotton withdrawal string should stay outside of your body.
4. To remove the tampon, simply pull the withdrawal string with some force and discard it in a hygienic place. Wash your hands after the removal of the tampon. Change the tampons every four to eight hours for the ultimate protection while on your period.
The trusted brand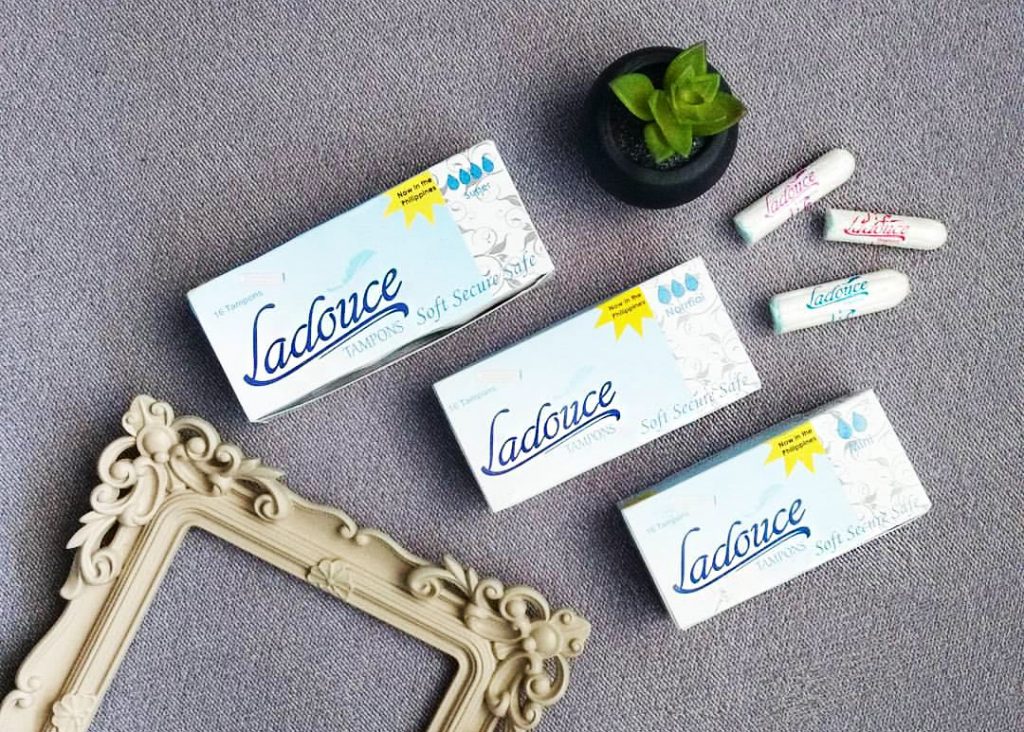 Each box of Ladouce tampons contains 16 tampons. Ladouce tampons come in three sizes:
Mini for the light flow – absorbs 6 – 9 grams of menstrual flow
Normal for the regular flow – absorbs 9-12 grams of menstrual flow
Super for the heavy flow – absorbs 12-15 grams of menstrual flow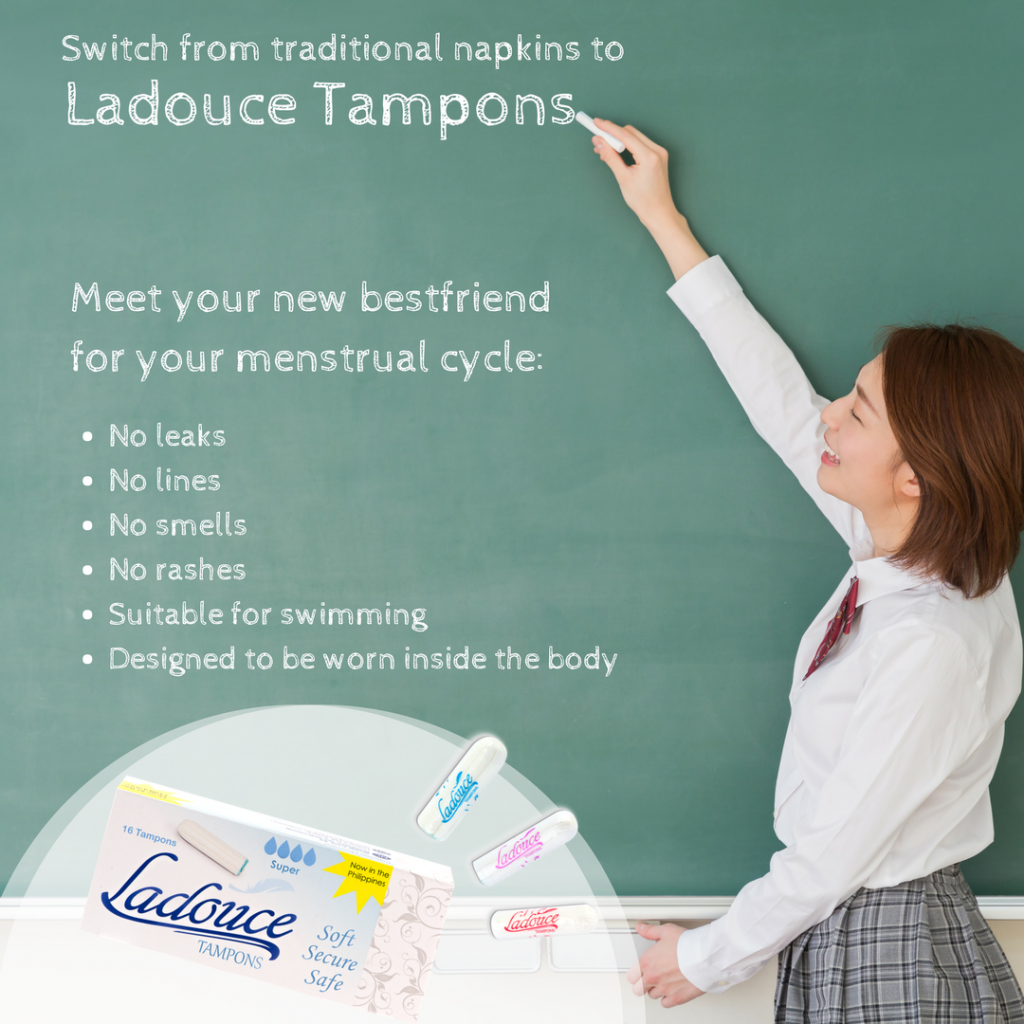 Ladouce tampons are available in select tourist areas and are easy to order online. The price of Ladouce tampons, compared to napkins, is very competitive. You can buy a set of two boxes (32 tampons) or more online at Lazada and Shopee at the following prices:
Mini – Php 374 for 2 boxes
Normal – Php 395 for 2 boxes
Super – Php 419 for 2 boxes
Each order comes with a free sample box containing all 3 sizes of tampons.
You can also buy per box (16 tampons) at BeautyMNL:
Mini – Php199 for 1 box
Normal – Php209 for 1 box
Super – Php219 for 1 box
For more information on why and how you can switch to tampons, visit ladoucetampons.ph.