Kiyosa Salon in BGC Boasts Exclusive Authentic Japanese Nail Art
Kiyosa Salon in BGC Boasts Exclusive Authentic Japanese Nail Art
When you think about nail art, you will immediately think about the Japanese nail art and their creative and intricate designs. With various nail salons out there, women are often faced with the dilemma of choosing where to get that perfect set of nails.
Don't look any further as Kiyosa Japanese Total Beauty Salon in Bonifacio Global City will be your one true go-to nail salon for authentic Japanese nail art. They have licensed Japanese nail technicians, Maiko-san and Yumi-san, who then train and mentor the Filipino staff of the best practices for nail services.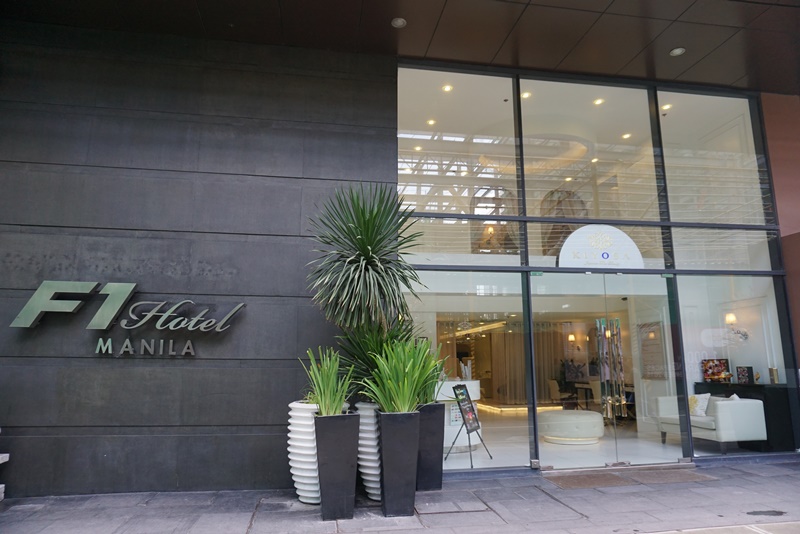 The nail technician team at Kiyosa Japanese Total Beauty—led by Maiko-san and Yumi-san—is composed of the Japanese Directors, Senior staff and Junior staff. The Directors are Japanese staff while the senior and junior are Filipino staff with varying levels of expertise. With their continuous training and mentoring, you can trust that they can achieve the nail art look you are going for.
Let us take you through the process!
Choosing of nail art design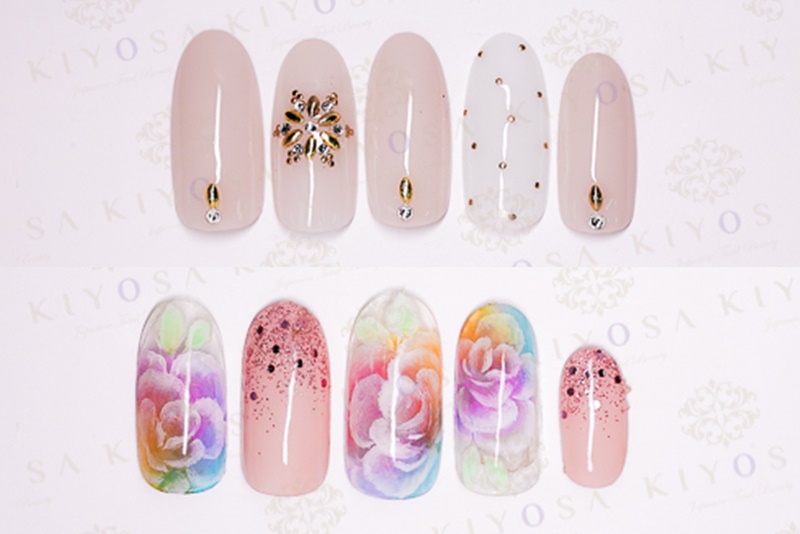 The range of nail art designs at Kiyosa salon is from elegant to eye-catching
Once you are comfortably seated on one of Kiyosa Japanese Total Beauty's leather seats, the nail technician will give you their nail art catalogs that are separated into two sets: Nail Art A (price starts at Php 1,380) and Nail Art B (price starts at Php 1,780) from where you can choose a nail art design.
While Nail Art A leans more on the simpler yet still elegant designs, while the Nail Art B designs are more intricate and eye-catching. If you have decided on a design from the existing sets, you may change the color theme among almost 30 hues available. It may give you a hard time since all of them are equally pleasing to the eyes!
If you already got your eyes on a design you found on instagram, they offer Customized Nail Art (price starts at Php 1,380). You simply have to show them a photo of your desired nail design and the nail technician will replicate it for you. They have various options for nail art add-ons such as french tip, holo gradation, special stones, chains, studs and more.
If you are planning to get a complicated nail art, they recommend sending your inspiration photos in advance so they can study it and make it perfectly!
For those who have short nails but want to really showcase that Japanese nail art design, you may get acrylic nail art extensions (price starts at Php 1,980). You can also opt for a one color gel polish if you prefer the simple nails starting at Php 880.
The gel polish that Kiyosa Japanese Total Beauty uses is their own exclusive brand called Kiyosa Gel which directly imported from Japan. It is better than the common gel polish because it will not damage the nails despite constant application. It lasts longer, too!
Cleaning of nails
Before the nail technician proceeds to the nail art application, she will first ask how you want your nails cut or shaped. From that point on, she will clean and prepare your nails for the nail art using the Japan-imported equipment like the pink drill bit and the sanding band, which are used for softening the nail beds.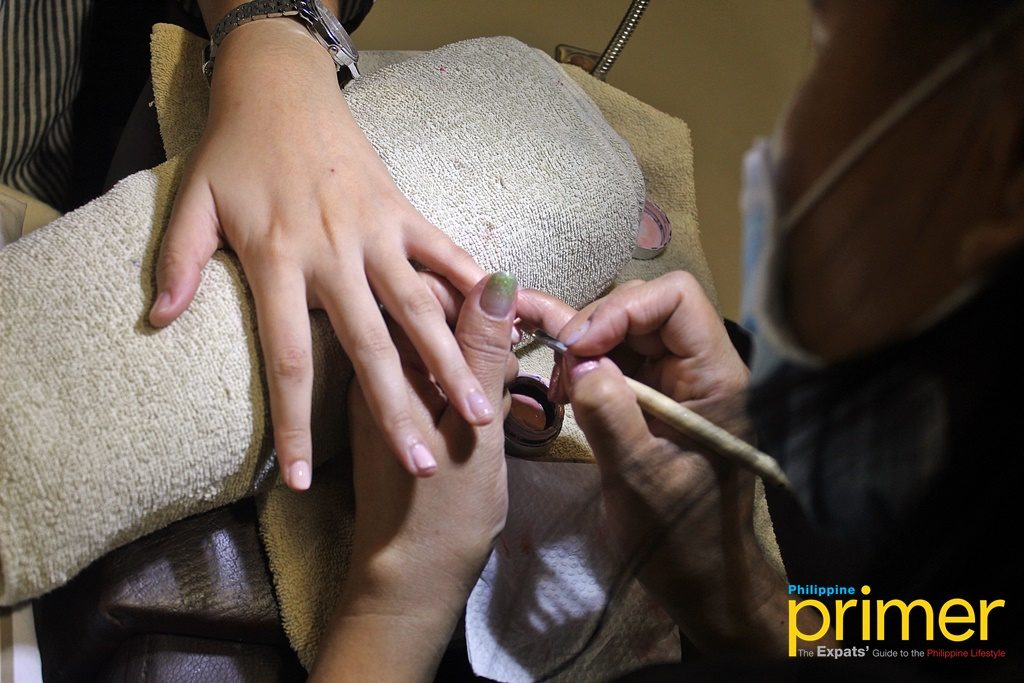 Kiyosa gels are packed in a small container and are applied using a slender nail brush
It is very important for the nails to be thoroughly cleaned to help the gel polish to properly attach. You can also avail of their additional manicure or pedicure services starting at Php 850.
Applying the gel polish and design
Once the nails are all set, the nail technician will start applying the Kiyosa Gel. Nail Art A designs take at least 1.5 hours to be completed while Nail Art B designs take about 2 hours. Customized Nail Art designs tend to take longer depending on how complicated  the design is.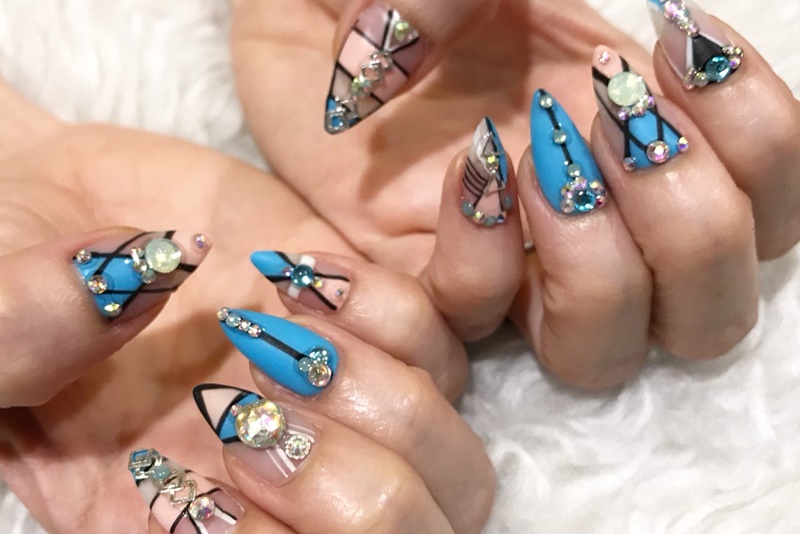 Customers may choose from an array of extravagant nail designs
After getting your nails done, you can also have hair or eyelash extensions services because they offer these as well.
How to get here
Kiyosa is located on the ground floor of F1 Hotel in 32nd St. cor. Lane Q, Bonifacio Global City, Taguig City.
By car: From EDSA Ayala, head north to Mckinley Road, turn right and then continue onto 32nd Street. From there, turn right to Lane A and then turn left to Lane Q.
By public transportation: You may ride the BGC Bus with the following routes: Central Route, North Route, or North Express Route, and then alight at the Globe Tower. Walk towards Lane A, and then turn left to Lane Q.
Details
Address: G/F F1 Hotel, 32nd St. cor. Lane Q, Bonifacio Global City, Taguig City
Business hours: 11 a.m. to 8 p.m.; closed every second Tuesday of the month
Contact information: 02-8805-8888 / 0939-915-8888
Website: kiyosa-beauty.com
Facebook: facebook.com/kiyosa.jtb
Instagram: instagram.com/kiyosa_japanese_total_beauty