KATRE Introduces Quilted Handbag Collection in 10th Anniversary Celebration
KATRE Introduces Quilted Handbag Collection in 10th Anniversary Celebration
Without any background on either business or design, stylist and make-up artist Kat Erro boldly put one foot forward with just passion and tenacity on her stead to go after what she wants—and that is to put forth products that are label-independent.
Duvet-inspired Boite bags (price starts at Php 8,999)
It was definitely not an easy stint from the get-go especially before she settled on leather goods, but it undoubtedly worked out in all the right places because ten years after, local brand KATRE is now a brand whose unmatched quality acts as its own brand tag.
Kat Erro carrying her Bumbag
The Boite bags originally come in their rounded, utmost simplicity laden without any design just like the ones owned by morning show hosts slash loyal friends and supporters of Kat, Suzi Entrata-Abrera and Lyn Ching-Pascual.
GMA's Unang Hirit hosts Suzi Entrata-Abrera (L) and Lyn Ching-Pascual (R) showing off their Boite bags  
The new duvet-inspired handbags
As the brand celebrates 10 years of passionate creations, KATRE added a twist to these bags through the newest addition to its line of well-loved creations: the quilted handbags.
These are primarily reminiscent of the duvet that has become one of Kat's sources of comfort amid the freezing nights in London. And in a glance, you can definitely get a hint of how soft it is despite its firm shape.
The quilted Boite bags come in two sizes and in varying colors of chamomile, earl grey, matcha, and silver sheen  
Thames Quilted Earl Grey (Php 9,500) which is also part of the newest quilted collection
And there's really not a problem if you want to sport it as a handbag or a cross-body bag because it is designed to serve both purposes.
As a part of the celebration, KATRE also brought back the City Tote which was the brand's pioneer product.
It still is the 100 percent leather, straightforward bag that the customers slowly grew to love but is now equipped with a longer strap stitched to the inside of the bag—definitely not a distracting element if you want to use its short handle.
Further, the upgraded bag has a small pouch strapped inside.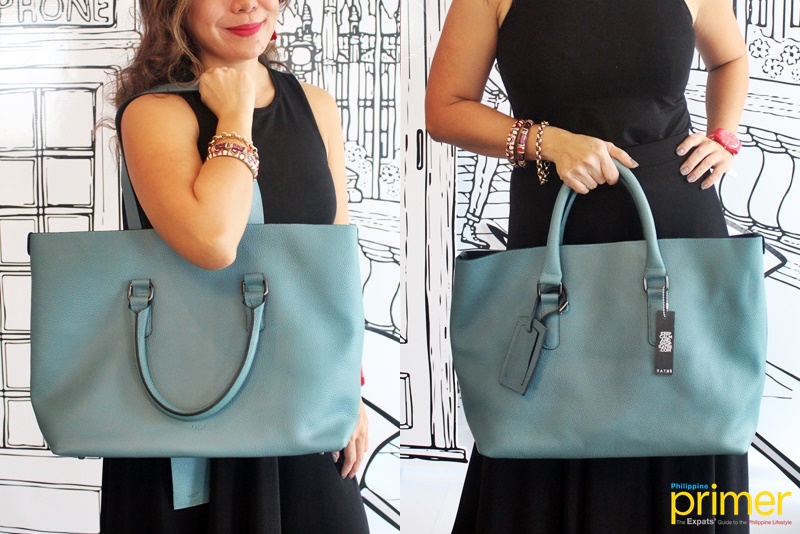 The City Tote (Classic) using the longer strap (L) versus using the short handle (R)
And not like it could get any better, but you can also have your KATRE bags customized for a low price of Php 150 for a maximum of a six-letter monogram and Php 250 should you wish to have seven to 12 letters embossed on them or their tags.
The customization process takes less than five minutes
Choose among these different monogram designs!  
A decade of KATRE
In a brief program last November 20, 2019, Kat expressed her gratefulness to everyone who has helped her build KATRE into the brand that it is now—her family who was her first endorsers, her friends who showed their support without asking for a discount, the props men and women, customers, and brand ambassadors among others.
Kat then fruitfully ended her speech with the announcement of KATRE's partnership with Mano Amiga, which is rooted in her belief that education is the solution to things. Moreover, she sees the 10th anniversary of her brand as the right time to give back.
Owner Kat Erro delivering her speech in front of the guests for Katre's 10th-anniversary celebration 
Mano Amiga is a school that provides high-quality education to low-income families through innovative and low-cost educational methods. Foremost, it embodies the view that "where you start in life shouldn't limit where you end up in".
If you want to lend your hand on this cause, you can either purchase an undiscounted KATRE bag and automatically get to donate a backpack for the incoming school year 2020 to 2021 or buy a KATRE x Mano Amiga Tote Toile (Php 1,999) whose profits will be completely given to the school.
KATRE x Mano Amiga Tote Toile (Php 1,999)
In addition to this, at least 10 patrons of KATRE participated in a tote painting workshop during the celebration. The products will then be exhibited and sold at the brand's holiday pop-up store at Shangri-La Plaza for the benefit of Mano Amiga.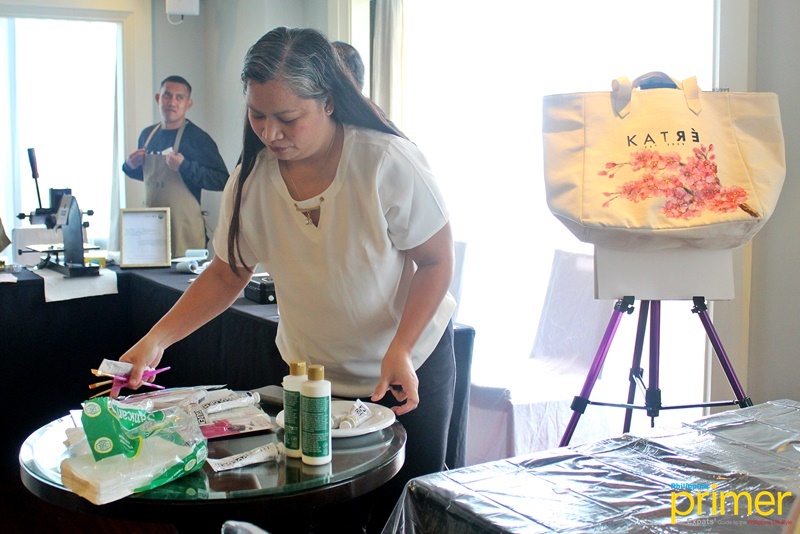 To more years of producing handmade, top-notch goods as well serving fruitful causes, KATRE!
Also read: BIG BAG WOLF™ Howls to Save Wildlife with Every Stylish Wild Bag
Details
Store address: KATRE Gift Shop, 3/F Greenbelt 5, Makati City
Contact: 0916-605-2207
Website: shopkatre.com
Facebook: facebook.com/katrehq
Instagram: instagram.com/katrehq