Beautify and let your skin smile with Happy Skin cosmetics
Beautify and let your skin smile with Happy Skin cosmetics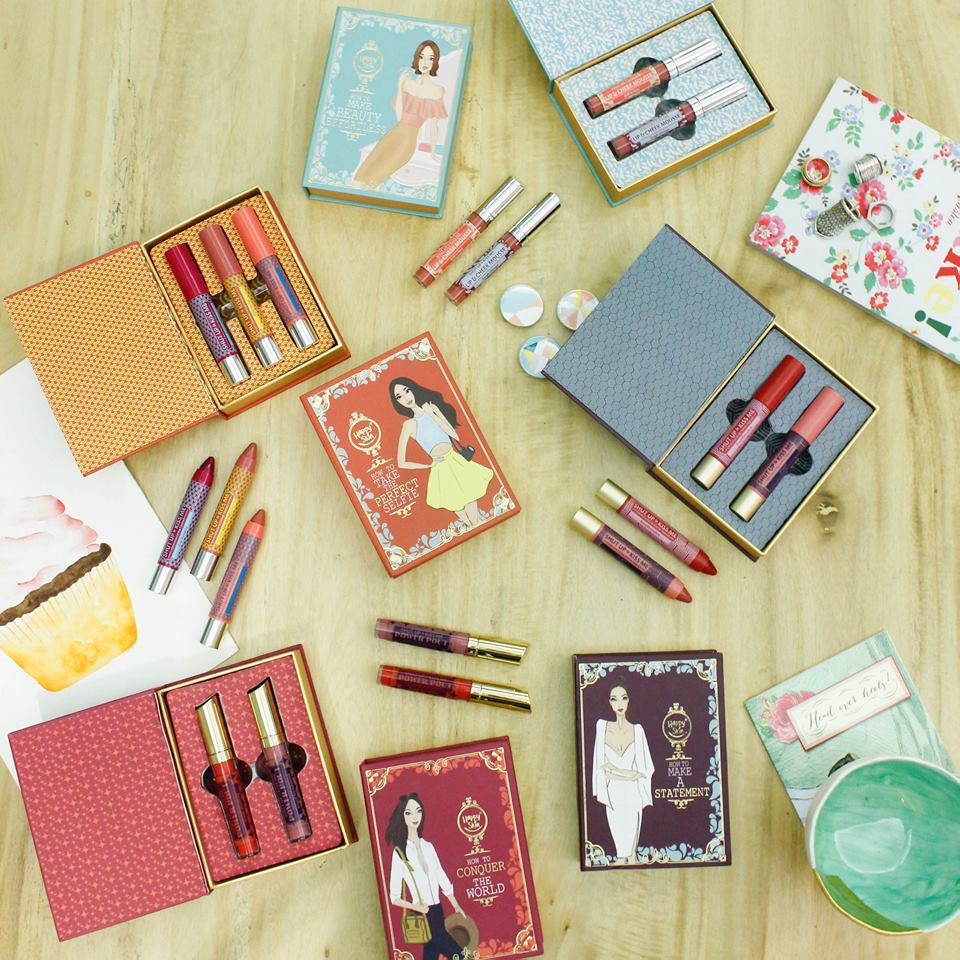 Women of all ages are going crazy over Happy Skin cosmetics as its products boasts of the best skin-loving ingredients that are totally suited and safe for all types of skin.
Happy Skin, a Filipino-made beauty brand is the brainchild of Jacqe Yuengtian-Gutierrez, who spearheaded developing global brands under personal care leader Unilever. "Happy Skin is the first makeup line that offers an entire range of skin-caring makeup," Yuengtian-Gutierrez proudly explains. "It was especially created for women who want to look naturally beautiful, but want to make sure that their skin is also cared for. It's for women who don't want to compromise on beauty!"
Not later on, she has partnered with Rissa Mananquil-Trillo, top runway & print model, newspaper beauty columnist, and former president of the Professional Models Association of the Philippines (PMAP). The two nailed a really great joint venture in creating Happy Skin.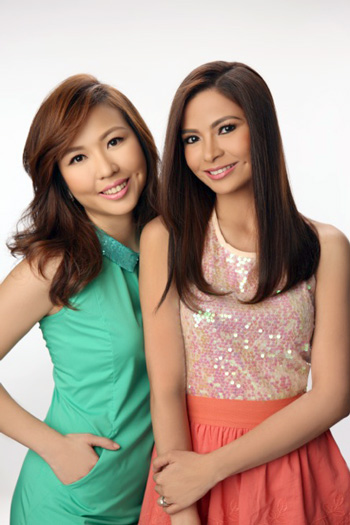 SISTERS IN BEAUTY. Jacqe and Rissa's friendship goes beyond the workplace.
When Happy Skin first launched last October 18, 2013, the brand started with merely five counters. In less than a month after its launch, local luxury department store Rustan's and leading cosmetics hub Beauty Bar – under the helm of the Store Specialists Inc., which carries the franchise rights to distribute Saint Laurent, Gucci, Prada, Givenchy, Marc Jacobs, Jimmy Choo, Kate Spade, Gap, Old Navy, and Zara locally – asked to carry Happy Skin in their stores. In six months, the number of counters has increased tenfold. Happy Skin is now located in 80 counters across the Philippines.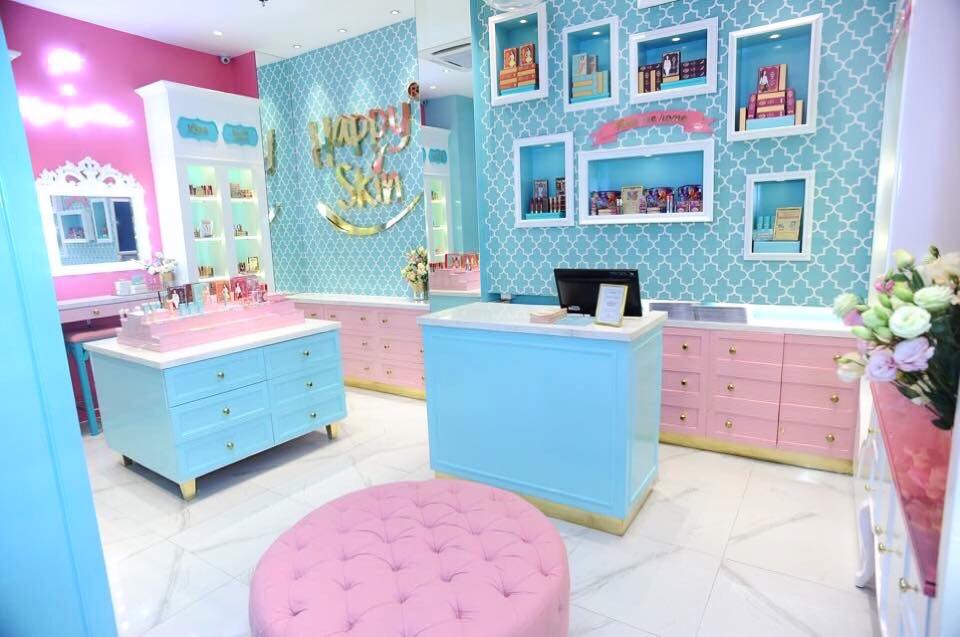 POP-UP STORE. Happy Skin's Pop up store at Greenbelt 5 is such an eye candy. Such pretty colors!
All Happy Skin key products are sourced and made in Japan. Infused with special skincare ingredients, such as Japanese tea leaf, cherry blossom, hyaluronic acid, and argan oil, Happy Skin makes sure they live happy and truthful to their brand philosophy by recognizing the importance of skincare in the country.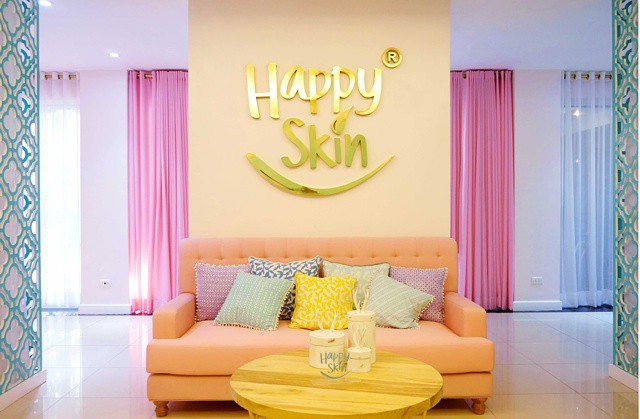 HappySkin HQ. The receiving area of the new is decked out in bright, cheery colours definitely shout fun and comfort that encourages productivity and stimulates creativity!
Since its launch in 2013, Happy Skin products instantly made a booming effect in the local market as a favourite home grown brand of makeup that cares for the skin. Many Filipino women, regardless of age and social status, even celebrities have developed a strong affinity towards Happy Skin and its products. Take it from Kris Aquino, the Philippines' Queen of all Media, who loved the lippies so much that she collaborated with Jacqe and Rissa to create her own lippie, and Karen Davila who fell in love with Happy Skin's liquid eyeliner after wearing it during the typhoon Haiyan coverage. She saw that it didn't budge and lasted the entire day. Tried and tested by the brand's satisfied patrons, Happy Skin is undoubtedly changing the makeup game in the country real strong.
Bestsellers include the Second Skin Cream Silicone-Free Foundation and the Shut Up & Kiss Me Moisturizing Lippies.
SHUT UP & KISS ME MOISTURIZING LIPPIES. They sell more than 200 lippies a day!
In its first year alone, Happy Skin's key products bagged beauty awards in the Philippines' top fashion and beauty glossies. It was also recognized by a best-selling magazine for "changing the face of the local beauty industry" and "producing a cosmetic brand that's globally competitive." All of Happy Skin's products are infused with top-notch skincare ingredients from beauty capitals all over the world, precisely to provide what the brand promises—to make the skin happy.
Visit their official Facebook page for inquiries. You can also shop online through their official website: www.happyskincosmetics.com. You can also view here the full list of their physical stores nationwide.
Source: happyskincosmetics.com
All photos grabbed from Happy Skin's official Facebook page and Website.
You might also like...