GUIDE: 6 Major Pharmacies and Drug Stores in the Philippines
GUIDE: 6 Major Pharmacies and Drug Stores in the Philippines
Medicine is one of the most important things necessary to maintain a long life. That's why it's necessary to get genuine products, especially these days where counterfeit medicine are thriving in brick and mortar and online stores. So today, we listed down 6 major pharmacies in the Philippines you can trust and rely on.

The Generics Pharmacy 
IMAGE from The Generics Pharmacy 
It all started back in 1949, when a German importer and wholesaler of medicine founded the Pacific Insular Co., or also known as The Generic Pharmacy (TGP). However, it was only in 1974, when a Filipino couple bought and took over the company and rebranded it. Fast forward to 2001, they ventured to create a single outlet with a mission to provide affordable yet quality medicine to all Filipinos. Six years after, they expanded their company through franchising and branching out after they opened 20 more outlets. Today, they are the largest pharmacy and drug store in the Philippines with over 2,000 outlets nationwide.
Website: www.tgp.com.ph 
Facebook: @tgpthegenericspharmacy
Instagram: tgpofficialph
Twitter:@TGPOfficialPH
Mercury Drug 

IMAGE from Mercury Drug
Known as one of the most trusted pharmacies in the Philippines, the Mercury Drug store started from a humble beginning. After World War II, the devastation created scarcity all throughout the country, and Mariano Que, who worked in a drugstore before the war, saw it as an opportunity to help and rise above the post-war challenges he has faced.
Mariano Que first started selling sulfathiazole with only Php 100 as an investment. Since it was post-war, he sold the medicine piece by piece, so the public could afford them. Since his strategy worked, he bought other kinds of medicine to sell, and the rest was history. It was March 1, 1945, in Bambang St., where Mercury Drug store was officially founded. 
Today, they have more than 1,200 stores nationwide and offer the widest range of branded and generic medicines in the Philippines.
Website:  www.mercurydrug.com 
Facebook: @mercurydrugph 
Instagram: mercurydrugph
Twitter: @mercurydrugph
Generika Drugstore
IMAGE from Generika Drugstore
In 2003, business partners Teodoro L. Ferrer and Julien B. Belo founded Generika Drugstore with the vision to provide affordable medicine for all Filipinos. They built their pioneer store in Montillano, Muntinlupa City in 2004. As the pair worked hard to promote better health care services through affordable medicine, they started branching out and eventually expanded their business to key cities and municipalities all over the country. They have also opened Generika Drugstore for franchising as a way to help rural areas with no access to medicine get their needs.  
In 2014, the Generika Drugstore stepped up their game and created a new way of securing your loved ones' health: the MEDPadala electronic gift certificate. These e-gift certificates allow Filipinos abroad to send money in the form of e-GC to purchase medicines in all Generika Drugstore branches nationwide.
Website: www.generika.com.ph 
Facebook: @GenerikaDrugstorePH 
Instagram: generikadrugstore
Twitter:
Watsons
IMAGE from Watsons
With the slogan "LOOK GOOD, DO GOOD, FEEL GREAT" serving as their business philosophy, Watsons was founded in Hong Kong in 1841. Today, it is one of the leading international health and beauty retailers in Asia and Europe. They have over 8,000 branches all over the world and 800 stores in the country. The pharmacy/beauty essentials store was brought to the country by SM Malls, their local business partner.
Website: www.watsons.com.ph
Facebook: @WatsonPhilippines1 
Instagram: watsonsph
Twitter: @WatsonsPH

Southstar Drug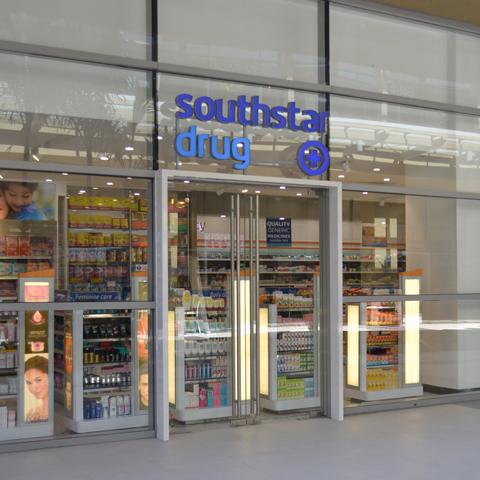 IMAGE from Southstar Drug
In 1937, Tomas Dy-Makao and his wife opened a Chinese herbal pharmacy called Southern Drug in Naga City. A couple of years later, they included western medicine in the products they were then offering and the rest is history. With 75 years of experience in the pharmaceutical business, the SouthStar eventually found its way to the country's Top 500 Corporations. As of press time, it has over 500 stores nationwide.
Website: www.southstardrug.com.ph 
Facebook: @southstardrugph
Instagram: southstardrugph
Twitter: @southstardrugph
Rose Pharmacy 
IMAGE from Rose Pharmacy
Last year, Rose Pharmacy joined the Robinsons Retail Holdings Inc. (RRHI) to widen its market. The Rose Pharmacy has 300 branches nationwide and they have their own delivery team called RosExpress delivery. You can order online and or visit their website where you can have your medicine and beauty essentials delivered right to your doorstep.
Website:  www.rosepharmacy.com 
Instagram: RosePharmacyInc
Twitter: @ROSEPHARMACYInc
---
Source: www.statista.com 
Written by Cedie Salido