10 Salons in Makati to Get the Perfect Set of Nails
10 Salons in Makati to Get the Perfect Set of Nails
One of the best ways to destress is to pamper yourself by visiting your favorite nail salon. There are so many salons to choose from—dragging more women to fuss over where to get the perfect set of nails. 
Also read: 6 Waxing Salons for Your Hair-Free Goals
Nail licous💞Titanium Gel Polish available in Ayumi Vista Mall Taguig!#ayuminailart #ayumieyelash #lashesbyayumi…
There are several factors to consider when choosing your nail salon, such as hygiene, affordability, convenience, space, and of course, the customer experience. For that reason, it takes some trial and error to choose which salon is the perfect fit for you.
Also read: 7 Beauty Salons and Clinics to Get The Brow of Your Dreams
To help you find your holy grail, here are some of Makati's best:
Ayumi
Ayumi is the first Filipino-owned Japanese brand eyelash extension and nail art salon in the country. They provide the highest standard of pampering services from Japan, catering to both Filipinos and tourists in the country. 
Outstanding beauty for your nails💕#ayuminailextension #ayuminailartCome and Visit us at Ayumi Vista Mall Taguig,…
For their nail services, they offer everything from regular manicures and pedicures to nail art. They also have gel and diamond gel manicures, as well as acrylic and gel nail extensions. Further, nail services for children are available in case you want to bond with your little princesses. 
Also read: Ayumi Salon Opens in Quezon City to Offer the Best Japan Quality for Your Beauty Needs
Services start at Php 250
Address: 117 Tras-Phil House, Chino Roces cor. Bagtikan St., Makati City
Contact: 02-938-7441
Website: ayumi.ph
Facebook: Ayumi Chino Roces Makati
For the full list of Ayumi branches, you may visit this link. 
Mich & Myl Nails
Visit us at Prince Plaza 2 Ground Floor Dela Rosa St. corner Legazpi St. Legazpi Village, Makati City, in front of…

ミック&マイル.ネイルさんの投稿 2019年5月23日木曜日
Mich & Myl Nails first opened in 2011 and established itself as the first most advanced nail salon that specializes in gel nails and nail extension services. They are one of the Metro's fastest growing nail spas.
They offer the latest Japanese technology in gel and acrylic nails and 3D nail art—all without breaking the bank. Gel nail services include traditional gel mani-pedi, gel French mani-pedi, gel sculptured nails, and gel nail art. Other services like basic nail art, 3D nail art, acrylic nail extensions, and traditional mani-pedi are also available. 
Services start at Php 280
Address: Unit G-3B Prince Plaza, Dela Rosa St. Cor. Legaspi St., Legaspi Village, Makati City
Contact: 02-815-9454/0917-178-2097
Website: michmylnails.net
Facebook: Mich & Myl Nails
For a full list of Mich & Myl Nails branches, you may visit this link. 
Nail Tropics
Founded in 2002, Nail Tropics aims to elevate the nail care industry to a new standard and to make a company that help empower women in their careers. They take pride in their craftsmanship, precision, and hospitality, so you can experience your own little oasis despite being in the city. 
Apart from the classic services like mani-pedi, gel nails, and acrylic nails, Nail Tropics offers treatments that will not only ensure a blissful day at the spa but also guarantee long-lasting effects to your hands and feet. Special packages and treatments are also available for the gentlemen! 
Services start at Php 185
Address: Level 4, Greenbelt 5, Ayala Center, Makati City
Contact: 02-501-3999/0917-852-1662
Website: nailtropics.com
Facebook: Nail Tropics
For a full list of Nail Tropics branches, you may visit this link. 
NORA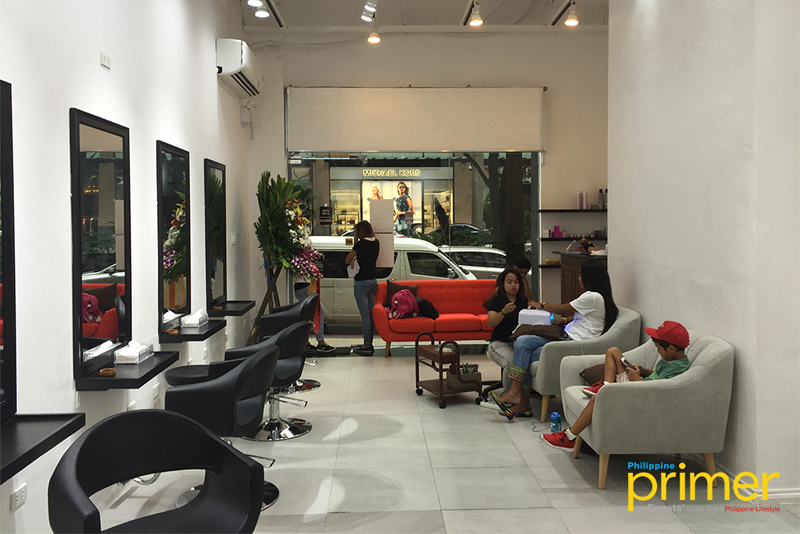 NORA is a hair salon that originated in Tokyo, Japan, offering authentic Japan quality services for an amazing time. However, it goes beyond hair as they are also known for their nail services, with high-quality products for the polish, gel products, among others.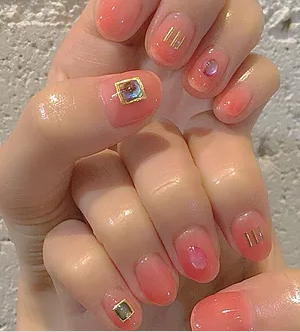 IMAGE NORA Hair Salon Manila
They have a treatment called The Classic Cucumber Melon that has the same inclusions as the classic mani-pedi but with an added massage before polish application. You might also want to check their nail extension services that you can get in gel and acrylic variants.
Also read: NORA Hair Salon Opens Second Branch in SM North EDSA Annex
Services start at Php 180
Address: Unit 63 BSA Tower, 108 Legaspi St., Legaspi Village, Makati City
Contact: 02-843-6065/0917-505-8895/0908-881-9249
Website: nora-style.ph
Facebook: NORA hair salon Manila (Makati)
Dear Alice Nail Lounge
Dear Alice Nail Lounge is committed to offering high-quality nail care services while contributing to your well-being. They offer their services in a relaxing environment that will surely provide you with the refuge that you seek in a busy city such as Makati. Plus, they use non-toxic nail polish and paraben-free products!
Like most nail spas and lounges, they have a variety of nail care services ranging from the classic mani-pedi to a hand and foot spa and to an ultimate pampering experience, which includes nail care and a hot stone reflexology massage for your tired muscles. Group packages and kid services are also available! 
Services start at Php 200
Address: 2/F Two Central Tower 2 (beside Three Central), 109 Valero St. Salcedo Village, Makati City
Contact: 02-839-2967/0917-862 5423
Website: dearaliceph.com
Facebook: DEAR ALICE
Lak Studio
Lak Studio brings pampering to a whole new level with their top-notch services that, aside from nails, also include waxing, threading, and even lash services. The salon's relaxing and friendly ambiance guarantees a wonderful customer experience that will convince you to keep on coming back! 
The studio is quite known for their gel and acrylic extensions, nail art services, aside from their classic mani-pedi. You'll find that they have a talented set of nail technicians who are capable of adding color to your nails—with a little bit of glitz and glam to your set. 
Services start at Php 300
Address: 2/F The Mini Suites Eton Tower, 128 Dela Rosa St., Legazpi Village, Makati City
Contact: 02-718-3151/0995-0905-492
Facebook: Lak Studio
Instagram: @lakstudioph
Posh Nails
Feel like a princess when you get your nail services at Posh Nails! 🥰
Established in 2002, Posh Nails is one of the country's pioneers in the natural nail care industry, introducing a unique yet modern concept for both young and old patrons. They are the first in the Philippines to offer themed manicures like green tea, coffee, and chocolate. These themed mani-pedis differ each month and come with cocktail drinks, coffee, tea, among others, to complement the themed service.
Give your hands and feet a break and treat them to a Detox Mani + Pedi with all-natural Cuccio products. ✨ Book an appointment and indulge in a relaxing pamper session today! 💅💕
Of course, they also have the classic mani-pedi, detox mani-pedi, gel nails, nail whitening, powder polish, nail extensions in gel and acrylic, nail art, and gum gel. It's guaranteed that a visit to Posh Nails will make your pampering experience one of the bests—complete with robes, eye masks, drinks, and pillows!
Services start at Php 190
Address: 109 Maripola Bldg. Perea St., Legaspi Village, Makati City
Contact: 02-511-8279/0917-419-4523
Website: poshnails.com.ph
Facebook: facebook.com/POSHNAILS.HandandFootSpa
Tips 'N Toes
Being in the business for over 20 years now, Tips 'N Toes is a pioneer in specialized nail salon service, with stylish and beautifully sculptured nails. Quality and service are assured using state-of-the-art products and equipment, providing clients with a signature experience.
Basic mani-pedi aside, they have the natural and luxury mani-pedi, as well as glamour gel, nail enhancements, nail art, and nail extensions in acrylic and gel. You might also want to try their deluxe treatments like Signature Spa Manicure and the Signature Foot Spa Therapy Plus.
Services start at Php 190
Address: Greenbelt 1, Ayala Center, Makati City
Contact: 02-892-6362
Website: tipsntoes.com.ph
Facebook: Tips 'N Toes Nail Salon

For a full list of Tips 'N Toes branches, you may visit this link. 
Nail It
Visit Nail it! / 3F, Glorietta 3, Ayala Center, Makati City (near Gold's Gym)

Nail Itさんの投稿 2018年1月30日火曜日
Nail It! is an affordable luxury nail salon dedicated to giving their customers a superb yet healthy experience. You'd love to look through their nail gallery that's arranged by brand, shade, and finish so that you won't have a hard time picking out the perfect coat.
Vibrant and sexy reds are @Kimnevel's fave go-to colors. What are yours?#NailtItPH IG @nailit.ph

Nail Itさんの投稿 2019年8月11日日曜日
They offer classic services such as mani-pedi, gel nails, acrylic nail care, nail treatments, among others. Among the highlights may be the Manlicure, which is nail grooming and detailing for men, and the Princess nail spa package for little girls and teens.
Services start at Php 220
Address: 3/F Glorietta 3, Parkway Drive, Ayala Center, Makati City
Contact: 02-404-6722/02-576-8499
Facebook: Nail It
For a full list of Nail It branches, you may visit this link.
Junca Salon
Junca Salon is a first-class Japanese total beauty salon that takes pride in its state-of-the-art Japanese system. They operate with a philosophy called Juncalogy, which aims to make people healthy and beautiful.
While they are primarily a hair salon, Junca also has nail care, offering traditional and gel mani-pedi. What makes the salon extra special is their nail art, wherein you can get a full set with an auto nail, paired with their cuticle treatment and gel polish. The salon is guaranteed to give you the best services with a vibrant splash of color!
Also read: Let your hair experience the 'Junca system' at Junca Salon in Manila
Services start at Php 350
Address: Cityland Pasong Tamo Tower, Chino Roces Ave., Makati City
Contact:  02-810-3314/0917-948-5801/0919-904-6288
Website: junca-beauty.com
Facebook: facebook.com/juncasalon

What is your go-to nail salon? Don't forget to share with us in the comments!