A Guide to Izakayas in Manila
Not all Japanese restaurants serve the same dishes. Some choose to particularly serve a special type of cuisine such as sushi, ramen, or bento. There are also Japanese restaurants which market themselves as a pub, where people go to for after-work drinking. These Japanese-style pubs, or izakaya, have been around in Manila for decades now, catering to the demand of Japanese expats living nearby.
Next time you go out to cap off the night, why don't you try going to izakayas? We listed down some of the Japanese izakayas in Manila where you can get great food and best booze altogether.
Hoshimatsuri
Legaspi Village, Makati
Hoshimatsuri is an izakaya or Japanese bar that was brought over from Japan over two years ago. They're a welcome breath of fresh (grilled) air amid all the seafood restaurants within the area. Yakitori is their claim to fame, and Makati's Japanese residents seem to approve.
One of their most popular items is the torikawa or grilled chicken skin (P90/piece). It's crispy on the outside and juicy on the inside, just as you'd expect from a restaurant that specializes in everything grilled. We recommend adding a bit of shichimi togarashi or seven-flavor chili pepper for that extra kick.
Whether you're on the lookout for a good serving of yakitori or a simple helping of good Japanese food, Hoshimatsuri is the place for you to visit. The place gets pretty packed by night time, so if you're looking for a Japanese-style nightcap, it is recommended that you call ahead of time.
Read more: Hoshimatsuri Japanese Restaurant in Makati: A must-try Yakitori Restaurant
Address: Mezzanine, Creekside Mall, Amorsolo Street Corner A. Rufino Street, Legaspi Village, Makati City
Telephone Number: 02-893-3294
Business Hours: 11 am to 2 pm & 5 pm to 12 mn (Mon to Sun)
Price range: Php 150 to Php 2,250
Ikomai
Salcedo Village, Makati

Known for serving simple kushikatsu (deep-fried skewered meat and vegetables), Ikomai was previously a food stall in Salcedo Market for over a year before the owners decided to build a physical store in Salcedo Village.
Although it serves Japanese cuisine, Ikomai does not market themselves as a typical Japanese restaurant; instead, its unique concept is to "create a space where people meet and make friends," all while enjoying sumptuous food.
When it comes to their food, part-owner Taro Hori and Nagoya-based chefs offer a number of specialty street food from Nagoya, Japan. Ikomai serves kushikatsu (Japanese deep-fried skewers), rice meals, and pastries which they have been serving ever since Ikomai was still a food stall. For first timers, a great item to start with is Assorted Kushikatsu, letting you get a taste of deep-fried skewered pork, shrimp, chicken, and vegetables in one dish.
Also read: Ikomai in Salcedo, Makati: Home to Japanese Street and Comfort Food
Address: ACI Group Building, 147 HV Dela Costa, Salcedo Village, Makati City
Telephone Number: 02-816-4588
Mobile Number: 0999-887-0297
Business Hours: 11 am to 11 pm (Mon to Wed); 11 am to 11:30 pm (Thu to Sat)
Kenshin
The Linear Makati
The food from Kenshin is as Japanese as it gets. The most interesting things on their food menu are their affordable set meals and mouthwatering meat dishes. Their set meals are not your ordinary main-and-side set; you can have ramen with your choice of either gyoza, karaage, curry rice, or sushi.
Kenshin serves your usual fanfare of izakaya drinks: shochu, umeshu (plum wine), beer, whisky, and, of course, sake. But that's where the "usual" ends. If you haven't heard of a sake cocktail, it's probably because it's hardly done elsewhere. Kenshin serves amazing sake cocktails like Sake Smoothie (Php 189), Sake Mohito (Php 189) and Sparkling Sake (Php 149). They even have beer cocktails.
Also read: Kenshin Japanese Izakaya Restaurant
Kenshin Gyoza (Php 169)
Another thing we noticed was the inclusion of a drink that's hardly seen in the Philippines: Matcha Kahlua, a brand of coffee liqueur that you probably won't find anywhere else but at Kenshin. It has that smooth taste of a good cup of java with the flavor of green tea and a bit of an alcohol aftertaste. It's a deceptively delicious drink, what with its unassuming color and way of serving (it's served in a rocks glass).
Address: The Linear Makati, Mayapis Street Corner Yakal Street., Makati City
Mobile Number: 0917-551-4605 / 0949-883-1200
Business Hours: 10:30 am to 3 am (Mon to Sun)
Sekitori
Chino Roces Ave., Makati
Sekitori is a favorite among Japanese businesspeople working in Manila. Sekitori promises authentic Japanese cooking as if you're really in Japan.
What patrons love about Sekitori is that you can enjoy hefty servings of delicious Japanese food which are ideal whether you're dining with friends or eating solo with a big appetite. Feel free to explore their menu as they serve more than 100 dishes, meaning there's always something new to try whenever you go back.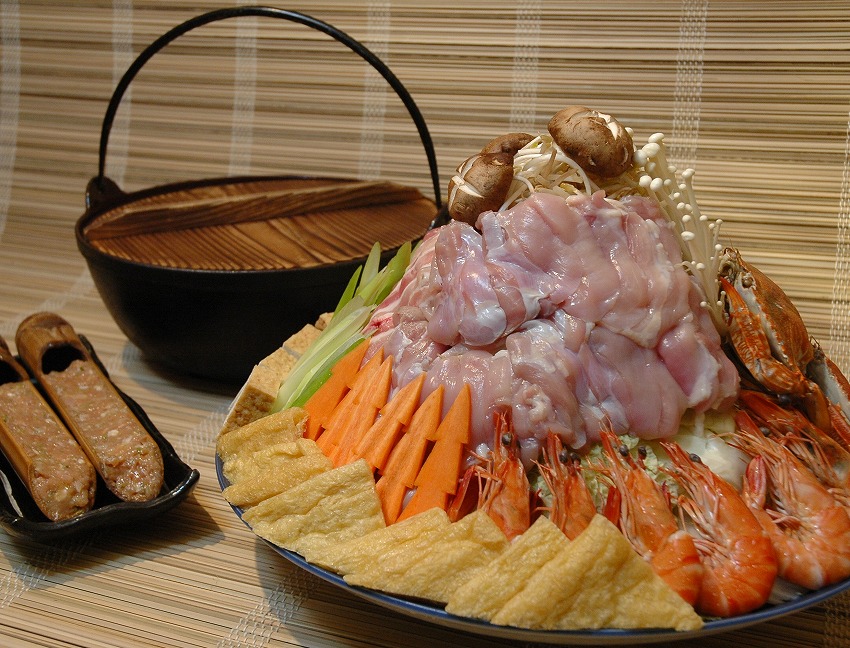 You can pair such dishes with Japanese alcohol like shochu and Japanese sake if you're looking to unwind after work. They also have local beers available. Before you have your drinks, be sure to fill up your stomach with dishes like Salmon Ikuradon, a rice bowl with raw salmon and grilled salmon with ikura.
Also read: Sekitori Authentic Japanese Restaurant in Manila: Eat As If You're in Japan
Address: 2277 Chino Roces Avenue, Pasong Tamo Corner Amorsolo Street, Legazpi Village, Makati City
Telephone Number: 02-894-3876
Business Hours: 11:30 am to 2:30 pm &5 pm to 12 mn (Mon to Sat); 11:30 am to 2:30 pm &5 pm to 11 pm (Sun)
Website:  sekitori.asia
Fukudaya
McKinley Parkway, BGC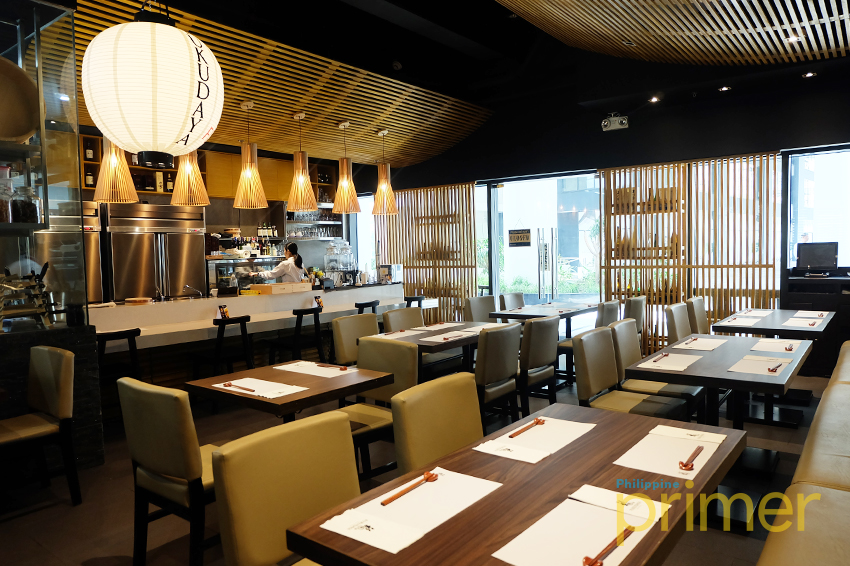 Fukudaya targets to bring to the country innovative interpretations of ancient and modern Japanese dining experience. Hailed as one of the most romantic restaurants in BGC, this restaurant features dimmed and minimalist interior that suggests coziness with a stylish atmosphere.
Toku Jyou Nigiri (Php 750)
Most of the ingredients they use are sourced locally to ensure the freshness of the food they serve. 50% of their cooking equipment are imported from Japan, which helps them ensure the creation of sumptuous Japanese delights.
Also read: Fukudaya Japanese Dining at Arya Residences in BGC
Guests can enjoy here a wide array of sushi, sashimi, and meat dishes that go perfectly well with Japanese alcoholic drinks. You can choose from Japanese whiskey, Sapporo draft beer, and Japanese rice wine.
Address:G/F, Arya Residences Tower 1, McKinley Parkway, BGC, Taguig City
Operating Hours: 11 am to 3 pm and 6 pm to 11 pm (Sun to Mon)
Contact Number: 02-800-3563 / 0927-264-0171
Nikumaru
BF Homes, Parañaque
Serving authentic Japanese food for people in the south is Nikumaru Japanese Restaurant. Located along Aguirre Avenue in BF Homes, Parañaque, Nikumaru serves a variety of dishes fit for the palate of anyone craving for Japanese food. Ramen, donburi, tempura,and teppanyaki – name itand Nikumaru probably has it!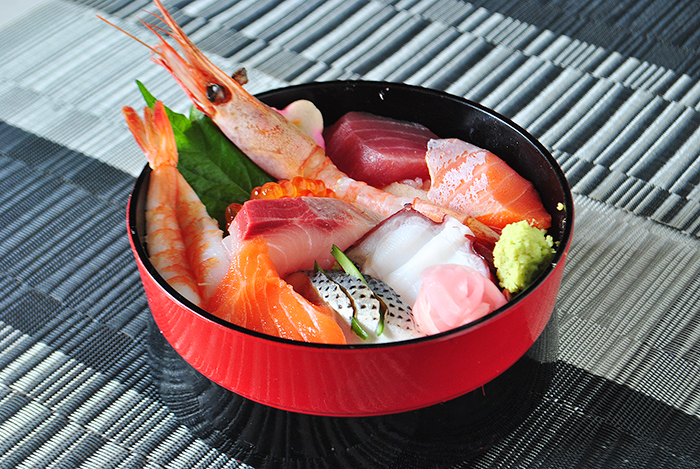 Chirashi Sushi (Php 340)
Diners are sure to get a taste of the authentic, high-quality products in every dish Nikumaru serves as the ingredients they use are imported to the Philippines from Japan. You can choose from a variety of dishes that are priced reasonably. A good dish to fill your tummy with is their freshly made Luxurious Chirashi Sushi that only costs Php 340.
Nikumaru has a long list of alcoholic and non-alcoholic drinks to choose from. They have Japanese sake, shochu, and beer, as well as international liquor brands like Johnnie Walker Black and Chivas Regal.
Also read: Nikumaru Japanese Restaurant
Address: 209 Aguirre Ave., BF Homes International, Parañ
Telephone Number: 02-771-1169
Business Hours: 11:30 am to 11 pm (Sun to Thu); 11:30 am to 12 mn (Fri to Sat); Tue – closed
Website:  nikumaruph.com
Jyukai
Chino Roces Ave., Makati City
Jyukai serves ramen, sushi, nigiri, tempura, yakitori, curry, maki, and much more. They are a Japaense restaurant run by Teppen, a Korean and Japanese general food store.
They offer delicious and reasonably priced Japanese food without sacrificing quality. We recommend the Jyukaimori, a plate full of tuna, yellowtail, abalone, red shell, sweet shrimp, sea urchin, salmon, and more.
Also read: Jyukai Japanese Restaurant in Makati 
Address: Unit C-1, G/F Marvin Plaza Bldg., 2153 Don Chino Roces Ave. cor. Herrera St., Makati City
Business Hours: 11 am to 2 pm and 5 pm to 10 pm
Telephone Number: 02-869-0818
Kotono
Makati Cinema Square, Makati City
Kotono is an authentic Japanese Restaurant that is located on the first floor of Makati Cinema, right across Little Tokyo.
Kotono prides themselves in their Duck Meat Stew Steamed in Bamboo because of its uniquely rich flavors. The restaurant's seafood cuisine, such as sashimi and deep-fried oysters, are ideal dishes while drinking. This restaurant also offers a variety of Japanese liquor including Kubota, Hakkai-san, and Urakasumi.
Also read: Kotono Izakaya Restaurant moves to a new location 
Address: Makati Cinema Square, Pasong Tamo St., Makati City
Telephone Number: 02-211-5775 / 0917-170-7790 / 0918-945-6246 / 0921-215-0862
Business Hours: 4:30 pm to 10:30 pm (Mon to Sat)
---
This feature first appeared in Philippine Primer English Magazine's May 2018 issue.